Although summer winds down and the temperatures drop, Saint Paul showcases very well each autumn. The brilliant fall colors only enhance the European charm that we're known for and the brisk weather is refreshing if you know where to warm up.
Friday
Chill at Cathedral Hill
Sneak out of work early and get to know Cathedral Hill. W.A. Frost's basement is the perfect place to hide from your boss. Grab a cocktail before stepping back in time at The Commodore, an old F. Scott Fitzgerald haunt. When it's safe to blow your cover, settle in at one of the Hill's many tasty dining spots. We recommend Red Cow for delectable burgers, The Fitz for comforting deep-dish pizza and Revival for some of the best BBQ in Minnesota.
Saturday
Eat Around Lowertown
Good morning, Lowertown. Grab a warm cup of coffee and head to the Farmers' Market—it's the perfect time of year to grab pears, squash, ginger, broccoli and other in-season produce. This neighborhood is foodie hot spot, so you'll definitely want to check out the brunch scene at acclaimed spots The Buttered Tin, Salty Tart, Handsome Hog and Saint Dinette (who will even store your farmers' market finds in the fridge while you dine).
Tour Downtown
Take in the beauty of Downtown's recently renovated Rice Park (older than Central Park in NYC) before heading inside for a tour of Landmark Center, Saint Paul's former federal courthouse. A free tour will teach you all about the building's spectacular history, including use as a federal post office, ties to America's notorious gangsters and role in Prohibition. We also recommend a matinee at the nearby Park Square Theatre or the Ordway Center for Performing Arts, or a trip across the river to the Wabasha Street Caves (just one of many haunted spots for those who appreciate the spookiness of the season).
Downtown is also where you'll find the Science Museum of Minnesota, Minnesota Children's Museum and Minnesota History Center—all great locations for indoor fun on cooler fall days. You can also stroll down West 7th to warm up with one of Cafe Astoria's famously Instagrammable lattes.
Explore Harriet Island
Head over to Harriet Island for stunning views of the skyline and fall foliage along the Mississippi River. To experience the gorgeous colors of the season from the water, hop onto a Padelford Riverboat 90-minute fall sightseeing cruise.
Sunday
Walk Summit Avenue
After a great breakfast at French Hen Cafe, admire the breathtaking Cathedral of Saint Paul before embarking on a walking tour of Summit Avenue (available at the James J. Hill House Saturdays 11 a.m. and 2 p.m., Sundays 2 p.m. through end of Sept.). The leaves' vibrant hues are incredible against the longest stretch of Victorian houses in the United States—several which were once home to prominent Saint Paulites. Learn more about the history of this iconic avenue in our Summit Avenue blog.
At the end of the walk, consider touring the incredible James J. Hill House itself. If you're ready to move on, make your way down Grand Avenue—one of the best streets for shopping and dining in the city. As you meander your way through Grand Avenue's charming shops, make sure to stop into Coffee Bene for a "Chaider"—a cozy blend between a chai tea and an apple cider.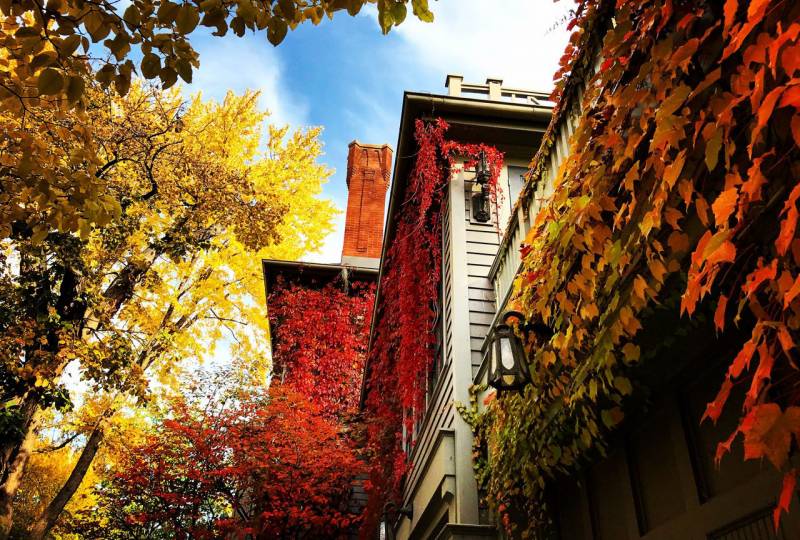 Photo: Jackson Eddy, A Frame Forward Photography
Dine the Green Line
Round out the day with dinner on University Avenue. From barbecue to pho and Ethiopian to Hmong cuisine, the Metro Transit Green Line runs through one of the most diverse and delicious neighborhoods in the Twin Cities. Finally, if you can muster the energy, unwind from a fun weekend of exploration at one of Saint Paul's many breweries—there are ten conveniently located off the Green Line.
What are your fall in Saint Paul must-dos? Share your own autumn weekend itineraries with us on Facebook, Instagram and Twitter using the hashtag #MYSAINTPAUL, and check out what else is happening this season in our Fall Events blog.