Get Your Fish Fry in Saint Paul
Order up! Fried Fish is year-round here in the Capital City and we have the ultimate guide to prove it!
Whether you're celebrating Fish Fry-day or you are looking for a tasty fish and chips special, get your fried fish fix at these local Saint Paul eateries. Plus, we've listed the restaurants that are "battering" up for the MSP Magazine Fish Fry Face Off.
Find your fave fish fry in #MySaintPaul:
TGI 'Fried Fish' Fridays | Church Fish Fry | Serving Fried Fish All Day, Everyday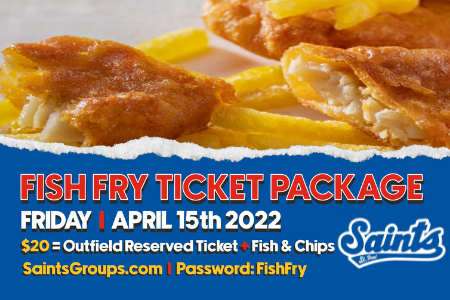 Friday Night Fish Fry at the Ballpark - April 15
Fish 'n Chips and Friday Night Fireworks with the Saint Paul Saints at CHS Field...need we say more? For only $20 get an outfield reserved ticket with a side of Fish & Chips. This special ticket package is available NOW at saintsgroups.com with the password FishFry.
Yes, you can get your fried fish fix at Burger Dive on Fridays. Enjoy a traditional codfish fry with coleslaw and fries ($16). burgerdivemn.com
The Dark Horse Bar & Eatery has put their own spin on Fry-day. Check out the Dakota Soul tempura-battered North Atlantic cod served with cilantro lime coleslaw, malted fries and bang bang sauce ($20). darkhorsebarandeatery.com
Fridays through mid-April from 11 a.m. to 3 p.m. during lunch you can enjoy a 2-piece cod with fries and slaw ($12.95). From 3-10 pm, all-you-can-eat Cod with fries and slaw ($15.95) will be available. Looking for curbside pick-up? Three pieces of cod with fries and slaw ($15.95) is available from 11 a.m. to 10 p.m. gabesmn.com
How does a classic beer-battered fish with fries and tartar sauce ($15.75) sound for a Friday Fish Fry? Find it at Groveland Tap! grovelandtap.com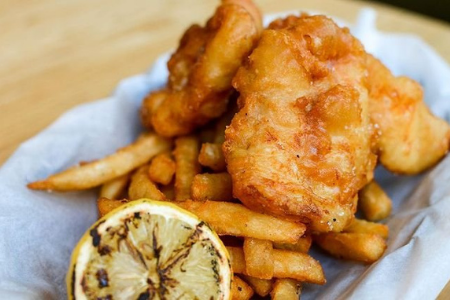 @highlandgrill via Instagram
Friday fish fry…but make it a sammy. Highland Grill is serving a Walleye sandwich with lettuce, pickles, tomato, tartar sauce, demi-baguette, served with fries (16.95) or your traditional fish and chips complete with a beer-battered cod, fries, and tartar sauce (16.50). highlandgrill.com
The Lexington is coming in hot with Cod fish-fry Fridays from 3 to 6 p.m ($18) or you can always enjoy the classic pecan-crusted Whitefish Gorbachev with smoked tomato butter ($34). thelexmn.com
The Loon Cafe is frying up a secret recipe battered walleye served with their house specialty potato salad, jalapeño hush puppies, fries and jalapeño tartar sauce every Friday from open to close. ($22.95) looncafestpaul.com
Fridays at Meritage calls for the Fisherman's Platter that includes fried shrimp, fried scallops, fried cod, fried belly clams, fried oysters, coleslaw, and their famous house pommes frites ($38) available every Friday. meritage-stpaul.com
Rejoice! All-you-can-eat Fish Fry ($16.95) is available at Obb's Sports Bar on Fridays from 11 a.m. to 9 p.m. obbsbar.com
The Pillbox Tavern
This is what happens when one of your favorite local breweries and local restaurants collab! All-day long on Thursdays and Fridays you can enjoy the Summit beer-battered walleye served with fries, a housemade slaw and tartar sauce ($19) at The Pillbox Tavern. pillboxtav.com
Shamrocks & The Nook is your destination on Fridays for a Fish Fry! Enjoy fried fish with coleslaw and fries ($12.95) and other delicious options to have on the side. crshamrocks.com
Every Friday through mid-April, enjoy Skinner's Pub's fish-and-chips basket with fried cod and French fries ($8.95) or a fried or baked walleye dinner that comes with sides and a soup or salad ($13.95). skinnersmn.com
Fridays call for Summit beer-battered Alaskan pollock with coleslaw and fresh-cut fries at Tiffany Sports Lounge. Single servings ($14.95) are served until 6 p.m. and all-you-can-eat ($16.95) is served from 6 to 11 p.m. Kid's plate ($7.95) is served from 11 a.m. to 9:30 p.m. tiffanysportslounge.com
TGI Fish Fridays at Tin Cups. Enjoy all-you-can-eat deep-fried beer-battered cod with french fries, homemade coleslaw and a homemade tartar sauce ($14.99) starting at 11 a.m.
Every Friday, all year long, Urban Growler is serving up breaded walleye with a choice of sides plus a creamy coleslaw, tartar sauce and pumpernickel rye bread ($20) starting at 11:30 a.m. urbangrowlerbrewing.com
When: April 1st, 2022 from 4:30–6:30 p.m.
Where: 1900 Wellesley Ave.
What: Fried and baked fish, potato options and coleslaw. Served with coffee, milk and cookies.
Price: Children ($9), Adults ($12), Family ($40)
Cafeteria dine-in or drive-up available.
Our Lady of Guadalupe Archdiocesan Shrine
When: Every Friday through April 8th from 11 a.m.–6 p.m.
Where: 401 Concord St.
What: Enchilada Dinner served with rice and beans
Price: Two Enchilada Meal ($9), Three Enchilada Meal ($11) Dozen Enchiladas ($22) and ½ Dozen Echiladas ($11)
Takeout Only. Call ahead to order 651-228-0506, or order online at http://www.olgcatholic.org
When: Every Friday through April 8th from 4:30–7 p.m.
Where: 1757 Conway St.
What: Fried or baked cod, coleslaw, steamed vegetables, macaroni and cheese, au gratin potatoes or seasoned fries, roll served with coffee and milk. Bottled water and soda are also available.
Price: Children ($7), Adults ($14) - Cash/check/credit card accepted.
45-minute dine-in with mask or takeout available.
When: March 11, March 25 and April 8 from 5:30-7:30 p.m.
Where: 1065 Summit Ave
What: All-You-Can-Eat Fried Cod, sides and assorted beverages.
Price: Children ages 5-12 ($6), Adults 12+ ($12), Ages 4 and under eat free
@saintdinette via Instagram
Chip's Clubhouse
Head over to Chip's Clubhouse for your fish & chips fix. On their menu, you will find beer-battered Whitefish served with crispy fries and tartar sauce ($16.95). visitchips.com

Head downtown Saint Paul for beer-battered walleye, habañero coleslaw, habañero tartar sauce and hand-cut fries ($19). eaglestreetgrille.com

Gray Duck vodka & Hamm's beer are an unlikely combination to come together to create a delicious beer-battered cod. Served with thick-cut fries, habañero coleslaw, and a family-recipe tartar sauce. Enjoy the 2-piece for $18.95 or the 3-Piece for $21.95. grayducktavern.com
Every Thursday through Saturday, get 3 pieces of beer-battered cod served with tartar sauce and steak fries ($12.99) Monday through Friday from 3:00 p.m to 5:00 p.m. you can get the 3 piece special for $12. halftimerec.com

Enjoy premium beer-battered Cod served with fries and creamy coleslaw daily at Patrick McGovern's Pub ($17.50). Tartar sauce and malt vinegar are also available upon request. patmcgoverns.com
Mac's Fish Chips Strips
If anyone knows fried seafood, it's Mac's Fish Chips Strips. Get your daily dose of cod, walleye, halibut, shrimp and clams in a basket or in a taco all at affordable prices starting at $12.95. macsfishchipsstrips.com
Along with their renowned burgers, Red Cow is also serving up a traditional beer-battered pollock fish with a side of french fries ($13.50). redcowmn.com

Saint Dinette is bringing the heat with their Nashville Hot Coddy that includes two pieces of fried haddock with a Nashville hot seasoning served over Texas Toast with buttermilk ranch and dill pickles ($20). saintdinette.com
Come and get your Walleye every day! Walleye sampler ($16), Walleye cakes ($14), Skillet walleye for breakfast ($15), Walleye tacos (15), Walleye spring rolls ($14), Walleye basket (16), Famous walleye dinner ($22-28), Walleye sandwich (15), Walleye BLT ($17), Fettuccine Alfredo with Walleye ($22), Hot honey walleye ($23), Coconut Walleye ($23). You can even order walleye to make at home ($30). thetavernongrand.com
What's your favorite fish fry in Saint Paul? Let us know with #MySaintPaul
250 7th St E Saint Paul, Minnesota 55105 Lowertown