Image: @waldmannbrewery
Written by: Joy Summers
Winter in Minnesota isn't so much as a thing to be endured, but a season to be celebrated. What other regions might cringe at, we embrace. What else could explain the unhinged wonder of our glorious winter carnival? Even on an average, blustery night, there is a space with access to the outdoors waiting.
Find more on our full list of current Saint Paul restaurant information.
Patios are subject to staffing and hour changes: contact the venues ahead of time to ensure the outdoor space is open.
1. Waldmann Brewery
This ancient building has been spiffed up for new generations with German-style beer and food, including sausages, pretzels, and spaetzle. Waldmann's outdoor beer garden is right at the end of the high bridge in a historic part of the West 7th neighborhood. Watch their socials for live music and other events held outside. And, if the chill gets to be too much, inside are two pot belly stoves that make for an unbelievably cozy winter night.
2. A-Side Public House
This relatively new coffee shop, restaurant, and brewery located in a historic fire station in West 7th also has a toasty little fire pit outside. Also at A-Side, here's a double smash burger just waiting for you to wrap your choppers around.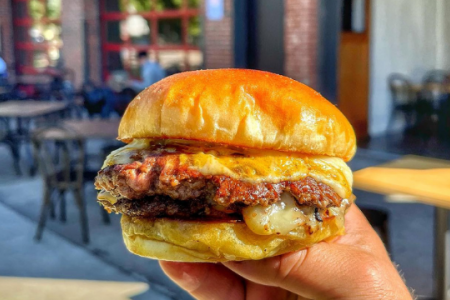 @sotaeats
3. The Gnome Craft Pub
This lively patio is ground zero for Cathedral Hill good times all summer long, and the owners aren't quite ready to let those memories fade. The expansive patio at The Gnome has a fireplace, heaters, and a huge tap list. The food seems built for sweater weather with a poutine topped in fried cheese curds, cheese sauce, and a demi glace gravy.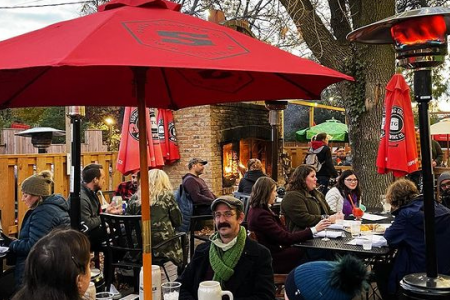 @thegnomepub
4. Bad Weather Brewing
This popular West 7th taproom is a patio favorite for people and their well-behaved pooches. At Bad Weather you can cozy up next to the fire table or an outdoor heater. There is nothing like pairing a pint of Ominous with dark, snowy weather. Sometimes food trucks pull in with a host of hearty food pairings. Check the website for a schedule.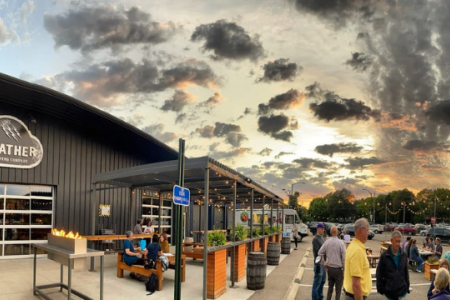 @aschmidtphoto
5. Urban Growler
Urban Growler's beer garden has long been popular for soaking in the chilly season fireside. Plus, it's one of the few breweries that has an in-house kitchen, with plenty of food to pair with the beers.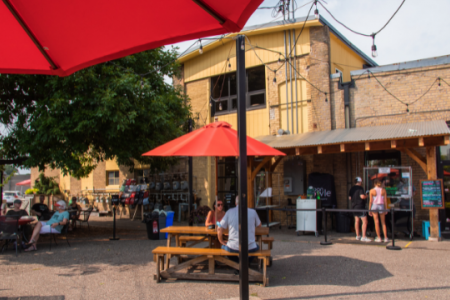 6. Hope Breakfast Bar
Hope Breakfast Bar specializes in all day breakfast with specialty coffee drinks, and fancy cocktails. The restaurant space is intimate, and this place is popular, so sometimes the party spills over into the outdoors. There are tables and heat lamps, but bundle appropriately.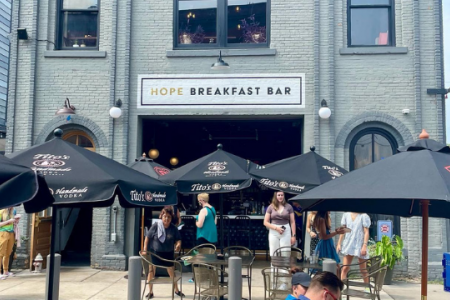 @yourbestlifelog
7. Patrick McGovern's
Patrick McGovern's has one of the most impressive indoor/outdoor patio spaces with a retractable glass enclosure at the restaurant. It's a beautiful space to take in a snowy night. Cozy up by a crackling fire with a cold pint and a plate of hearty bar fare.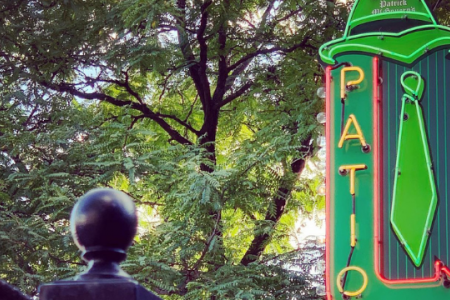 @awin36
8. Wabasha Brewing
This West Side brewery's patio is open again pouring its menu of craft brews. We recommend Wabasha Brewing's Jalapeno Popper Cream Ale to keep you warm.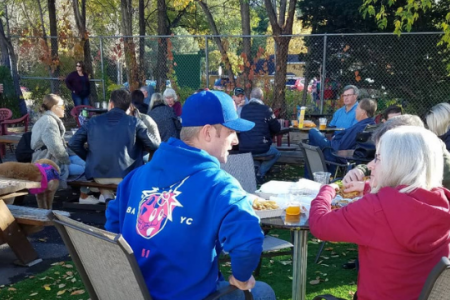 @wabashabrewing
9. Lake Monster Brewing
Tucked off Vandalia, right behind a historic brick building, Lake Monster Brewing has a really cool event space and a wide open patio that's ready for winter good times. Chairs huddle around little firepits and there are plenty of beers made onsite to choose from.
10. Dual Citizen Brewing
Outside this Saint Paul brewery, a giant tent has been raised and transformed into a breathtaking winter wonderland. Inside 5,400 twinkle lights crisscross the room, shiny ornaments dangle, catching the bright lights, scads of tinsel have been hung on anything not nailed down, and turf has been laid down to give it at least a feeling of green. This glorious outdoor room is available for booking for private events and is open to the public.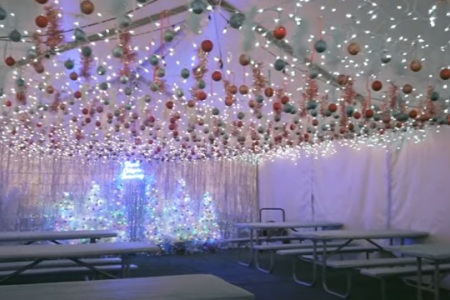 @dualcitizenbrewing
Of course, there are so many more patios in the city and some continue to open, and we want to know which is your favorite. Shout it out to us on Twitter or Facebook, and share your favorite patio photos on Instagram with the hashtag #MYSAINTPAUL.

Joy Summers is an award-winning columnist and food writer whose work has appeared in Food Network Magazine, People, City Pages, Minnesota Monthly, Lavender, and Eater. She's been known to take to backcountry roads and plunge into new environments in search of elusive ingredients at their peak. As a passionate storyteller, she strives to connect people with the words that serve them best. She lives in Cathedral Hill with her husband and young children.