Immerse yourself in the holiday spirit this winter by taking a journey through Saint Paul's best light shows. From Summit Avenue to the East Side, these displays are sure to dazzle you with all of their festive glory.
1. Rice Park
A virtual park lighting was held in lieu of the annual tree lighting ceremony to flip the switch bringing Rice Park Powered by Xcel Energy to life. Make plans to enjoy this twinkling winter wonderland when you come downtown to shop, pick up takeout or simply to enjoy the lights.
2. Mears Park
Take a stroll through the colorful lights at this beautiful and beloved park. The signature tree this year is the spectacular blue Hope Tree, designed for you to admire its beauty and take a moment to reflect on what hope means for you.
3. Union Depot
Just down the block from Mears Park you'll find Union Depot's giant holiday tree, the perfect backdrop for some socially distanced photos! In place of the usual kickoff tree lighting, Union Depot will be sharing a Holiday Tree Lighting video special — premiering Fri., Dec. 4 at 7 p.m on the Union Depot website and Facebook. The tree will be lit through the remainder of December on the North Plaza.
4. Summit Avenue
Home to the Minnesota Governor's Residence and some of the state's most historic homes, the 4.5-mile stretch is a great destination for a cool winter walk or for those looking to experience the lights from the warmth of their cars.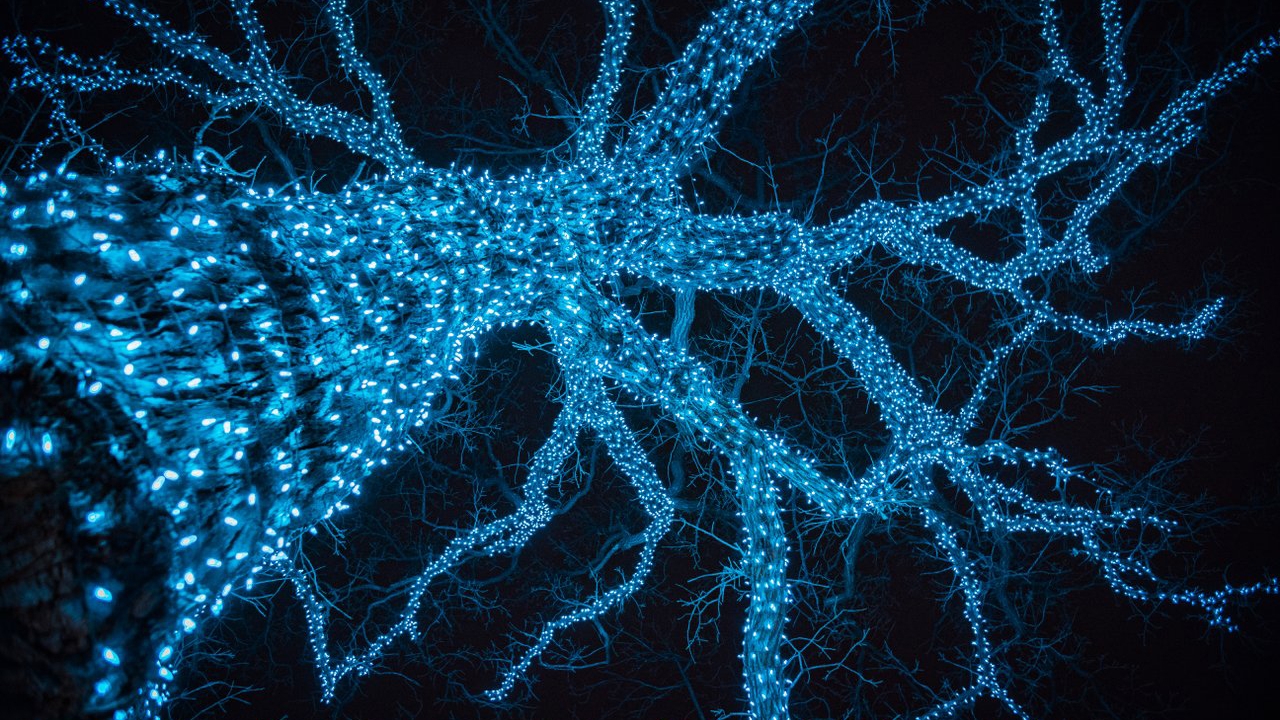 Find a similarly lit tree a few blocks off Summit at Cathedral Hill's Boyd Park.
5. Cathedral Illuminated: The Manger
This large-scale light mural projected on the front of the Cathedral of Saint Paul will tell the Christmas story. Accompanied by uplifting music, the production is 12 minutes long and will be shown on a continuous loop between 6-9 p.m on Dec. 17-19 and streamed live on Facebook.
6. Experience the Twin Cities All is Bright Holiday Lights Tour
Bundle up for this open-air fun bus tour — with a covered top and open sides, it's the perfect way to view twinkling lights along brightly decorated streets in a fun safe way. Choose your date and time slot to book the bus for your private party of up to 13. Every weekend through Dec. 27.
7. York Avenue
Make a stop at 1526 York Ave. to see 60,000 lights choreographed to "Rockin' Rudolph" on 91.5 FM. The display is put on by the Schultz Family and runs nightly from 5-10 p.m., Nov. 27 to Dec. 31. Don't forget to bring some canned goods — the site supports the Greater East Side by collecting food for the Merrick Food Shelf.
8. GLOW Holiday Festival
This brilliant event for the whole family is a 1-mile drive-thru with a dozen seasonal scenes featuring over a million holiday lights, a 100-foot illuminated tree, icicle and art installations, a festive gingerbread house, and other attractions. The festival runs through Jan. 3. Purchase tickets.
9. Nature Illuminated
Minnesota Zoo has a magical world waiting for you with Nature Illuminated, a one-of-a-kind drive-thru experience featuring stunning light work and larger-than-life animal art installations. The display is up through Jan. 17. Purchase tickets here.
10. Saint Paul Park
While the judging of Saint Paul Park's annual holiday lights contest only runs from Dec.16-20 (with lights on each night from 5-10 p.m.), you can enjoy the views all season long. Keep an eye on the city's website for a complete list of nominated homes.
We'd love to see where you're checking out the lights this season. Share your holiday cheer with us on Facebook, Instagram and Twitter using the hashtag #MYSAINTPAUL! Main image by @jsmphotographymn on Instagram.