Who
The Winter Carnival is for everyone. And we mean everyone—young, old, short, tall, locals, visitors and fans of bowls that are super.
What
A jam-packed winter extravaganza, that's what. We know a thing or two about the cold here in Minnesota and the Winter Carnival showcases our favorite season in all of its glory with parades, ice sculptures, live entertainment and more.
New this year
Kellogg Mall Park: The hub for ice carving competitions, the ice bar and music series will be held riverside this year at Kellogg Mall Park due to construction at Rice Park. See the "Where" section below for location details.
Vulcan Snow Park Fire Caste: A castle built for a Vulcan Fire King. This 3,500 square foot black-lit castle at Vulcan Snow Park (Minnesota State Fairgrounds) will house nine snow-formed golf holes to be played with a frozen tennis ball.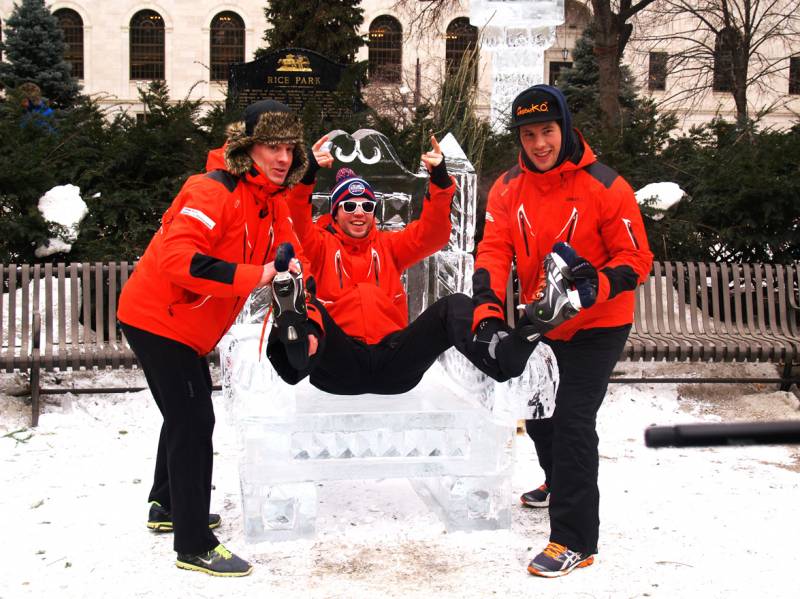 When
Jan. 24-Feb. 3, 2019.
SPECIAL EVENTS:
Thursday, Jan. 24
Winter Carnival Kickoff - Landmark Center
Vulcan Snow Park opens - Minnesota State Fairgrounds
Friday, Jan. 25
Winter Carnival Royal Coronation - RiverCentre
Ice Carving Competitions - Kellogg Mall Park
Live Music: The Plott Hounds, Tim Sigler - Kellogg Mall Park
Saturday, Jan. 26 - Kid's Day
King Boreas Grand Day Parade - Downtown
Kid's Day - Landmark Center
Securian Winter Run - Downtown
Ice Carving Competitions - Kellogg Mall Park
Live Music: Bryce Hegge, Dirty Shorts Brass Band, Ben Johnson and the Road Beers, Shannon Curfman - Kellogg Mall Park
Sunday, Jan. 27
Ice Carving Competitions - Kellogg Mall Park
Fancy Hot Dish Competition - The Lexington
Minnesota Made Market - Landmark Center
Live Music: Saint Paul Jazz Band, The Art Department, Dirty Shorts Brass Band - Kellogg Mall Park
Saturday, Feb. 2
Vulcan Victory Torchlight Parade & Fireworks - Downtown/Kellogg Mall Park
Family Day - Landmark Center
Sunday, Feb. 3
Hops & Hounds - Kellogg Mall Park
This only scratches the surface. For a full listing of events by day, check the calendar.
Where
Winter Carnival events take place at a variety of locations in Saint Paul, including the Minnesota State Fairgrounds and numerous spots Downtown. Due to renovations occurring in Rice Park, many of the Carnival's signature events will be taking place at Kellogg Mall Park this year—along the river on Kellogg Avenue between Robert and Wabasha. Events moving riverside to Kellogg Mall Park include the Ice Carving Competition, Winter Carnival Music Series and Ice Bar. Just north at the Minnesota State Fairgrounds, you'll find the fun-packed Vulcan Snow Park. This is where you can take a ride on the giant snow slide and revel in the extraordinary snow sculptures created during the Minnesota State Snow Sculpting Competition.
Why
It's kind of a long story, actually, but it began in 1886 in response to a few misguided East Coast reporters who called Minnesota "another Siberia, unfit for human habitation." You can read the full legend surrounding our mid-winter festival here or, if you've got an hour, check out TPT's episode—The Legendary Winter Saint Paul Winter Carnival.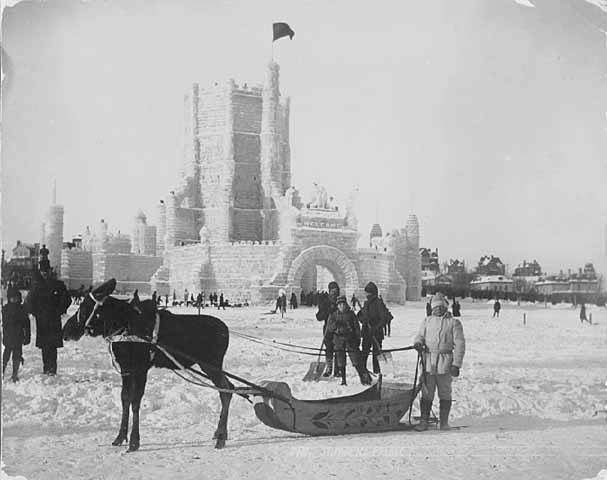 How
Most Winter Carnival events are free unless otherwise noted. Buy a collector's button online or at a local retailer to register to win a $1,000 grand prize and other great prizes. Your button also grants you exclusive discounts at ticketed carnival events and other local businesses, including The Roseville Skating Oval, and Black Dog Cafe.
Deterred by the sub-zero forecast? Winter Carnival knows even the toughest Minnesotans need the occasional break from blistering temps, so they've set up the Baileys Warming House with activities and games at Kellogg Mall Bark.
Parking is available at a variety of locations near Kellogg Mall Park and Landmark Center, with ramp fees ranging between $10-$20. You can also save the hassle altogether with FREE Metro Transit rides to and from the Winter Carnival and Vulcan Snow Park. Click here to download your pass.
Other Important Questions
What should I wear?
We like to bundle up in warm boots, a coat, gloves and a hat—you can always take layers off. Ultimately, it's up to you though. Don't be surprised if you see some true Minnesotan winter warriors rocking shorts.
Can I bring my dog?
While pets are allowed at the outdoor events, the Carnival recommends you leave them at home to ensure the safety of your pet and other guests.
We can't wait to see how much fun you're having at Winter Carnival. Share with us on Facebook, Instagram and Twitter using the hashtag #MYSAINTPAUL and #WinterCarnival.