VSP: Can you tell us a bit about Frogtown Farm and its mission?
Xp: Frogtown Farm was founded by a group of neighborhood residents who saw an opportunity to create a much-needed green space and resource in their community. Through grassroots organizing and a community engagement process that continues to this day, the group was able to win support from the City of Saint Paul, The Trust for Public Land, the Environment and Natural Resources Trust Fund, and the Wilder Foundation. Our mission is to enrich the world by cultivating soil and community in Frogtown.
VSP: When is a good time to visit the farm?
Xp: Our farm is part of the larger city park, so it's open to the public. On nice, sunny days when you're surrounded by the tree line, you almost forget that you're in the city. There's a breathtaking view of Frogtown from the top of our sledding hill, and blanket picnics would be perfect under the canopy of our towering oak trees. Three laps around our walking trail is a "Frogtown Farm Mile", and you can time your outing to take advantage of our spectacular sunrises and sunsets.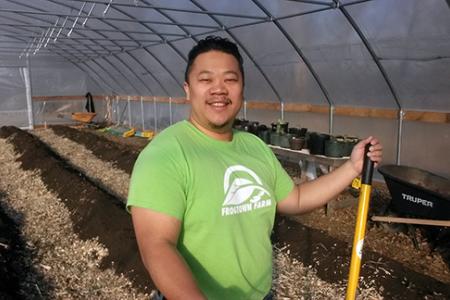 VSP: Who might want to check it out?
Xp: Everyone should come check us out! We are in a strategically unique position to build community, both literally and figuratively, and want to connect with community members at all levels of engagement. From children to seniors, beginners to experts, nonprofits to businesses, social services to social justice, across the street to across the world, Frogtown Farm is a destination for those seeking learning, innovation, reflection, celebration and authentic community.
VSP: What are one or two things that you'd recommend to a visitor who wanted to spend some time in the neighborhood?
Xp: After checking out the farm, head over to our stretch of University for fantastic neighborhood restaurants that line the avenue from Lexington to Rice and then make sure to peruse the aisles of Hmongtown Marketplace for a variety of fresh produce, food, hand-made crafts, and other interesting goods.
VSP: Speaking of restaurants, Frogtown is getting attention as a place to try new food. Do you have any recommendations?
Xp: Absolutely! Homi Restaurant for Mexican. iPho by Saigon is a go-to for pho and banh mi sandwiches, Trung Nam for croissants, Hickory Hut for wings, Big Daddy's for barbecue, Kolap for Cambodian cuisine, Lao Thai for their beef lob and sticky rice, Ha Tien Market for their deli, Wung Lee Supermarket for their eggrolls, Little Szechuan for Chinese and King Thai for Thai.