Whether you're looking for light displays, shopping local for the perfect gift, take-home holiday meals or theatre and entertainment, we've got a full list of safe, distanced and virtual ways to make the season bright.
GLOW Holiday Festival
This brilliant event for the whole family is a one-mile drive-thru with a dozen seasonal scenes featuring over a million holiday lights, a 100-foot illuminated tree, icicle and art installations, a festive gingerbread house, and other attractions. Purchase tickets. Nov. 19-Jan. 3, 2021.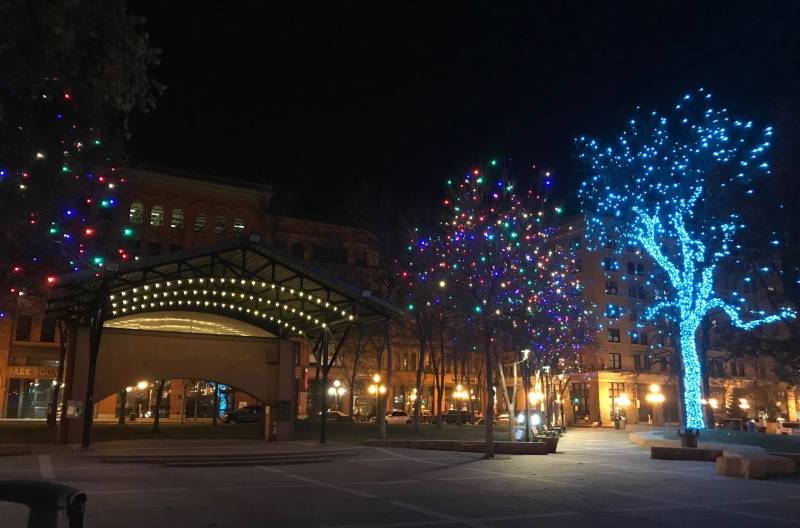 Holiday Lights Downtown
Rice Park and Mears Park will come to life for the season beginning Nov. 20 and running through Feb. 27. The Tree Lighting at Mears Park will be streamed via Facebook on Nov. 20, or view the lighting from your car at the park. Nov. 20 - Feb. 27, 2021.

Nature Illuminated
This winter, there's a magical world waiting for you at the Minnesota Zoo with Nature Illuminated, a one-of-a-kind drive-thru experience featuring stunning light work and larger-than-life animal art installations. Purchase tickets. Dec. 3 - Jan. 17, 2021 (closed Dec. 24 & Jan. 4, 5, 11, 12).
Union Depot Holiday Tree Lighting
This year's virtual event means you can take part in the Holiday Tree Lighting from anywhere, with a video special on Union Depot's website and Facebook page. The tree will be lit through the remainder of December on the North Plaza and is the perfect back-drop for socially distanced holiday photos! Dec. 4, 2020.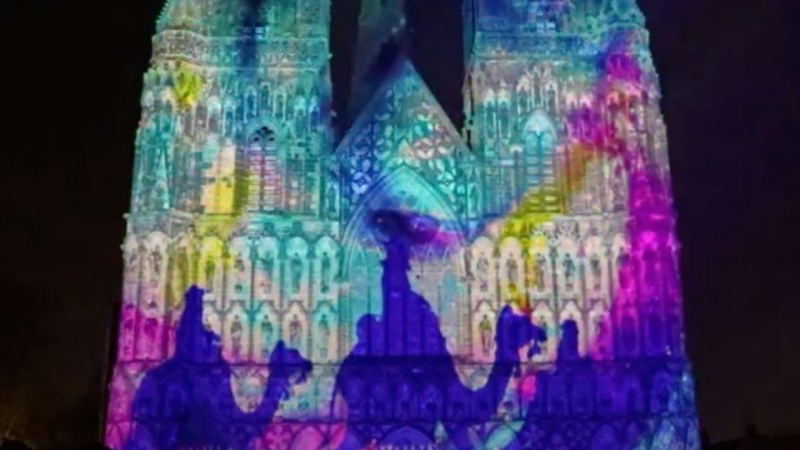 Cathedral Illuminated: The Manger
From the safety of your vehicle, see the Christmas story told with large-scale light murals accompanied by uplifting music projected on the front of the Cathedral of Saint Paul. Created by Luxmuralis, an award-winning projection art company based in England, the production is 12 minutes long and will be shown on a continuous loop between 6-9:00 p.m. Also available to stream live on Facebook. Free. Dec. 17 - 19, 2020.
All Is Bright Holiday Lights Tour
View beautiful light displays in a fun, safe way with Experience the Twin Cities. Bundle up for this open-air fun bus tour - with a covered top and open sides, it's the perfect way to view twinkling lights along brightly decorated streets. Choose your date and time slot to book the bus for your private party of up to 13. Thurs-Sun, Dec. 3 - 27, 2020.
Find more places around Saint Paul to see holiday lights here.
Make supporting local restaurants a part of your holiday celebrations this year. Saint Paul restaurants are ready to help you create a festive and stress-free holiday dinner. Some restaurants may sell-out, so we recommend planning ahead and checking to confirm availability.
European Christmas Market
This European-inspired Christmas market has moved online for 2020, complete with unique vendors, online shopping and traditional European entertainment. Shop locally made ornaments, décor, art and gifts. Runs through December 2020.
Holiday Bake Sale
The Union Depot is offering a virtual take on the annual Holiday Bake Sale. Pre-sale holiday treat bags are available for purchase online for pick up on Dec 2. Tune in to see vendor interviews, holiday baking tips, recipes and more. Nov. 15 - 30, 2020.
Landmark Center Old Fashioned Holiday Bazaar
In its 42nd year, this holiday tradition is your go-to for finding unique and handcrafted merchandise. Due to Covid, the market will be online this year, featuring artists' online platforms so you can shop from home. Dec. 3 - 13, 2020.
MN Hmong New Year Celebration
Traditionally, Hmong New Year is celebrated in Minnesota at the Saint Paul RiverCentre as a holiday of thanks at the end of a harvest season. This year's event is a live-streaming celebration with performances of singing and dancing. Leading up to the event, St. Paul Public Library is hosting virtual programs all month long. Nov. 27, 2020.
The Hip Hop Nutcracker
A contemporary dance spectacle set to Tchaikovsky's timeless music, is available to stream for Ordway audiences this holiday season. The live capture, filmed as a part of a partnership with PBS, will allow recurring and new patrons to experience this beloved holiday tradition at home, as theaters across the country remain closed. Purchase tickets. Nov. 27, 2020.
A (Virtual) Christmas with The Griswolds: An Evening with Chevy Chase and Beverly D'Angelo
The Ordway brings you Christmas' favorite couple, Ellen and Clark Griswold, for this virtual salute to the holiday classic, "National Lampoon's Christmas Vacation." Chevy Chase (Clark) and Beverly D'Angelo (Ellen) lead audiences through this live event as they share fan-favorite clips from the movie, reveal their favorite memories from the making of the "Vacation" franchise, and answer your questions in a live audience Q & A. Purchase tickets. Nov. 28, 2020.
"Christmas Stories with J.B. Ekert"
Tune in for the Landmark Center's "Christmas Stories with J.B. Eckert." Eckert has written three original Christmas stories that are charming and engaging for all ages and will tell a different story each week. Sundays, Nov. 29, Dec. 6, Dec. 20, 2020.
A Copasetic Christmas Carol
Twin Cities Jazz Festival presents Copasetic Christmas Carol, an original jazz adaptation of Charles Dickens' classic A Christmas Carol, to draw us into the holiday season in this year of ongoing challenges. Free. Dec. 10, 2020.
Sounds of Blackness presents The Night Before Christmas: In Concert
Recorded in the Ordway's acoustically-rich Concert Hall, The Night Before Christmas: In Concert brings Soulful Santa, Mrs. Claus, Santa's Fine Reindeer, and the famous Dancing Chitlins to life with show-stopping, roof-raising music, in styles ranging from R&B and hip hop, to jazz, blues, and gospel, in a contemporary adaptation of the beloved holiday classic poem "A Visit from St. Nicholas." Purchase tickets. On Demand Dec. 19 - 31, 2020.
A Virtually Celtic Christmas
The Ordway brings the warmth and glow of Christmas in Ireland with holiday classics, traditional Irish carols, heartwarming duets, full orchestral sounds, and wonderful choirs filmed at the National Opera House of Ireland. Purchase Tickets. Dec. 18, 2020.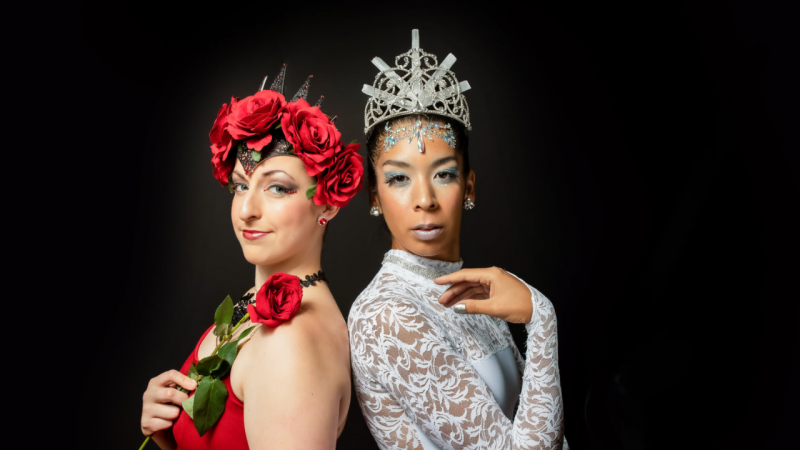 The Snow Queen
Just in time for the holidays, Ballet Co.Laboratory presents Zoé Emilie Henrot's interpretation of The Snow Queen. Join Gerda, a little girl filled with moxie on a quest to rescue her brother whose heart has been frozen by an icy fragment from the Snow Queen's enchanted mirror. Purchase tickets. Dec. 19 - 20, 2020.
North Pole Express
Union Depot brings you a virtual visit to the North Pole! Watch special video messages from Santa and some special guests with the North Pole Express. On demand during Dec 2020.

There's plenty of holiday cheer to share in Saint Paul—we'll let you know what's coming next on Facebook, Instagram and Twitter using the hashtag #MYSAINTPAUL.