As a city filled with seemingly endless dining options, it can be hard to decide where to eat in Saint Paul. If you're headed Downtown, use this as a guide to the top restaurants for lunch, happy hour and more.
Get Your Lunch On
Afro Deli
What do you get when you fuse African, Mediterranean and American food at a vibrant, quick-serve restaurant? Everyone's favorite lunch spot (well, a lot of people's at least). Fun fact: owner Abdirahman Kahin attended former President Barack Obama's 2016 State of the Union address where Kahin was honored by the U.S. Small Business Administration.
Black Sheep Pizza
Coal-fired ovens = dang good pizza. That's what you'll get at the downtown Black Sheep Pizza—the restaurant's second of three locations (the other two are in Minneapolis).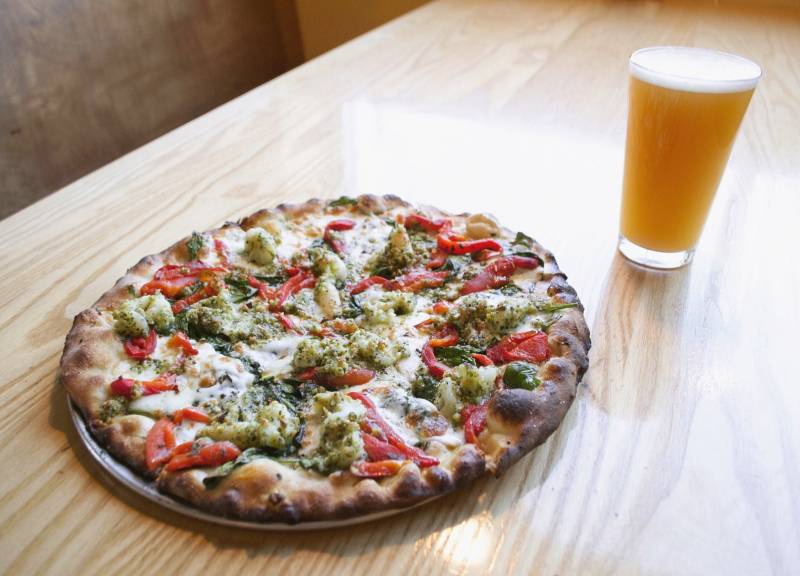 Headwaters Cafe
Located in the lobby of Saint Paul's RiverCentre, Headwaters is a worthy lunch choice for more than just convention-goers. Their extensive menu includes soups, salads, sandwiches, desserts and a variety of daily features. You can even grab a quick brew or cocktail here before a Wild game or concert at Xcel Energy Center.
M ST. Cafe
M St. Cafe is part of the Saint Paul Hotel's dining family, so you know it's good. The cafe is named for the hotel's location on Market Street and offers both breakfast and lunch. We'd be remiss if we didn't also recommend checking out the weekend brunch buffet.
Urban Wok
Think Chipotle, but stir-fry. Pick your base, protein, veggies and signature sauces, and let Urban Wok do the rest. Gluten-free or vegan? No problem—there are plenty of options to fit any dietary restrictions.
Skyway Spots
Aroma's
If Aroma's in the Lowry Building isn't your go-to downtown spot for quick Italian (pizza, pasta, sammys), it probably should be. Their BLTO just so happens to be one of our favorite sandwiches.
Asian Express
A place to satisfy your eggroll cravings and so much more. Asian Express offers a wide variety of yummy Vietnamese and Chinese dishes.
MaisonDarras
Securian Center's MaisonDarras has made quite the name for itself in the Twin Cities sandwich circuit. The authentically French cafe is known for perfectly pressed paninis and decadent creme brulee.
Pino's Pizzeria
Pino's Pizzeria in the Alliance Bank food court is a Saint Paul skyway staple. Their made from scratch New York-style pizza has been delighting downtowners for over 25 years.
Real Meal Deli
The line down the skyway at lunchtime is a pretty good indication that Real Meal Deli is, in fact, the real deal. Pop into this First National Bank Building joint for filling salads, subs and daily specials.
Skyva Deli
Another gem in the Alliance Bank food court is Skyva Deli. In addition to your standard soups, sandwiches and salads, the deli's menu includes flavorful enchiladas and quesadillas.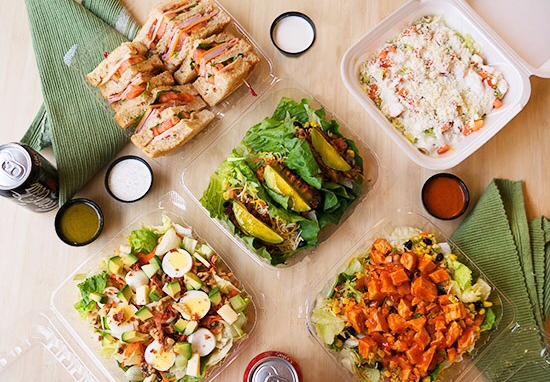 Skyway Grill
While there's no shortage of burgers in Saint Paul, there was a shortage of them in the skyway—that is, until Skyway Grill opened in 2015. Get your burger fix (and a side of sweet potato tots) in the Alliance Bank building.
Sushi Sushi
Build-your-own sushi rolls and all the classics. This Alliance Bank spot proves you don't have to leave the warmth of the skyway for good sushi.
Fine Dining
Citizen
Citizen dropped the Supper Club from its name when it relaunched in September 2017 with local flair and a modern look. Open for breakfast, lunch and dinner, InterContinental Hotel's resident restaurant touts small plates, elevated comfort food and crafted cocktails.
Kincaid's
From seafood to prime rib, Kincaid's is known for providing a classic American dining experience. It's a great choice for special occasions or special someones.
Meritage
With a handful of Best Restaurant and Best French food honors, Meritage has built quite the reputation in the Twin Cities. The oyster bar and robust wine selection are just two of the many reasons to add it to your list.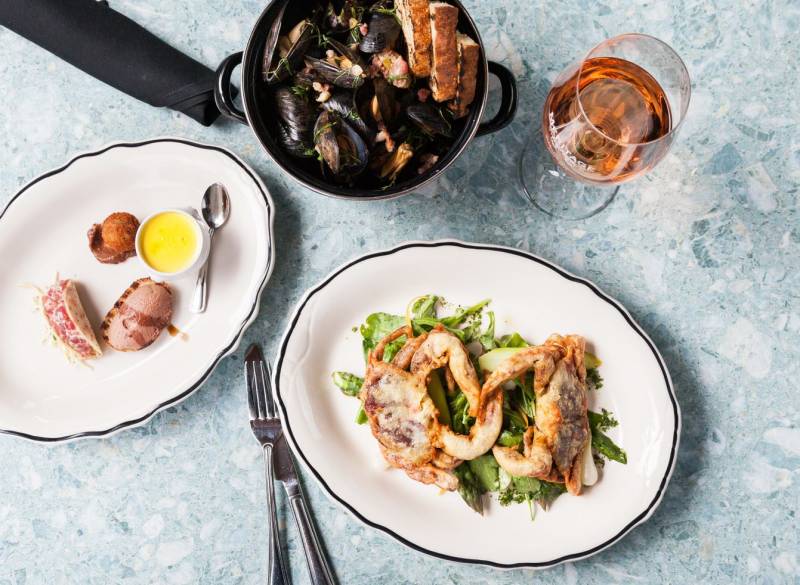 St. Paul Grill
Nothing says quintessential Saint Paul like St. Paul Grill. Sip cocktails and indulge in the finest steaks, fish and pork chops as you overlook Rice Park at this downtown icon.
Happy Hour
Amsterdam Bar & Hall
Go Dutch with Amsterdam's simple, yet delicious of Belgian appetizers, fries and sandwiches. Along with a stellar weekday happy hour from 2p.m.-7 p.m., Amsterdam also hosts frequent concerts by local and national acts on its two stages.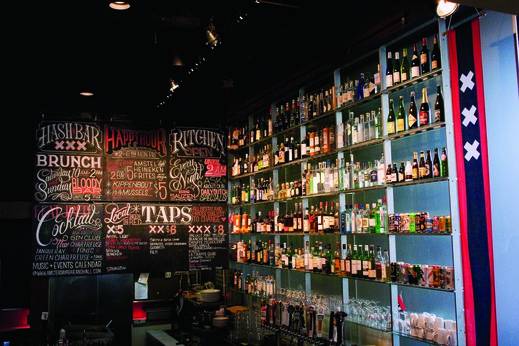 Camp Bar & Cabaret
Come for happy hour (3-5:30 p.m., 1-2 a.m. daily), stay for a show. There's nearly always entertainment scheduled at this popular downtown lounge.
Rival House
Artisanal wood-fired pizza, beer-infused cocktails and skeeball. Rival House is downtown's throwback to old-school neighborhood sporting parlours, speakeasies and social clubs.
Hometown Pride
Gray Duck
Here in Minnesota, we want nothing to do with the silly game out-of-staters call "Duck, Duck, Goose." It's "Duck, Duck, Gray Duck" and that's all there is to it. In fact, we're so passionate about it that we even named a restaurant after it. Though its name is uniquely Minnesotan, Gray Duck Tavern's menu features comfort food inspired by all corners of the world.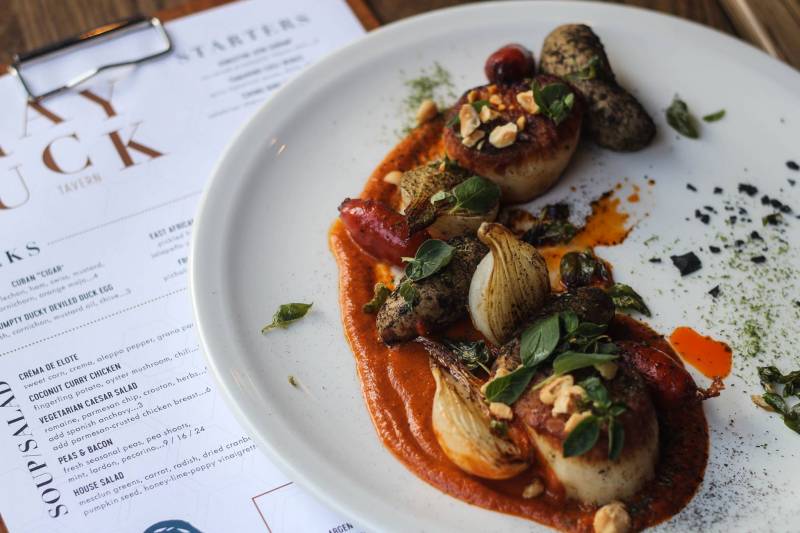 Herbie's
Pay homage to a Saint Paul icon while you dine on upscale tavern fare and handcrafted cocktails. Inspired by the legacy of Herb Brooks, coach of the 1980 gold medal Olympic hockey squad, Herbie's on the Park is the place to be for hockey fans and foodies alike.
Loon Cafe
The Loon has landed. A longtime Minneapolis favorite for chili, sandwiches, beer and good times has crossed the river to establish its second location along Saint Paul's West Seventh Place mall. It's a great pick for lunch, happy hour or before and after a show at the nearby Palace Theatre.
Keys Cafe
Though there are nine total Keys locations in the Twin Cities, the renowned Minnesota breakfast joint calls Saint Paul home. The downtown location isn't the original (that one's on Raymond Avenue in Saint Anthony Park), but it serves up the same all-day breakfast deliciousness as the others.
Mickey's
What do the National Register of Historic Places, Hollywood, Food Network and Travel Channel all have in common? They've all featured Mickey's Dining Car in Saint Paul. One look at the menu and you'll see you're in good company with all the celebrities who have dined at this vintage breakfast joint since it opened back in 1937.
International Flavor
Ruam Mit
Looking for phenomenal Thai food in downtown Saint Paul? Head to Ruam Mit Thai for some of the city's best pad thai, curry and other traditional favorites. It's rare for this place not to be packed over the lunch hour, so plan your visit accordingly.
Sakura
Enjoy fresh sushi and sake in Sakura's spacious two-level restaurant (a rare find downtown). Pick a seat at the sushi bar to watch your meal being prepared for you.
Dessert
Candyland
What would you say if we told you Chicago Mix popcorn was actually invented in Saint Paul? It doesn't make a whole lot of sense, but dang is it good. Pick up a bag and more at Candyland's original downtown location.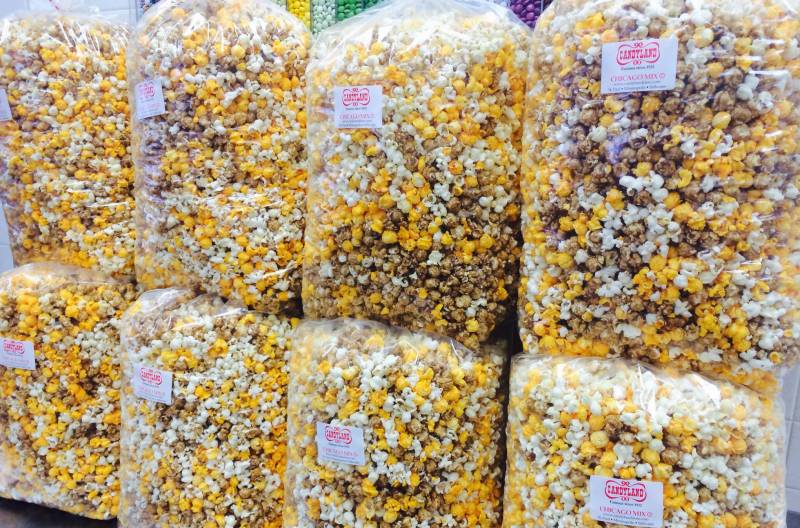 Legacy Chocolates
In the historic Pioneer Endicott Building lies the cure for all of your chocolate cravings. The truffles and bark are Legacy Chocolate's specialty, but you'll also want to try their chocolate-infused coffee drinks for a decadent pick-me-up.
What tops your downtown dining list? Let us know on Facebook, Instagram and Twitter using the hashtag #MYSAINTPAUL!