MY ITINERARY (

0

)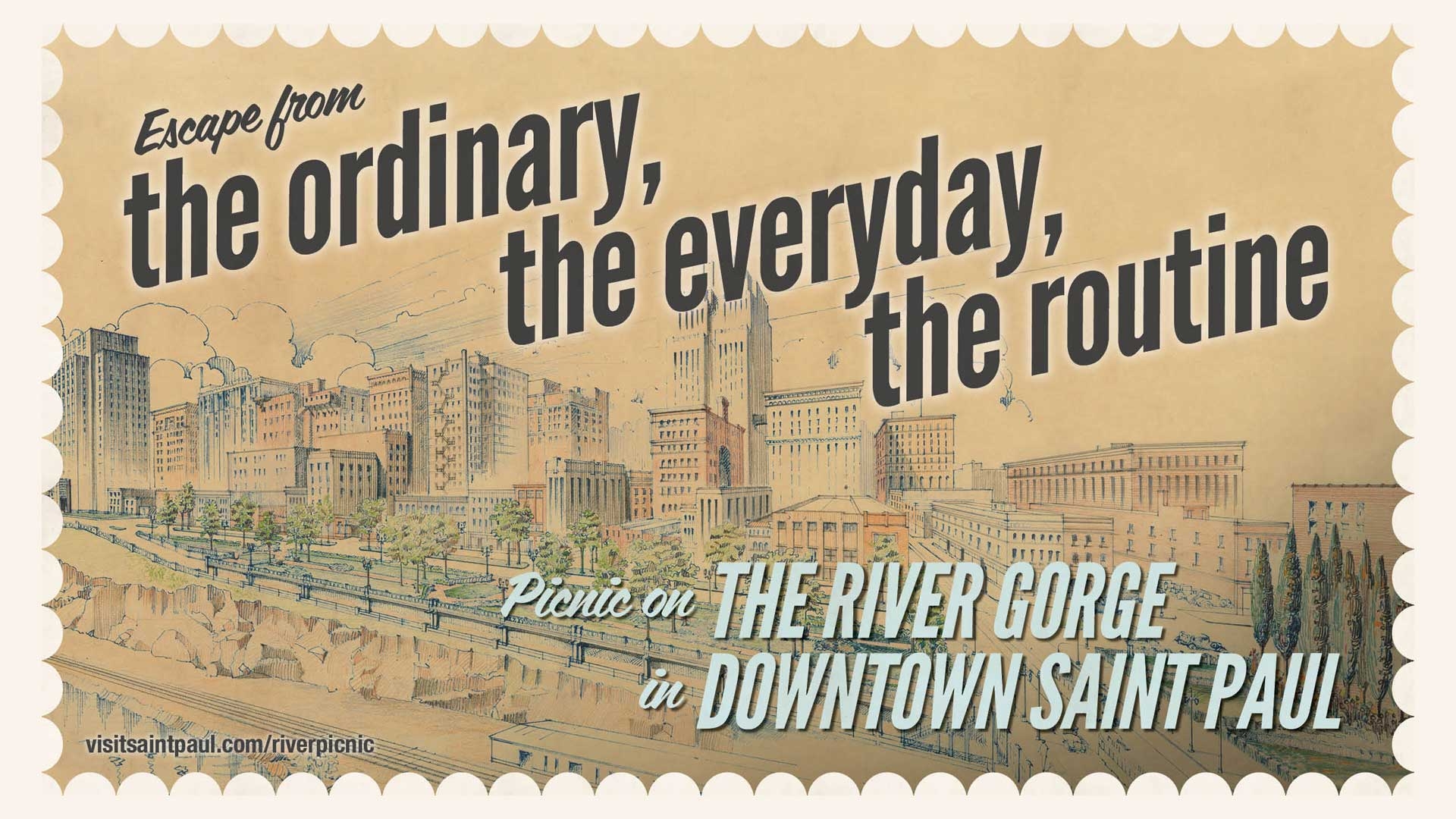 Picnic in the River Gorge throughout Saint Paul
River Gorge Picnic Areas
Enjoy a picnic around Saint Paul at these 20 recommended locations. The views are incredible, the experiences memorable.
Thousands of years ago, the powerful river carved a 100-foot limestone bluff, a perfect townsite for the city of Saint Paul. Built on seven hills, and featuring short blocks with architecture from different eras, Saint Paul's streetscape is a walkers paradise. "A Great American Destination," according to the National Trust for Historic Preservation.
And the river, 17 miles of the Mississippi, flows through Saint Paul and is protected as America's first urban national park - The Mississippi National River & Recreation Area.
Nature surrounds the capital city. Step outside and see why Saint Paul boasts one of the top two park systems in the entire country.
A change of scenery will do you good. Below are some recommended picnic locations - some with views from the bluff overlooking the valley, a few right down on the water. Pick up picnic provisions at a nearby artisan food market or award-winning restaurant. The Saint Paul food scene is happening and drawing national attention. Books and picnics just go together. Whether it's poetry for romance, local history or pursuing a best-seller by yourself, find it downtown at Subtext Books.
Picnics are memorable because your senses are alive. Food even tastes better outside. Picnics are also good for your health and well being. Did you know that researchers have confirmed that, under the shade of a tree, your immune system is stimulated, and your stress and blood pressure levels lowered. Just think of it.
So, unplug, enjoy your meal and watch the eagles soar.


Select an Event Date
Thursday, Sep 24, 2020
Partly cloudy throughout the day.

High:

76°

low:

63°

Chance of Rain

42%

Wind:

SE at 5 MPH

Partly cloudy throughout the day.

High:

85°

low:

62°

Chance of Rain

9%

Wind:

S at 10 MPH

Mostly cloudy throughout the day.

High:

75°

low:

57°

Chance of Rain

20%

Wind:

S at 6 MPH

Clear throughout the day.

High:

70°

low:

56°

Chance of Rain

20%

Wind:

W at 11 MPH

Rain overnight.

High:

65°

low:

52°

Chance of Rain

37%

Wind:

NW at 9 MPH

Rain in the morning.

High:

59°

low:

50°

Chance of Rain

87%

Wind:

NW at 11 MPH

Mostly cloudy throughout the day.

High:

55°

low:

45°

Chance of Rain

33%

Wind:

NW at 12 MPH

Clear throughout the day.

High:

56°

low:

38°

Chance of Rain

5%

Wind:

NW at 8 MPH