The Peanuts and Saint Paul
The Peanuts are some of the world's most beloved cartoons of all time. From pulled footballs to security blankets and "Oh, good grief", the Peanuts gang changed the concept of cartoons permanently. Creator Charles M. Schulz spent much of his life in Saint Paul and much of his time here is reflected in his work.
Schulz was born in Minneapolis, but he spent much of his childhood life in Saint Paul's Mac-Groveland neighborhood.
From a young age, he was called "Sparky" in reference to a racehorse from the cartoon strip Barney Google. Schulz and his father were known to purchase newspapers from both Minneapolis and Saint Paul to make sure they saw every cartoon strip printed locally.
His father owned a barbershop on the corner of Selby and Snelling, in the place of the former O'Gara's Bar and Grill. Over the course of his childhood, the Schulz family lived throughout Saint Paul on James Avenue, Macalester Street and Dayton Avenue. During the Great Depression, a family illness led the family to move out to California for one year.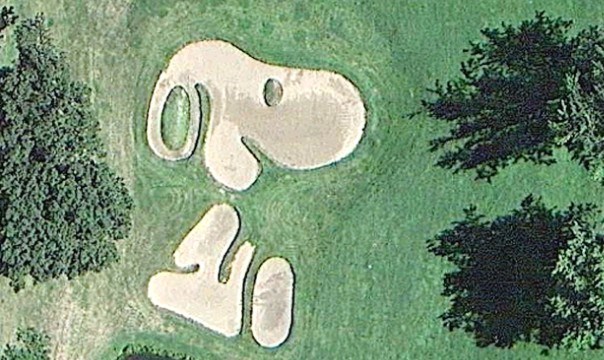 Like most of the Peanuts gang, Snoopy's character was inspired by his personal life. Despite the family's multiple moves, Schulz kept Spike (a black and white pointer) that exhibited odd behavior. Schulz confirmed several times that his dog inspired his cartoons.
Eventually, the Schulz family moved back to Saint Paul and lived in one of the apartments above the family barbershop. Schulz attended Central High School.
Schulz' first published drawing, a submission to Ripley's Believe It or Not, depicted Spike the dog's uncanny ability to eat tacks, pins and razor blades. He was 15 years old when it was printed. He was drafted into World War II after his high school graduation.
The Pioneer Press and The Minneapolis Tribune were the first two newspapers to feature Schulz on a weekly basis in the late 1940s. Schulz initially named his panel work Li'l Folks, but the New York company that first syndicated his comics in the early 1950s insisted he change the name to Peanuts to avoid conflict with another strip; Schulz detested the name throughout the remainder of his career.
Some Highland Park landmarks represented significant points in Schulz' life. He learned how to golf and caddied at Highland National Golf Course, where the 15th hole sand trap is now shaped in Snoopy's likeness. The Little Red-Haired Girl in the strip was inspired by Schulz' unrequited love for an accountant at the Art Instruction School where Schulz also taught. Rumor has it that he would try to bring her to the movies at Highland Theater on Cleveland Avenue.
"Dear Friends,

I have been fortunate to draw Charlie Brown and his friends for almost fifty years. It has been the fulfillment of my childhood ambition.
Unfortunately, I am no longer able to maintain the schedule demanded by a daily comic strip. My family does not wish "Peanuts" to be continued by anyone else, therefore I am announcing my retirement.
I have been grateful over the years for the loyalty of our editors and the wonderful support and love expressed to me by fans of the comic strip.
Charlie Brown, Snoopy, Linus, Lucy... how can I ever forget them...
— Charles M. Schulz – (from last comic strip, February 13, 2000)"
While the ubiquity of the Peanuts characters is easy to observe, its influence has been portrayed in odd places. For example, when NASA pioneered man-powered flights to the moon, Snoopy and the gang were selected as a friendly mascot for the safety and training instructions. Since the 1960s, the Thanksgiving Day Parade in New York City has always included either Snoopy or Charlie Brown.
In the early 2000s in Saint Paul, the Peanuts on Parade initiative was started by the Capital City Partnership. Each summer, more than 100 five-foot tall statues of Peanuts characters (a different character each summer) were on display throughout the city from June until September. This multi-year campaign drew hundreds of thousands of visitors to downtown and helped fund the permanent bronze peanuts sculptures in Landmark Plaza and Rice Park.

Some of Schulz' family still resides in Saint Paul; his son, Craig, spoke at the Peanuts Movie Fall Festival event downtown on Charles Schulz' Day, October 20, 2015. You'll still see touches of the Peanuts characters all over the city, especially character statues around downtown, Grand Avenue and West 7th.
For a more in-depth look at the illustrator's history, the Charles M. Schulz Museum has a comprehensive timeline. For those who prefer to read the story, Charles Schulz and Peanuts: A Biography by David Michaelis covers the cartoonist's life. Who Are You, Charlie Brown? is a documentary about Peanuts and its creator, featuring famous fans like Drew Barrymore, Kevin Smith and Al Roker.