Celebrate Saint Paul's AAPI Community & Culture
Immerse yourself in Saint Paul's robust AAPI Community.
Saint Paul is a melting pot of cultures and people that make up our vibrant community. Our Asian American and Pacific Islander community makes up so much of Saint Paul, and there are so many ways to celebrate! Whether attending a local event, checking out a new restaurant, or exploring different exhibits - there are so many ways to immerse yourself into the culture, and we rounded up different ways to do that here in #MYSAINTPAUL


Where to Eat and Explore in Saint Paul
Chinese Restaurants in Saint Paul

You'll find a Chinese restaurant in Saint Paul for every kind of vibe or need, from takeout to casual to fine or fun. Explore here.
Saint Paul's Vietnamese Cuisine

We've rounded up 8 Vietnamese restaurants and listed them in geographic order from west to east, for a taste of this flavor-packed cuisine. Explore here.

Hmongtown Marketplace & Hmong Village Shopping Center

Saint Paul is home to two incredible food halls and shopping marketplaces in Saint Paul serving the crispiest, juiciest, spiciest traditional cuisine with the freshest ingredients.
In addition to food, shop health and beauty, fashion, kitchenware, home decor and more.
Bonus: Learn about Saint Paul's Hmong history, traditions and culture.
Charlotte Partridge Ordway Japanese Garden
Located at Como Park, The Charlotte Partridge Ordway Japanese Garden represents the peace and friendship between Saint Paul and its sister city Nagasaki, Japan. Designed by renowned landscape designer from Nagasaki, Masami Matsuda, the garden boasts a true Japanese design using hardy plants and trees in Minnesota and is meant to delight your senses.
Phalen Regional Park China Garden
Starting in 1988, the City of Saint Paul and sister-city Changsha in Hunan Province of China began the project to bring the first Changsha-style garden to the U.S. In order to do so, the Minnesota China Friendship Garden Society collaborated with Saint Paul Parks & Recreation Department and two Changsha architects to integrate nature and culture to create a sense of community and a place for celebrating life events, recreation, and meditation.

Where to Indulge in Saint Paul's Art & Culture
CAAM Chinese Dance Theater
Founded in 1992, CAAM Chinese Dance Theater (CDT) is the oldest and largest arts and dance academy in the Midwest. They are dedicated to preserving and celebrating Chinese cultural heritage. Every year, they connect more than 10,000 audience members and nearly 200 dancers to the heart of dance and the soul of China.
Center for Hmong Arts and Talent
For nearly 20 years, the Center for Hmong Arts and Talent (CHAT) has been nurturing Hmong artists, creating a platform for them to share their art and advocating for a more vibrant Hmong community through the arts. CHAT exists to nurture, explore & illuminate the Hmong American experience through artistic expressions.
Exposed Brick Theatre
Founded in 2004 by Aamera Siddiqui & Suzy Messerole, Exposed Brick Theatre is dedicated to telling untold stories, centering omitted narratives and creating art at the intersection of identities. Their vision is to live in an empathetic world where people and their stories are valued.
Funny Asian Women Kollective
Funny Asian Women Kollective (FAWK) was founded in 2014 by Saymoukda Duangphouxay Vongsay, May Lee-Yang, and Naomi Ko to combat the invisibility and dehumanization of Asian Pacific Islander Desi American (APIDA) women using humor and comedy.
Hmong Cultural Center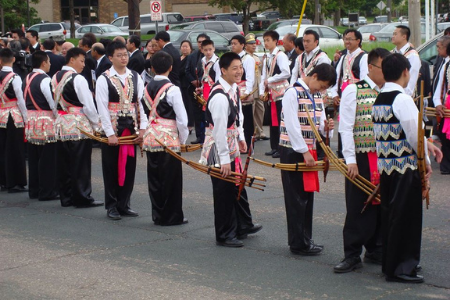 Located in Saint Paul, the Hmong Cultural Center is the primary Hmong and Asian American organization in the Twin Cities area that provides community outreach activities related to multicultural education to promote positive race relations in the community.
SUMUNAR Indonesian Music & Dance
SUMUNAR Indonesian Music & Dance was established in 2002 to promote understanding of and appreciation for Indonesian music, dance, and culture through education and performance.
Theater Mu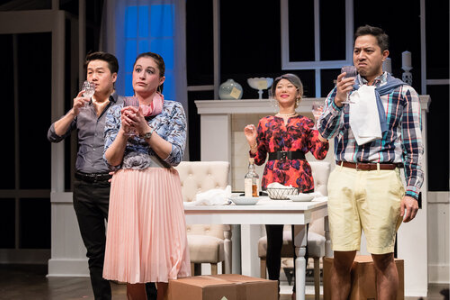 Since 1992, Theater Mu has been dedicated to bringing Asian American voices to the Twin Cities theater community. Theater Mu produces great performances born of arts, equity, and justice from the heart of the Asian American experience while celebrating and empowering Asian Americans through Theater.


AAPI Community Organization:
The Coalition of Asian American Leaders (CAAL)
The Coalition of Asian American Leaders (CAAL) emerged out of the will of Minnesota's Asian American community in 2013 when a small group of leaders came together to share their aspirations for creating an organization that would bring leaders from across sectors, generations, and ethnicities together.
Asian American Organizing Project (AAOP)
Asian American Organizing Project (AAOP) was founded in 2016 as a nonpartisan, nonprofit organization to empower young Asian Minnesotans prioritizing LGBTQ+ and women/femme identified to create systems change for an equitable, conscious, and just society.
Asian Pacific American Resource Center (APARC)
The Asian Pacific American Resource Center (APARC) is a community committed to affirming the experiences of Asian American and Pacific Islander (AAPI) students and their diverse communities.
How are you celebrating AAPI culture and community in Saint Paul? Be sure to share your experiences on social media by tagging us and using the hashtag #MYSAINTPAUL