Photo Credit: Joe Lemke - Hmong New Year - Saint Paul RiverCentre - 2019
Hmong Migration History
The journey of Saint Paul's Hmong population to Saint Paul began more than 46 years ago following the Vietnam War in 1975, but their migration as a people started long before that in the 1600s when they were first pushed out of their kingdom in southwestern China. Most of the Hmong population at this time resettled in Laos, Thailand and other neighboring countries.
Vietnam War and Hmong Soldiers
Fast forward 300 or so years to the Vietnam War, when Laos was dubbed a "neutral zone"—intended to be free of American, Soviet and Vietnamese forces. As a loophole to this restriction, the United States recruited Hmong soldiers to fight what would become known as the "Secret War" against Southeast Asian Communists. When the U.S. pulled out of the war and Laos, communist forces retaliated against the Hmong for their resistance. For their assistance in the war, the United States worked to develop resettlement contracts to provide refuge for displaced Hmong military families. In 1975, thousands of Hmong people resettled in the United States and other parts of the world.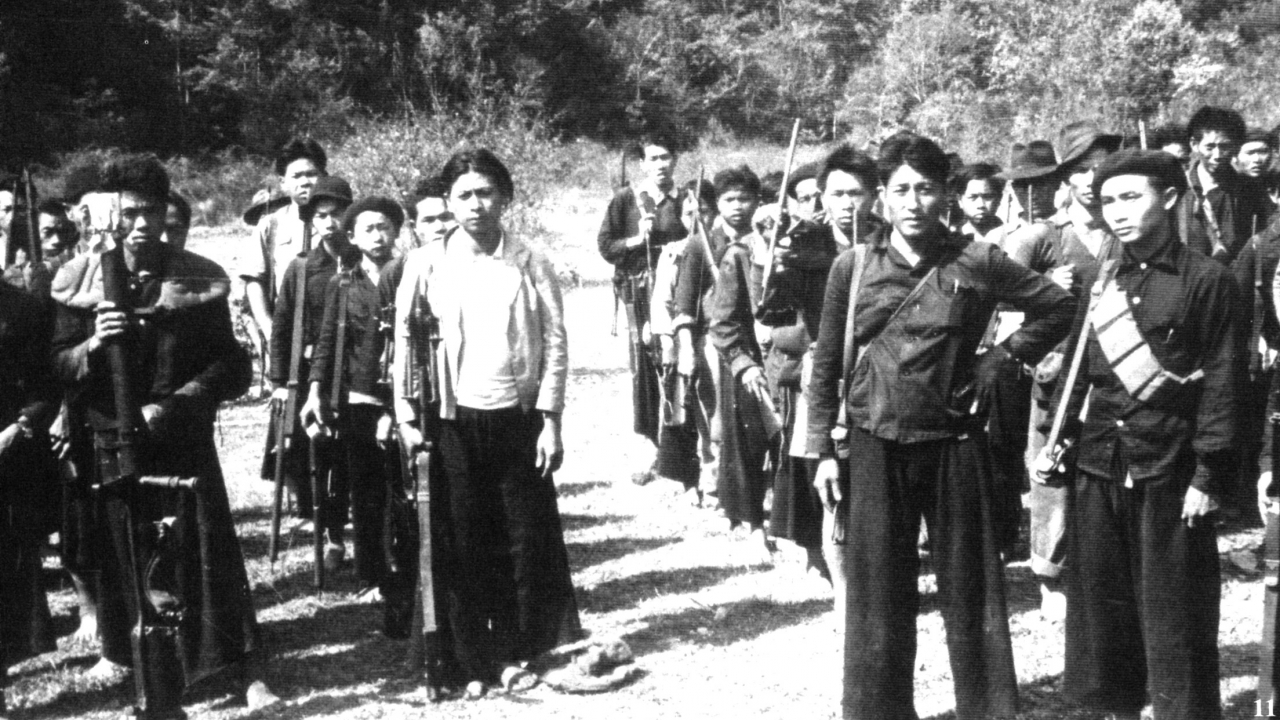 Why Minnesota? When the Hmong first arrived in the United States, the State Department gave resettlement contracts to various volunteer agencies like Catholic Charities and Lutheran Social Services—a majority of which just happened to be based here. As the first Hmong families settled, the second wave followed and so on and so forth—the strong social service programs in Saint Paul bringing refugees from Laos and beyond.

Want to learn more about Hmong-US History? Check out the PBS film The Hmong and the Secret War
Hmong Traditions
Hmong Names
You will notice that many Hmong people have the same last name. In the Hmong culture, there are 18 clans. Each clan has a different name, which is passed down through the father.
Green Hmong and White Hmong
There are two primary Hmong groups, green and white. They are named for the colors and patterns of traditional clothing and each one speaks its own dialect. The difference in dialects is relatively subtle, similar to the difference between British and American English.
Hmong Food
Popular dishes include barbecue, papaya salad, pho, boba tea, khaub poob (a curry noodle dish), larb (minced meat salad) and nab vam (tapioca dessert). You can try them all at Hmongtown Marketplace and Hmong Village.
Hmong Culture Today
These days, you can spot the impact of Hmong culture all throughout Saint Paul. Here are some of our favorite spots to experience Hmong cuisine, tradition and history.
Hmong New Year
Each year, Saint Paul's RiverCentre is home to Minnesota's Hmong New Year Celebration—a three-day celebration including traditional Hmong dance, music, crafts, vendors and more. The event typically coincides with the Miss Hmong Minnesota pageant.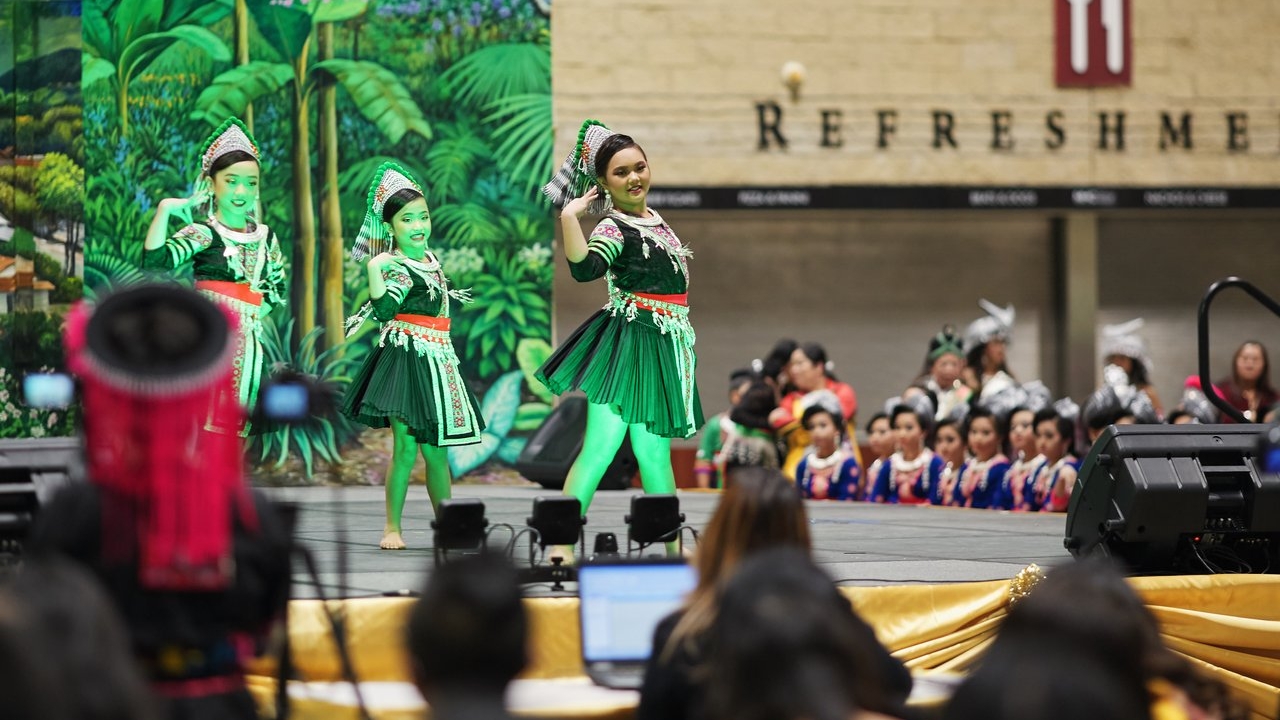 Photo Credit: Joe Lemke - Hmong New Year - Saint Paul RiverCentre - 2019
Hmongtown Marketplace
Opened in 2004, Hmongtown Marketplace is a pillar of the Twin Cities' Hmong community. This former lumberyard is home to Hmong vendors offering deliciously authentic dishes, groceries, herbal medicine, textiles and more. In the summer, the market holds sprawling outdoor farmers markets and a festival with live entertainment.
Hmong Village in Saint Paul
Hmong Village joined the scene in 2010. The vibe here is a bit more spacious and urban, with Hmong fusion cuisine complementing the more authentic staples. Like Hmongtown Marketplace, you can also shop for fresh produce, clothing and pretty much anything under the sun.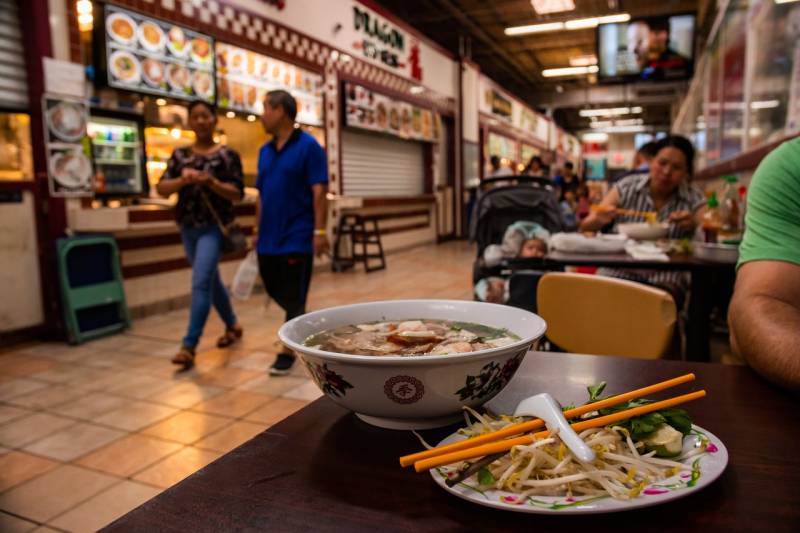 Little Mekong Night Market
One of the most beloved summer events in the Twin Cities, this vibrant three-block nighttime festival in the Little Mekong district along University celebrates Southeast Asian culture with food, dance, lights and more.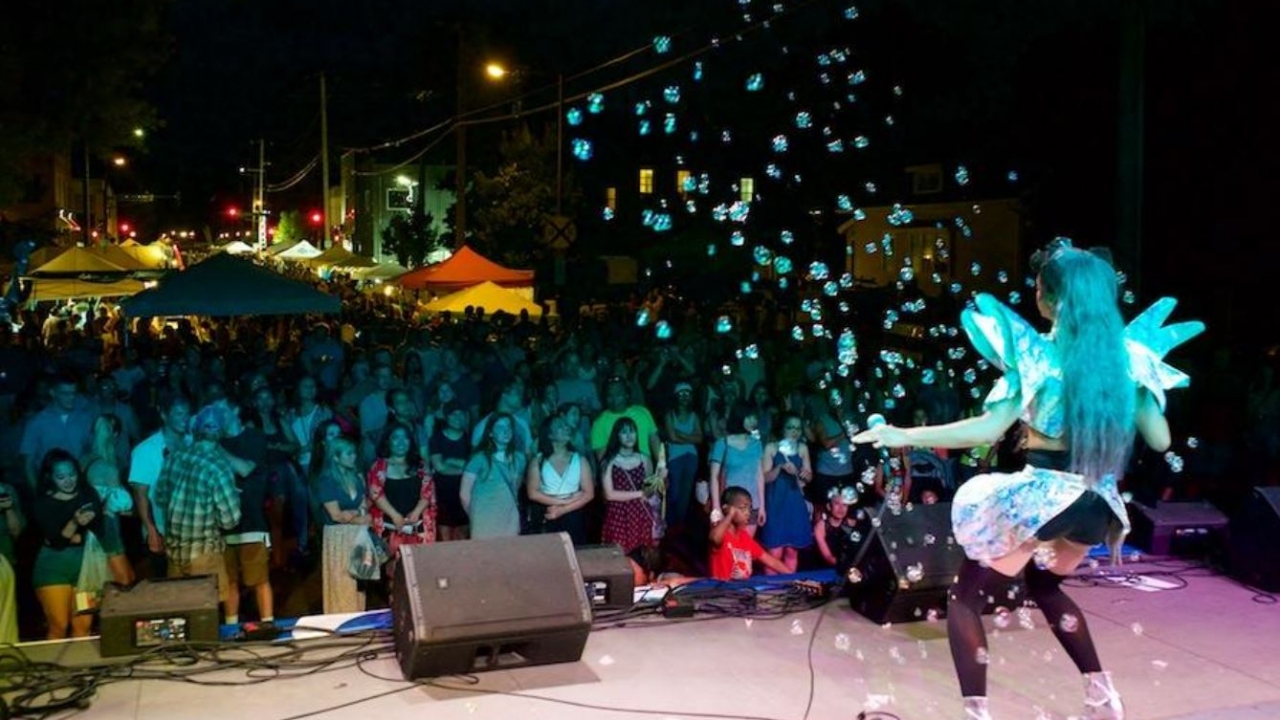 Photo Credit: Little Mekong
Hmong Cultural Center
Want to deep dive into Hmong history? The Hmong Cultural Center can help with that. The center celebrates Hmong culture and community through a variety of interactive exhibits and programs. Here, you can get a look at the original list of 150 families designated by Hmong major general Vang Pao to be protected during the initial evacuation of Laos following the Vietnam War—many of whom eventually settled in Saint Paul.
Hmong Freedom Festival
Considered the Olympics of the Hmong American community, the annual Hmong Freedom Festival at Como Park's McMurray Field is the largest gathering of any Hmong sports event in the United States. The event brings in nearly 60,000 attendees over two days and features a variety of sports matches, including soccer, football, dance and sepak takraw—a volleyball-like game that excludes the use of hands and arms. There's also tons of great food and merchandise from a variety of vendors.
Hmong American Day
May 14, 1975, was the day that General Vang Pao fled Laos and made the United States the home to hundreds of thousands of Hmong, and now May 14 is recognized as Hmong American Day in Minnesota. The day honors the contributions of the Hmong people to America and celebrates the history, culture and achievements they have made.
We can't wait for you to learn more about the Hmong culture and history in Saint Paul by checking out one of the many great places listed above. Share your experiences with us on Facebook, Instagram and Twitter using the hashtag #MYSAINTPAUL!