St. Paul Art Crawl Galleries and Grub
What to see, where to see it, what to eat and drink along the way.
The St. Paul Art Crawl (held every Spring and Fall) offers an outstanding way to see much of the city, neighborhood by neighborhood, gallery by gallery.
But art crawling has a way of making a body hungry (and thirsty).
My pick for the ideal place to stop in each part of town for a refuel:
Lowertown Art Crawl Galleries
AZ Gallery
Lowertown Underground Artists
Nautilus Music Theater
With a neighborhood pedigree of people who make their living as artists, Lowertown is a unique part of town that supports the arts with galleries, live music events, sports (CHS Field, home of the St. Paul Saints is right here) as well as artists of the culinary kind.
Whether your crave is Japanese, Italian, Burgers, Mexican, or beyond, in Lowertown you can get it. There's hardly a more charming stroll in Minnesota than one that perambulates around the riverfront, the St. Paul Farmer's Market, Union Depot, and Mears Park, while popping into galleries along the way.

University Avenue / Frogtown Galleries
Dow Art Gallery
Front Avenue Tile and Pottery
Spatial Effects Gallery
One of St. Paul's major Southeast Asian enclaves as well as a smattering of East African, you won't want for two of Minnesota's signature cuisines in this part of town. Do yourself a favor and hop on the Green Line, stopping off anywhere that looks good.
Stop here to eat and drink:
Many of our local Vietnamese restaurants fall into the mom & pop category-- simple but mighty eateries designed for quick lunches or casual suppers. But sometimes you want a full experience where only a cocktail (or two,) several courses, and settling into the cushions will do. Ngon Vietnamese Bistro is that place. Oxtail Pho and house-made rye ramen noodles are the things you're not likely to find elsewhere.
Pro tip: Tunes are on vinyl and well curated. Sit at the bar to watch the turntable spin.
@ngonbistro
West St. Paul
St. Paul's historic Mexican and Lebanese enclave offers many opportunities for excellent Mexican eating and margaritas, plus Latinx and Indigenous art and culture. El Burrito Mercado is the almost universally agreed-upon ground zero for all of your Mexican eating and shopping needs, and tiny but mighty St. Paul Flatbread Company offers everything you need for the most epic hummus and tabouleh wrap.
Stop here to eat and drink:
Known as the country's first Kurdish restaurant, Babani's is known to locals as a best kept secret (that anyone who knows anything should know.) This family-owned and operated jewel is like an invitation to a hospitable home kitchen with better cooking. Kubey Brinj rice dumplings and lemony, chicken Dowjic soup are must orders.
Pro tip: Kurdish tea and housemade baklava is the only acceptable way to finish a meal at Babani's.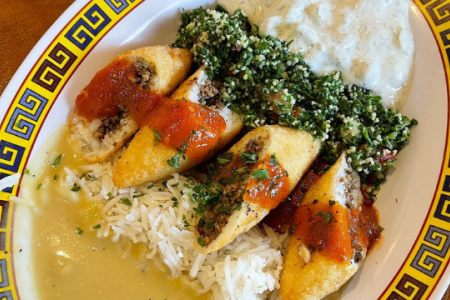 @minnevangelist
Grand Avenue
Leafy, pretty, and posh Grand Avenue had my 12-yo niece squealing "It's so aesthetic!" on a recent drive down the ave. And it is. Grandview Theatre, Grand Ole Creamery, The Lexington, and many more historical and storied spots give it a "don't make 'em like this anymore" glow.
Stop here to eat and drink:
Bap and Chicken is the inspiration of a Korean American adoptee who wanted to make a restaurant out of his own personal mashup of both cuisines-- and don't call it fusion. Minnesota is home to the second largest population of Korean adoptees in the nation, and John Gleason wanted a place that celebrates that particular identity. Check out Korean corn dogs and kimchi cream cheese wontons, served alongside with more traditional Korean cooking.
Pro tip: Don't miss the "wall of adoptees," portraits of Korean Minnesotans, a unique art piece in its own right.
West 7th
The old site of the Schmidt Brewing Company offers not only creative artists with brilliant works on the inside, but grandeur and beauty on the outside.
Stop here to eat and drink:
After crawling around the lofts and checking out the art, make a stop at retail and food fall, Keg & Case Market! They have many offerings, but we are especially in love with the spicy, authentic flavors at Pimento Jamaican Cuisine.
Pro tip: Don't forget to look up - Clutch Brewing Company is located on the mezzanine level at Keg & Case if you're looking for a beer break.