6 Public Art Spots to Check Out #MYSAINTPAUL
These out-of-the-way locations should be on your radar if you're into murals, sculptures and other public art.
Visitors might not know about Saint Paul's thriving local art scene, but we're a city dedicated to all forms of expression. If you're searching for a place to inspire you, stop in #MYSAINTPAUL and see what we have to offer.
From sidewalk poetry to murals and sculptures, it's inevitable you'll run into some kind of public art in Saint Paul—it accents many of our important landmarks, such as the statues and fountain in Rice Park.
---
Here are some sites art enthusiasts will definitely want to check out:
Urban Flower Field at Pedro Park
Located at Robert and 10th Street, the Urban Flower Field connects art, science and community to create potential for a new residential area. As scientists from nearby universities use the space as a study for urban ecology, artists and programmers use the park as a venue for performance and activities.
---
Western Sculpture Park
Just west of the Minnesota State Capitol, the sprawling Western Sculpture Park hosts 15 permanent installations in a neighborhood that's known for its diversity. The centerpiece work was created by National Medal for the Arts winner Mark di Suvero, and more installations are planned in upcoming months.
---
Skygate
Amidst a bustling downtown center of business, this stainless steel sculpture stands above the crowds of people you'll find hustling around Saint Paul. Take a few minutes to take in Skygate, representative of land, sky and water, in the Ecolab Plaza.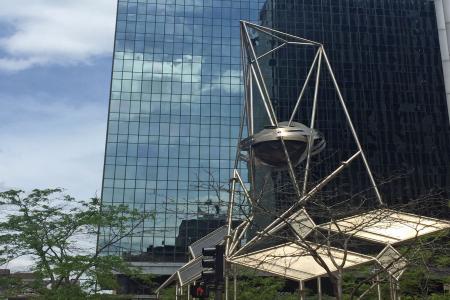 Forever Saint Paul
You'll be able to spot resident artist Ta-coumba Aiken's work all around his Lowertown neighborhood, but one of the most vibrant pieces of his work is the Lite Brite mural inside Union Depot. The mural was created with the help of 600 volunteers in 2012, but the depot became its permanent home in the spring of 2015.
---
Midway Murals
Art is a common way for Saint Paul residents to come together and beautify the community, and the Midway Murals collaborates to do so. This August, this Knight Arts Challenge St. Paul winner is hosting the Midway Art Festival to unveil four new Snelling Avenue murals, which were created through a year-long community engagement process between professional muralists, immigrant business owners and Hamline Midway neighborhood residents.
---
The Bigger Picture Project
In the early 2000s, a duo of artists called Broken Crow was commissioned to paint street murals along stretches of Snelling and University Avenues. Although the two no longer create murals in the area, you can still see their wild designs on several buildings around the Midway area.