MY ITINERARY (

0

)
Destination Winter Saint Paul
The St. Paul Saints, Visit Saint Paul and the City of Saint Paul invite you to experience winter like never before at CHS Field. Destination Winter Saint Paul combines the city's beloved Wells Fargo WinterSkate tradition with the return of the popular Securian SuperSlide for three months of frozen fun.
UPDATE: Due to warmer than normal winter conditions over the last couple of days the Securian Financial SuperSlide will not open as scheduled on Friday, Dec. 6. The SuperSlide will now open on Saturday, Dec. 7, beginning at 11 a.m. Anyone with a ticket for Friday night can exchnge it for any other day and time when the slides is open. The grand opening of Destination Winter will still go on as planned, beginning at 5 p.m. with skating beginning on the Wells Fargo WinterSkate rink at 5:30 p.m.
Destination Winter Saint Paul is bringing a one-of-a-kind experience to Lowertown from Dec. 6-Feb. 22. There's excitement for all ages in one place with the relocation of Wells Fargo WinterSkate from Landmark Plaza to the playing surface at CHS Field and the return of the Securian SuperSlide for the first time since Super Bowl LII.

Wells Fargo WinterSkate
With the WinterSkate rink located along the 3rd baseline of the field, visitors are invited to skate free of charge amidst the unique setting of the St. Paul Saints' state-of-the-art ballpark. This gorgeous field in Saint Paul's historic Lowertown will provide a beautiful backdrop for noontime skate breaks, after-school groups, free skating lessons, youth hockey teams, broomball, corporate events and family skating—it's everything you've always loved about Wells Fargo WinterSkate, just a few blocks away from Landmark Plaza location.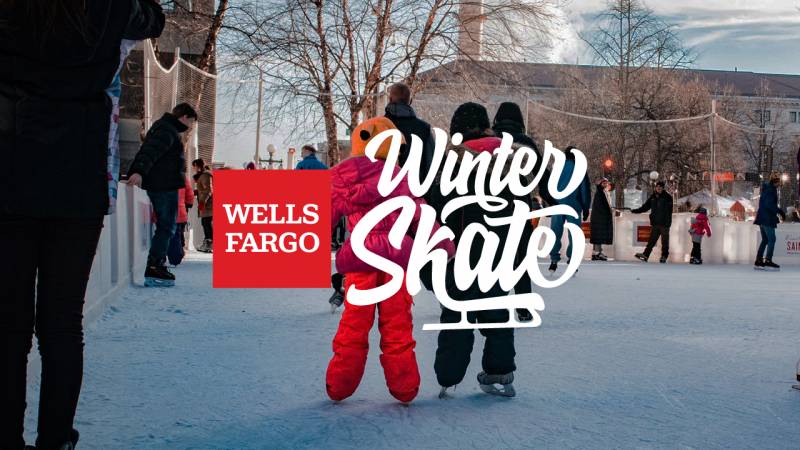 Open Skate Hours
Monday-Thursday: 11 a.m.-5 p.m.
Friday-Saturday: 11 a.m.-10 p.m.
Sunday: 11 a.m.-5 p.m.
Holiday Hours
Christmas Eve: 10 a.m.-3 p.m.
Christmas Day: CLOSED
New Year's Eve: 11 a.m.-5 p.m.
New Year's Day: CLOSED
Cost
Access to the rink is totally free! Those without skates can rent a pair in the visitors' clubhouse for $5 or free for Wells Fargo debit or credit card holders (one rental per card).
Learn to Skate
Free 30-minute skating lessons with professional skating instructors will be offered from noon-1 p.m. on six Saturdays throughout the season: Dec. 7, Dec. 14, Jan. 11, Jan. 18, Jan. 25 and Feb 1. Lessons are appropriate for all ages.
Securian SuperSlide
A major hit during Super Bowl LII, the Securian SuperSlide's 130-feet of snow-packed excitement is back at CHS Field this winter. The twin-track begins 40-feet above the field on the second story patio of the Securian Financial Club and plunges innertube riders downward over the seating bowl as they "slide" in toward second base. Tickets are only $10 for adults and $7 for children under 12 for unlimited slides during a one-hour time slot. They can be purchased in person by visiting the CHS Field ticket office, over the phone by calling 651.644.6659 or online by clicking here.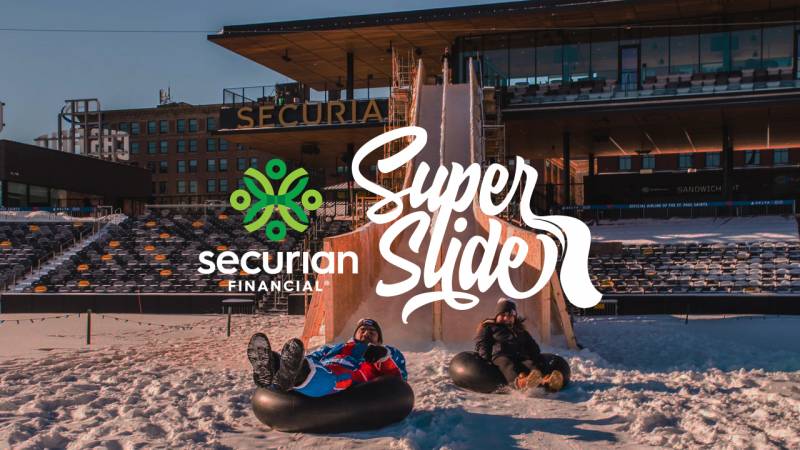 SuperSlide Hours
Thursday-Friday: 5-10 p.m.
Saturday: 11 a.m.-10 p.m.
Sunday: 11 a.m.-8 p.m.
Holiday Hours
Monday, Dec. 23: 11 a.m.-10 p.m.
Christmas Eve: 10 a.m.-3 p.m.
Christmas Day: CLOSED
Thursday, Dec. 26 & Friday, Dec. 27: 11 a.m.-10 p.m.
Monday, Dec. 30: 11 a.m.-10 p.m.
New Year's Eve: 11 a.m.-5 p.m.
New Year's Day: CLOSED
Thursday, Jan. 2 & Friday, Jan. 3: 11 a.m.-10 p.m.
Monday, Jan. 20 (President's Day): 11 a.m.-8 p.m.
Cost
One hour of unlimited rides: $10/adults, $7/kids
Tickets must be purchased in one hour blocks and can be obtained online at saintsbaseball.com, in person at the box office or by calling 651-644-6659.
Destination Winter Saint Paul Grand Opening: Friday, Dec. 6.
Join us at the Grand Opening of Destination Winter Saint Paul on Friday, Dec. 6 at 4:30 p.m. Festivities include a figure skater showcase and comments from representatives of the Saints, Wells Fargo and Securian Financial. The event will be emceed by Matt Belanger of 5 Eyewitness News.
Greatest Day Parade: Saturday, Feb. 22
Destination Winter Saint Paul will conclude on Saturday, Feb. 22 with the Greatest Day Parade, honoring the 40th anniversary of the 1980 U.S. Men's Olympic Hockey Team's improbable victory over the Soviet Union in Lake Placid. The event will feature a youth hockey exhibition tournament comprised of 12 teams—each representing a country that took part in the 1980 Olympics. Following the tournament will be a parade through Downtown Saint Paul at 2 p.m. featuring former amateur and professional hockey organizations and alumni. The day will conclude with an Olympic-style ceremony and autograph signing with Minnesota Olympians and other hockey stars in the Securian Financial Club. This special event is free and open to the public!
Food and Drinks
All of that excitement is sure to make you hungry. Select concession stands will be open during operating hours for food and rink purchases. Grab a bite and warm up under the heat lamps located along the concourse.
Group or Private Rental
With beautiful indoor event space for up to 220 people and a ballpark of outdoor winter fun, Destination Winter Saint Paul at CHS Field provides the most unique, scenic and fun venue for any winter special event. The Securian Financial Club is a high-end dining/meeting space, surrounded by floor to ceiling glass with views of downtown Saint Paul to the west and the Mississippi River bluffs to the east. Whether it's a holiday party, wedding reception, corporate outing, birthday party or any other group event, where else can you host a catered dinner or lunch that includes ice skating and a snow super slide for your guests to enjoy? For more information or to book an event, please email Anna at agutknecht@saintsbaseball.com.
Corporate Broomball and Youth Hockey
More information on how to sign up for corporate broomball and schedule ice time for youth hockey to come. In the meantime, please contact Anna at agutknecht@saintsbaseball.com with any questions.
We can't wait to see how much fun you're having at Destination Winter Saint Paul. Tag us in your photos @destwinterstp and use the hashtag #DestinationWinterSTP on Facebook, Instagram and Twitter. For more fantastic and family-friendly frozen festivities in the Capital City, check out our winter events blog.
Contact:
Anna Gutknecht with the St. Paul Saints at agutknecht@saintsbaseball.com for more information regarding
-Group or private rentals
-Youth hockey
-Corporate broomball
All skaters and slide riders must sign a waiver. Youth under 18 years of age need to have the waiver signed by a parent or guardian.
You May Also Like
Saturday, Dec 07, 2019
Clear throughout the day.

High:

37°

low:

20°

Chance of Rain

11%

Wind:

S at 9 MPH

Foggy in the evening and overnight.

High:

37°

low:

29°

Chance of Rain

17%

Wind:

NW at 7 MPH

Foggy until evening.

High:

30°

low:

1°

Chance of Rain

38%

Wind:

NW at 11 MPH

Mostly cloudy throughout the day.

High:

5°

low:

-8°

Chance of Rain

12%

Wind:

W at 10 MPH

Clear throughout the day.

High:

1°

low:

-12°

Chance of Rain

10%

Wind:

W at 7 MPH

Possible light snow in the morning.

High:

19°

low:

-3°

Chance of Rain

56%

Wind:

S at 7 MPH

Foggy in the evening and overnight.

High:

25°

low:

2°

Chance of Rain

4%

Wind:

S at 5 MPH

Partly cloudy throughout the day.

High:

22°

low:

8°

Chance of Rain

32%

Wind:

NW at 6 MPH
Select an Event Date