MY ITINERARY (

0

)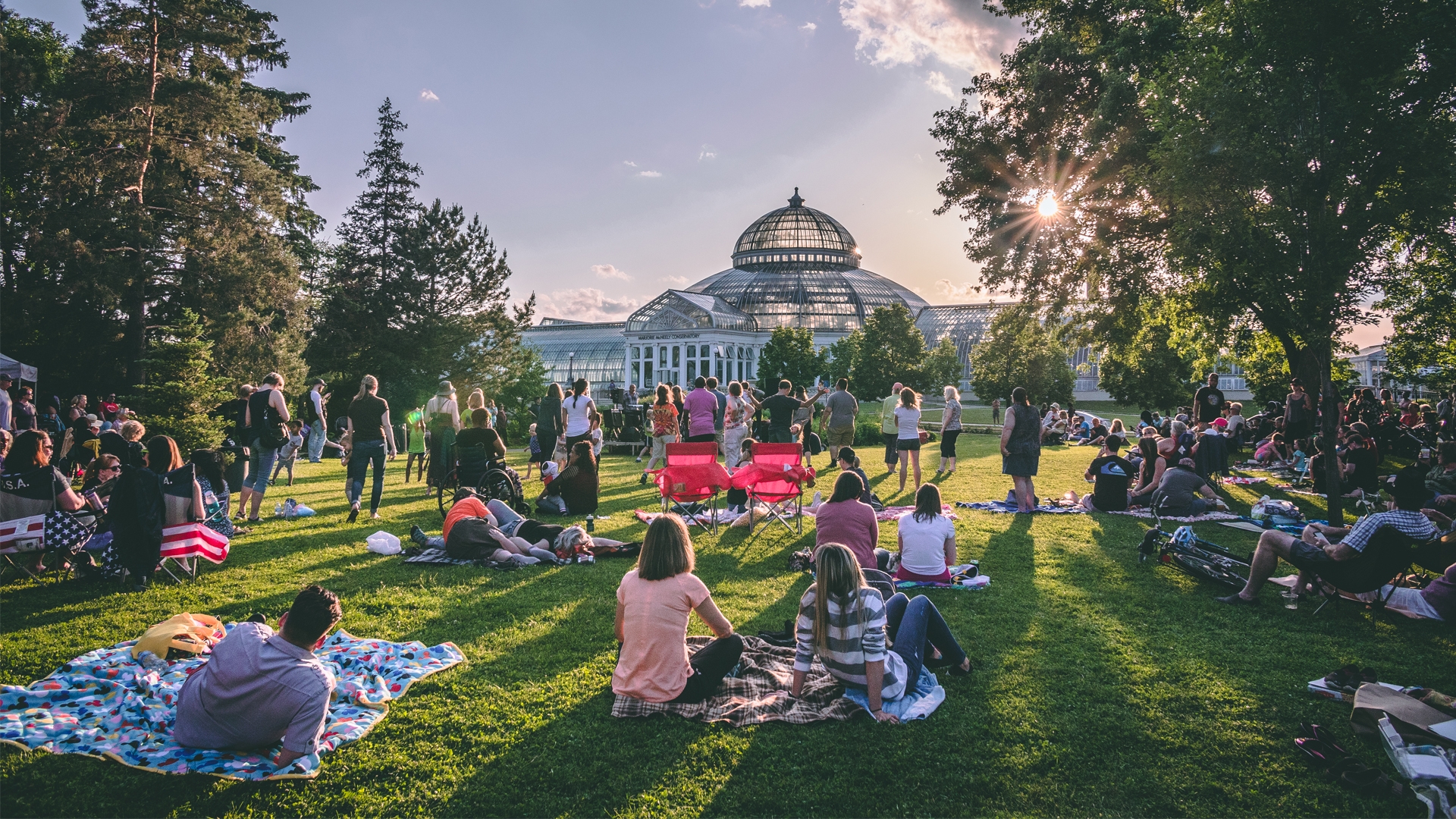 Catch some outdoor music this summer
Outdoor Summer Music
There's no better way to enjoy beautiful summer weather than jamming to live music outside.
Spring Cafe at Como Lake Pavilion
May-September
Enjoy live performances nightly amid open-air waterfront seating at Spring Cafe. All events are free unless indicated otherwise.
Lowertown Sounds
Thursdays, June-August
Formerly Music in Mears, Lowertown Sounds will help you kick off every weekend (Thursday count, right?) with outdoor live music. This popular Thursday night concert features different local acts, and the artists, restaurants and spectators truly bring the romantic park to life.
Groovin' in the Garden
Wednesdays, June-August
A series of free outdoor concerts featuring some of the Twin Cities' finest musicians and activities for the whole family; bring a chair or blanket Wednesdays 6-8 p.m. at Como Park Zoo & Conservatory.
Bands on the Boulevard
Tuesdays, July
Bands on the Boulevard is a new free music series offered every Tuesday night in July on the Minnesota History Center lawn with music kicking off at 6:30 p.m. Bring a lawn chair or blanket to sit on the History Center lawn and food and drinks will be available to purchase from Market House and D'Amico. Come early or stay late after the concert to take advantage of free admission to the museum galleries from 3 to 9 p.m.
Twin Cities Jazz Festival
June 21-23
Kick off summer with the famous Twin Cities Jazz Festival in Saint Paul's lively Lowertown, with headliners performing on the beautiful outdoor stage in Mears Park.
Lowertown Blues & Funk Fest
July 20-21
Also headquartered in Mears Park is the Lowertown Blues & Funk Fest—the largest free blues festival in the Twin Cities. The two-day event features regional and national acts on its outdoor stage.
Select an Event Date
Thursday, May 06, 2021
Partly cloudy throughout the day.

High:

62°

low:

38°

Chance of Rain

19%

Wind:

NW at 8 MPH

Clear throughout the day.

High:

56°

low:

40°

Chance of Rain

7%

Wind:

at 8 MPH

Mostly cloudy throughout the day.

High:

58°

low:

39°

Chance of Rain

8%

Wind:

SE at 5 MPH

Mostly cloudy throughout the day.

High:

60°

low:

42°

Chance of Rain

11%

Wind:

NE at 8 MPH

Mostly cloudy throughout the day.

High:

61°

low:

36°

Chance of Rain

1%

Wind:

NE at 6 MPH

Mostly cloudy throughout the day.

High:

65°

low:

38°

Chance of Rain

2%

Wind:

NE at 4 MPH

Clear throughout the day.

High:

71°

low:

41°

Chance of Rain

1%

Wind:

SW at 5 MPH

Mostly cloudy throughout the day.

High:

74°

low:

50°

Chance of Rain

1%

Wind:

S at 8 MPH