The Artistry of Can Can Wonderland's Mini Golf Course
Take a peek into the magic that went into creating some of this attractions most exciting holes.
Jacob Dommer may have been working at a super cool place where the order of the day was to make furniture out of airplane parts, but... they wanted him to shave his beard.
"I was 20 years old and growing this beard was the most important thing in my life at the time," he laughs. So he quit.
But you know where he didn't have to shave his beard? Can Can Wonderland.
Dommer says the place has been described as a micro-amusement park, or a "Crazy Coney Island," and probably a few thousand other things.
To me, it's the embodiment of the imagination of a multitude of artists, a dreamscape those visions get to dance around in real space, plus mini golf, boozy shakes, vintage pinball, and pizza. And a pink mastodon. It's been compared to New Mexico's Meow Wolf, and St. Louis' City Museum. It's a place just because. Just because they can.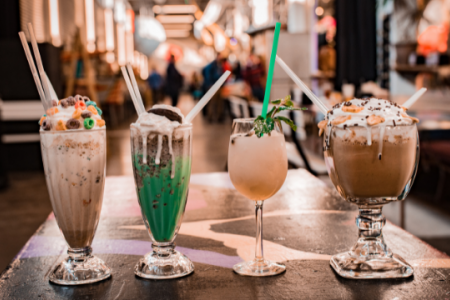 Dommer came into the space to make some furnishings, like handrails, and just kind of stayed. There was always something to be done, like hang a giant popsicle from the ceiling, and then mix some drinks, too. Drinks always need to be mixed at Can Can, so Dommer became the resident welder / bartender dude.
"You almost get lost in it. I felt at home."
Can Can is that place that feels like home if lots of other places simply don't — especially if you happen to be a misfit. It's about that Can Can attitude. What can you do? No dress code required, and you don't have to shave your beard.
Two of the artists who were given the opportunity to show what they could do - here's how they showed up to do it:
Hole # 10, Hot Tub Time Machine, by Dusty Thune:
A special education teacher by day, Dusty Thune knows that everyone is an amazing superstar. It's just a matter of figuring out how to tap into that superstardom.
As a kid he was in nature a lot, his parents didn't tell him "no" a lot, he climbed trees a lot, and dressed up like Marilyn Manson a lot.
"I got to play with my food. I got my name 'Dusty' from jumping into dumpsters."
The freedom and permission to be his own superstar allowed him to be the artist that he was since birth, he says. Now, he's determined to offer that permission to his students, and everything circles back to them. When he commissioned one of the mini golf holes for Can Can, he went to the students.
The result: a hot pink mastodon called 'Hot Tub Time Machine' that shoots golf balls out of its trunk. And, there's a secret bar on the inside, where a secret bartender can pass you beers. Because of course there is. It's Can Can.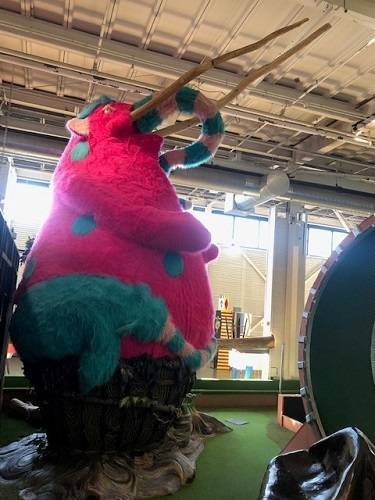 Thune's "art stuff" takes many shapes, literally. He recently finished a 1300 pound vegan shortening sculpture of the earth to address climate change; he's one of the artists responsible for the now-defunct but beloved animatronic Christmas displays at Macy's, and his House of Thune Snow Sculpting team is the perennial winner of state snow sculpting championships (do not miss their work at events like the St. Paul Winter Carnival).

Check out more of his art, including a set design for HBO's Underland series.
Hole # 12, Music Mountain, by Molly Barrett:
At 5'2'' and 115 pounds, Molly Barrett is accustomed to questions like "What part of that did you do?" when they take in a piece of art that requires a forklift to place.
But her medium, welding and steel, thanks in party to that very paradox.

"The strength of steel will outlast anybody, anything, even if you make it into a delicate flower," she says.
Yes, she's a woman, yes, she's petite, and yes, she's a welder. She's The Sculpting Chick. And, she was presented with a special challenge at Can Can: rework a hole originally designed by a literal rocket scientist that wasn't quite up to par (not sorry).

Music Mountain was beautiful and intricate, but it just didn't work. The ball went in, but it never came out. The Yelp reviews were taking a hit (horrors!) so Barrett set about taking it apart, and putting it all back together. It took thousands of hours.
"I thought about it like a car and I had to get down into the engine."

Trombones, saxophones, cymbals, a piano, a harp, there were so many instruments, and they were all so beautiful. But the form needed to have a function, and so? She found a couple of other pianos, of course. She hung a baby grand from the ceiling, because she could.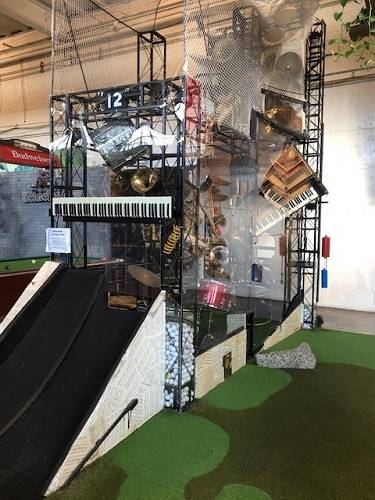 Today, the ball hits keys and strings, snare drums and cymbals, trips a light, trips the sounds, and? It works. The ball goes in, the ball comes out.
"It was a ton of fun, and so hard. And it does what it's supposed to do. It's so complex, such a big project, and it will be around for longer than all of us."
Contact Barrett for a commissioned sculpture of your own, that works.
Come see the art for yourself and enjoy a boozy shake while you're at it - you won't be sorry.