MY ITINERARY (

0

)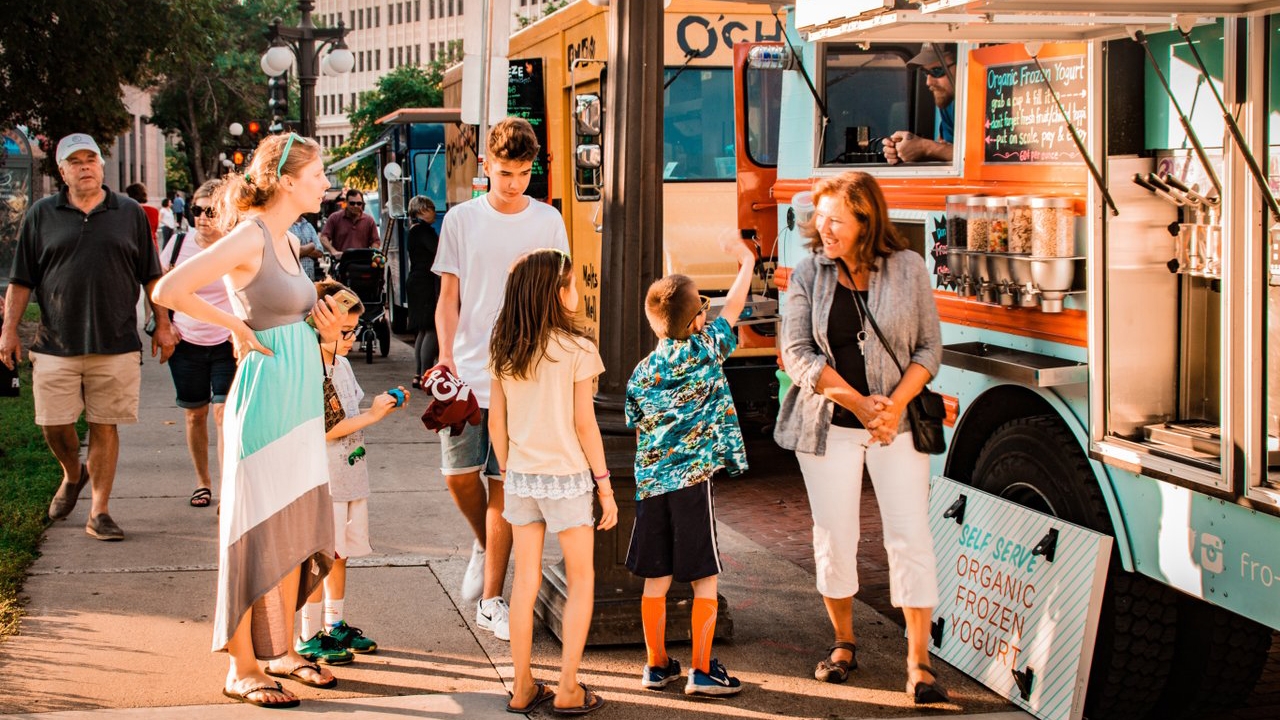 Food Trucks
Food Trucks
Use this list to find the right food truck for you
You'll find food trucks located near area parks or perched in random spots around the city throughout the week. Also, enjoy their delicious creations at breweries throughout Saint Paul. Happy eating!
Black Market StP
Get in on some of Minnesota's tastiest barbecue at Black Market STP. You'll never have to search too hard to find it — this food truck posts up in the parking lot at the corner of Cherokee and Smith avenues on the West Side end of the High Bridge. Order in advance to guarantee your meat of choice. @BlackMarketStP
Brick Oven Bus
They built a massive brick oven inside a former school bus and sling some extremely tasty pies. @brickovenbus
Burnt Chkn
This popular pop-up serves island flare throughout the Twin Cities, giving you a taste of Jamaican cuisine, Mexican cuisine, Thai spices and Cajun/Creole all in one trip. @burntchkn_
El Burrito Mercado
Your favorite Mexican food in Saint Paul has gone mobile. Make a stop at the El Burrito Mercado truck for traditional street and festival foods. @ELBURRITOM
Cave Cafe
Cave Cafe is operated by Tewodros Negash, aka 'Chef Teddy', who grew up in Eritrea cooking Eritrean, Italian, and Ethiopian dishes at his mother's side. His Afro-Italiano fusion specials include tibsies (meat and vegetable sauté), Italian pasta dishes, curries and wraps. @TheCaveCafe
Gastro Truck
Gastro Truck, a spin off of the idea of a Gastropub is a mobile food unit that aims to bring high quality and an elevated style of cuisine to the streets and events of Minnesota. @gastrotruck
Hibachi Daruma
Hibachi Daruma is a one-of-kind Japanese hibachi truck. This truck offers your choice of chicken, shrimp, or teriyaki beef, each served with veggie fried rice, hibachi vegetables and signature daruma shrimp sauce. @HibachiDaruma
Hola Arepa
The crew in the bright aqua Hola Arepa truck stuffs griddled corn cakes with slow-roasted meats and sassy sauces. The double pork Cuban with Swiss and pickles is a special — snag it if you see it! @HolaArepa
Mid Nord Empanada Truck
The Mid Nord Empanada Truck is the child project of chef Phil Gaffney, a Minnesota native that learned all about making empanadas from an Ecuadorian family. The Mid Nord Empanada Truck is a unique experience, offering foods such as sweet plantains and perfectly crispy chicken and beef empanadas. @MidNordTrucks
Motley Crews
Motley Crews Heavy Metal Grill focuses on food that rocks. Owners Marty and Lisa stay true to the 80's theme with "opening acts" and "main event" entrees that are sure to satisfy any rock star's appetite. @MotleyCrews
Nashville Coop
Nashville Coop serves up hot chicken from two different food trucks around the area — the White Truck (a.k.a. "Away Jersey) and the Red Truck (a.k.a "Home Jersey.") @nashvillecoop
Ninja Sushi
When that lunchtime (or mid-beer) sushi craving hits, you'll want Ninja Sushi around. The food truck serves up fresh and tasty sushi rolls, bowls and even sushi-ritos. @NinjaSushiSTP
O'Cheeze
Sweet cheezus. The classic go-to gets all sorts of innovative with O'Cheeze's gourmet grilled cheeses. If you don't feel like chasing down the truck when the craving hits, you can always stop by their new brick and mortar shop inside Keg and Case. @O_Cheeze
Potter's Pasties
Potter's Pasties was an idea hatched by Alec Duncan, an experienced local chef, and Fiona Carter while hiking through Scotland. Pasties are typically meat-filled pies--perfect, portable little lunches. Potter's menu features traditional Cornish as well as other worldly flavors all focusing on the integrity of the essential crust. @PottersPasties
R.A. MacSammy's
R.A. MacSammy's offers traditional comfort food on wheels! Offering a wide variety of delicious mac and cheese dishes, sandwiches and salads. Chef Kevin Huyck's food truck has the versatility to please all types of appetites and visitors can make their own mac and cheese with ingredients ranging from brats to Brussel sprouts. @RAMacsammys
Simply Steve's
Simply Steve's is most aptly named; they offer great breakfast and lunch items, but with ingredients and preparations that go beyond what would be called simple. Two of their great burgers are the cajun turkey burger and black bean burger, both of which come highly recommended. @SimplySteves
Tot Boss
Tot Boss puts a creative spin on an American classic side dish, the tater tot. Tot Boss provides a new way to eat the golden brown Ore-Ida potatoes like bacon-wrapped Tater Tots and "tater tot nachos". @TotBossTruck
VB & J's
Veggie burgers and juice is what VB & J's stands for, dishing up food that is healthy and tasty, including burgers, Ba'nh Mi, bowls and, of course, juice. @vbjsallnatural
Wet Tacos MN
Wet Tacos serves birria style tacos (you pick the meat) as well as loaded fries, nachos and a flaming hot burrito. @WetTacosMN

What's your food truck of choice? Let us know on Facebook, Instagram and Twitter using the hashtag #MYSAINTPAUL!
Suggested Content
You May Also Like