MY ITINERARY (

0

)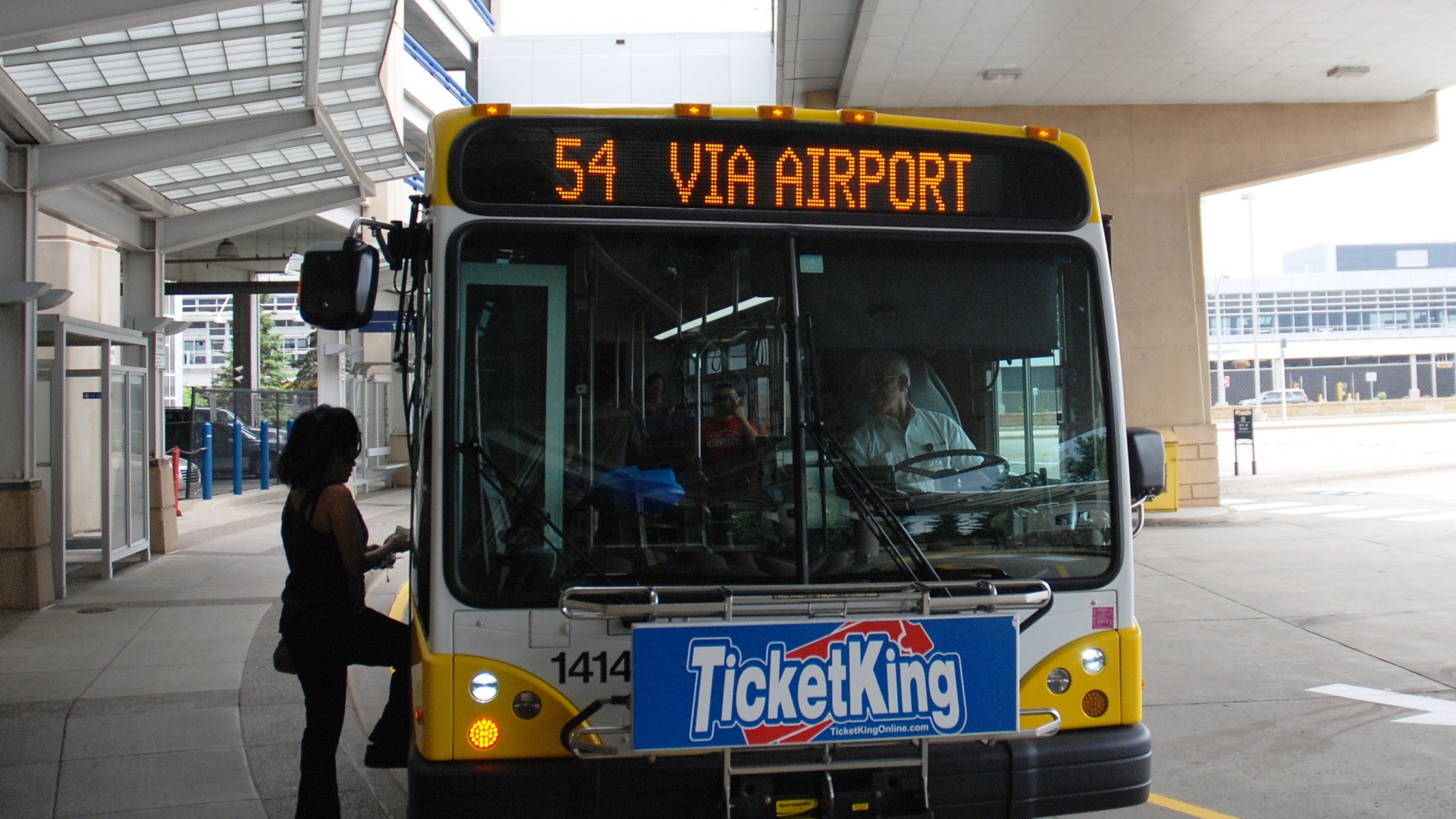 Route 54
Route 54
When traveling to downtown Saint Paul, take Metro Transit. It's fast, reliable and affordable.
Our bus and METRO network (light rail and bus rapid transit lines) is ideal for visitors because it connects you to many of the major Twin Cities destinations: downtown Saint Paul, the airport, University of Minnesota, downtown Minneapolis and Mall of America. The network operates every day in all weather and traffic conditions — you won't miss your flight.
The Fastest Way to Downtown Saint Paul from the airport is Route 54
NOTE: Bus Route 54, with service between the airport and St. Paul, will be detoured April-Oct. 2020 due to Hwy. 5 construction. Beginning April 8, all westbound Route 54 buses will continue on regular route and all westbound buses will serve the airport. All eastbound buses will detour. When traffic levels rise and Metro Transit is no longer able to maintain service in the corridor, the full detour will be moved where Route 54 will only serve Terminal 1 for early a.m. and late p.m. trips. More info: Around the Airport - Detours.
Route 54 service to downtown St. Paul:
From the Terminal 1 ground transportation area, follow signs for the Gold Ramp. Go up two levels to the waiting area. The bus stop is located across the pedestrian crossing from the building (look for the bus shelter). Route 54 service operates roughly every 15 minutes. Travel time is 20 minutes.
There is no bus service from Terminal 2. Take the Blue Line to Terminal 1 and follow the directions above.
METRO Blue Line service to downtown Saint Paul:
Take the escalator down one level from the tram and buy a ticket at the rail ticket machine. Continue down another level to
the rail platform. Trains operate roughly every 10–15 minutes during most of the day. Hop aboard the METRO Blue Line to Minneapolis and get off at U.S. Bank Stadium Station. From there, get on an eastbound METRO Green Line directly to downtown Saint Paul. Travel time is 45 minutes.
Cost effective ways to travel between the airport and Saint Paul
Fares range from $0.50 to $3.25 depending on time of travel and type of service.
On buses like Route 54, place dollar bills or coins in the farebox. Sorry, change is not available. To transfer to another bus or train, ask for a transfer, which is valid for bus and METRO Line rides for 2½ hours.
On METRO lines, buy a ticket from machines at stations. Tickets are valid for bus and METRO lines rides for 2½ hours. Credit cards are accepted and change is available. Keep your ticket as proof of fare payment for police officers who patrol trains.
Or, download the free Metro Transit app to buy tickets right from your phone!
Fare Options
These fares help you explore more for less! All fares subject to change.
All-Day Pass – Starting at $4
Unlimited rides on all buses and METRO lines from time of purchase until 2 a.m. the next day. Available only at METRO ticket machines or on Metro Transit's app.
24-Hour Pass – $6.50
Get unlimited rides on buses and METRO light-rail for a full 24 hours. Passes can be purchased from a rail ticket machine or through the Metro Transit app. Visit metrotransit.org/app for details.
Visitor Pass – $5
Unlimited rides until 2 a.m. after first use. Available online or at a Metro Transit service center only.
Downtown Zone – Only 50¢ at any time
Ride within the Saint Paul Downtown Zone. (Transfers are not available.)
Things to see along Route 54
Ordway Center for the Performing Arts
Scout Handsome Apparel + Gifts
Need more information?
Online
Visit metrotransit.org and click on How to Ride for answers to all your questions about riding the train or bus. Use the online Trip Planner and you'll have a personalized itinerary in seconds.
By phone
Our transit experts provide everything you need to complete your trip. Give them a call at 612-373-3333. Hours: Monday to Friday: 6:30 a.m. – 9:00 p.m. Sat., Sun., and holidays: 8 a.m. – 4:30 p.m.
In person
Visit our service center in downtown St. Paul for answers to questions about routes, schedules or fares. Hours: Monday to Friday 9:00 a.m. – 4:30 p.m.
Plan Your Stay
Click on the tabs below to find more useful information that will help you plan your stay in Saint Paul.
Upcoming Events
More Info >