Guide to the Cat Video Festival
We're not kitten - the Cat Video Festival is back!
Lovers of cat videos unite. Here's what you need to know before heading to the 2023 Cat Video Festival in Saint Paul:
Who
Cat - and cat-video - lovers will convene in Lowertown to celebrate the best in internet cat videos. You don't have to be a feline fanatic for this event. If you're in for some laughs under the stars, then this event is for you and all are welcome to join in the fun!
(Note that while they are the focus of the show, cats are not allowed on the festival grounds due to fireworks and other activities.)
What
Since 2015, the St. Paul Saints and myTalk 107.1 have hosted the Cat Video Fest at CHS Field. This annual event draws thousands of spectators to the ballpark for the video screening along with music, fireworks, food and beer.
When
Thursday, August 3, 2023
Doors open at 6pm with the reel starting around 8pm. The festival will wrap up around 9:30pm.
Where
Beautiful CHS Field, home of the St. Paul Saints. Find a seat in the stands or bring a blanket and watch from lawn seating on the field (no lawn chairs allowed).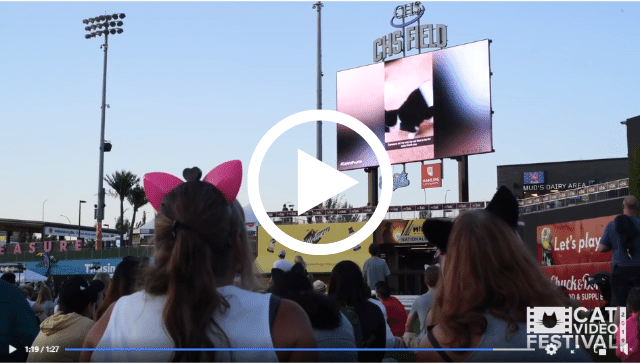 Why
It's a fun and festive night out for families, cat lovers and people who just want to drink in the hilarity that is…cats. And, really, when else do you get to bust out your cat costumes and gear. Plus, all this fun is for a good cause. One dollar from each ticket sold goes to this year's charity partner, Caring for Cats.
How
General Admission tickets are $10 until July 24 - after that date the price goes up to $15. Kids 12 and under are free. Enjoy a VIP experience in the Securian Financial Club for $75.
Take Metro Transit's Green Line or bus. Parking is available in surrounding lots. Visit saintpaulparking.com for parking options in the area.
Need a place to stay? We've got you covered with plenty of options: visitsaintpaul.com/where-to-stay
Once you're at the event, show us how much fun you're having on Facebook, Twitter and Instagram using the hashtag #MYSAINTPAUL!
Get in the mood for all the meowing with 9 Clips Of The All-Time Top Cat Videos that blazed a trail for the classic cat footage of tomorrow:
9. Ali vs. Liston... McGregor vs. Mayweather... B.J. vs. Cognac?
8. If Lil' Bub isn't the most famous cat on the Internet, he's surely the cutest one.
7. Decaf isn't cutting it, dude.

6. Ghost Cat: Way of the Samurai

5. "This rug's not big enough for the both of us."

4. It's downright shocking how many cat videos there are on the Internet.

3. Sometimes you just need to dumb it down a little. It doesn't get much more gloriously goofy than this fashionable feline tickling the synthetic ivories.

2. Oh, the terror... the adorable, hilarious terror...

1. The male, the myth... Maru.