Seven Incredible Japanese Restaurants in Saint Paul
Sushi, ramen, mochi and more. Fall in love with Japanese cuisine in Saint Paul.
Above Photo: @foodiedelishmn at Sakura
Japanese cuisine holds a longstanding foothold in Saint Paul with restaurant icons like Saji-Ya, who helped a generation fall in love with the distinctive tacky, salty, sweet wonders of teriyaki over forty years ago. In recent years a new generation of eateries have driven deeper into the cuisine. Now, we have rich bowls of ramen, eggy twirls of noodles swimming in long-simmered broth. Intensively trained chefs use precise knife cuts to deliver exquisite sushi from seafood flown in directly from the ocean. Or crispy fried nuggets of juicy chicken perfect for pairing with an ice cold beer. There is all this and more to be found all around Saint Paul.
Kyatchi
Kyatchi began as a Minneapolis restaurant before branching out to this historic space in Lowertown. All of the sushi made within this warm room comes from sustainable ingredients. In addition to the wide selection of rolls, nigiri, and sashimi, there is also oshizushi, or pressed sushi, and whole combination platters. Plus, Kyatchi is also well known for its hot dogs with all kinds of game-day friendly toppings. It's an excellent stop before heading into the nearby Saints stadium.
Tori Ramen
Some of the best ramen in the city can be found inside this converted train car on West 7th. Distinctive for its vegetable and poultry-only broths, Tori's selections cover a wide array of flavors - including a vegan entry that will beguile even the most ardent carnivore. Inside these bowls are particularly chewy-tender tendrils of noodles that luxuriate in chef/owner Jason Dorweiler's inventive broths. Try the umami-packed shoyu for a classic bowl.
Yumi Sushi
Yumi is a burgeoning local chain of sushi restaurants and its Cathedral Hill location opened just before the pandemic. The beautiful restaurant, with a sweet little patio, serves a wide range of sushi and other Japanese dishes. Known for their giant sushi rolls, the whole selection is built from incredible fresh fish and tender, seasoned rice. While the chefs build your sushi selection, order a snack of tempura fried rock shrimp tossed with a spicy, sweet chile sauce to stave off the hangries. There's also a full bar with a selection of craft cocktails making great use of Asian ingredients.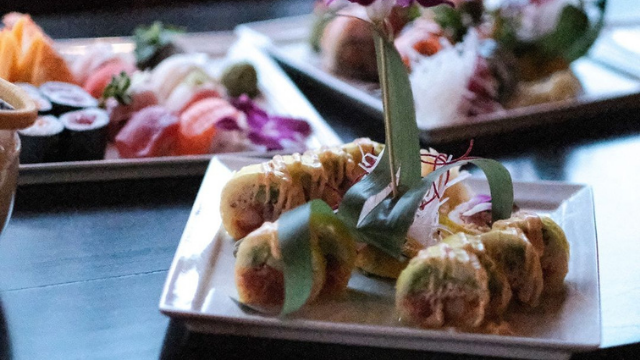 @yumisushi
Ishita Ramen
Step beyond the unassuming storefront and into this sleek Japanese bar for a giant bowl of rich-broth ramen. Ishita's menu includes a few izakaya specialities like tokoyaki, little fried octopus dumplings topped with undulating bonito flakes or chicken kara-age, crispy-fried little chicken bits, both available for under $5. The menu boasts eleven types of ramen filled with a variety of toppings, and styles. For hot summer days, the cold noodle tan tan ramen served with cucumbers and char sui is refreshing, while the spicy beef and kimchi with slick black garlic oil warms chilly nights.
Saji-Ya
Serving Grand Avenue and Saint Paul for more than 40 years, Saji-Ya is a restaurant icon serving a large selection of sushi. Grab a seat on the expansive, elevated patio or put in an order for pick up with all the dishes that have evolved into classics like edamame, California rolls, bowls of miso broth, and more.
Sakura
For more than 30 years Sakura has been serving Japanese fare to Saint Paul. The restaurant, located in downtown, continues it's revered tradition with dinners available for dine-in and take out including Bento box meals, sushi, teriyaki, crispy chicken katsu, sukiyaki, and mochi for dessert.
Sakana
This easy in and out crowd-pleasing restaurant in Highland Park is an excellent stop for the trepidatious sushi eater - or a great entry point for kids. At Sakana, in addition to sushi, with classic American-style rolls like California and Philadelphia, there are cuisine-hopping menu items like tom yum, lo mein, and fried rice. Uncooked sushi roll fans will find plenty to snarf down, the menu is extensive.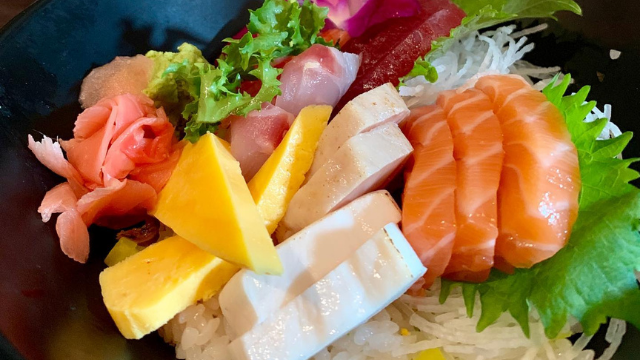 @an.hua