10 Diverse Dining Gems in Saint Paul
Discover your new favorite restaurant off the beaten path.
One of the thrills of being a serious food fan is finding those restaurants others may have overlooked, or haven't yet discovered.
In nearly every corner of the city are small restaurants, owned by people pouring their passion into sumptuous plates of awe-inspiring food. These restaurants are just a few of the places we have loved discovering and can't wait to share with others. Below you will find decadent shrimp and grits, spicy pickly kimchi, mountainous asada fries, and more.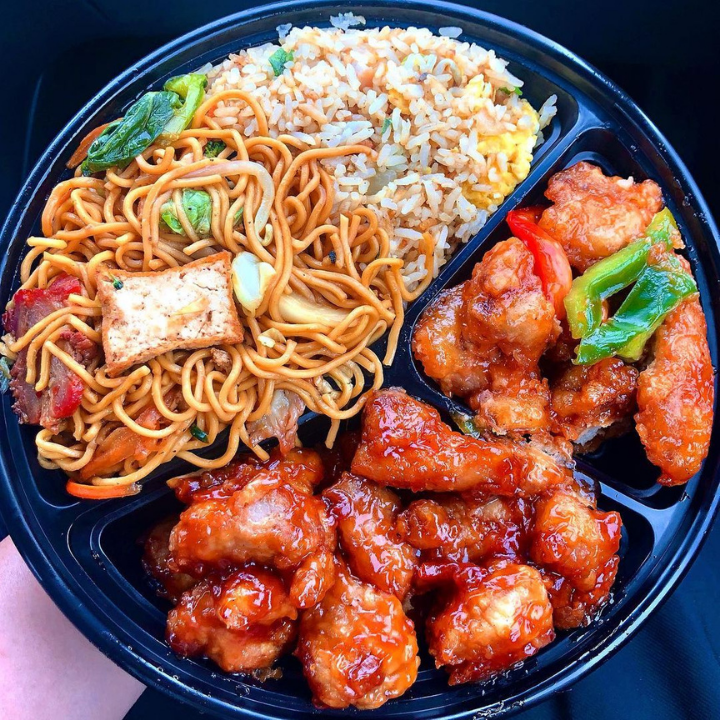 Ha Tien Deli
This bustling grocery store used to be a Byerly's, hence the carpet in the aisles. But now it's stocked with a myriad of Asian grocery goods including an incredible selection of rice, sauces, meat, and produce. The deli is a fantastic stop for all kinds of great dishes to be enjoyed on the dashboard or for a nearby picnic. Thick hunks of ridiculously crispy pork are waiting to be chopped up and eaten immediately. Eggrolls are crammed with fillings, fried, and served hot. Grab napkins and mounds of sticky rice or a big container of noodles to round out the feast.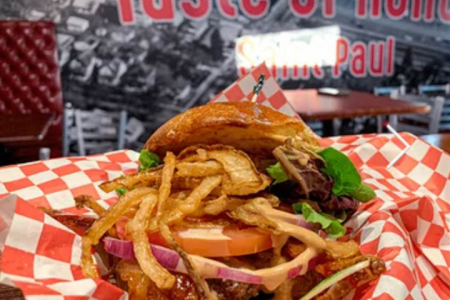 Taste of Rondo Bar & Grill
Opened in the summer of 2020, Taste of Rondo is a testament to perseverance. Located just off Highway 94, it celebrates the historic Rondo neighborhood, a Black neighborhood that was ripped apart by the construction of the freeway. There's a comfortable patio for enjoying the summer sun and all kinds of Southern-influenced dishes, including exceptional shrimp and grits.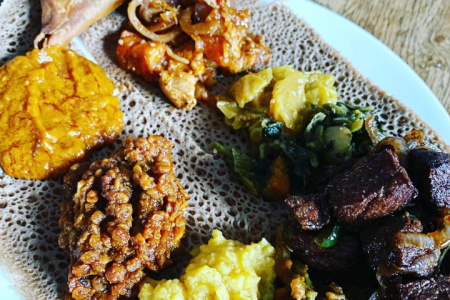 Bole Ethiopian Cuisine by @
whatsbrianeating
Bole Ethiopian
This sunny Ethiopian restaurant has moved from University Avenue to a sunny new spot near Como (the former Delicata Pizza location.) The wide menu has something to please every taste. Bole is best enjoyed with friends, when you can order big platters to share like the Tour of Ethiopia - perfect if you have anyone who hasn't had a chance to sample the soul-sustaining comfort of this cuisine. If your crew involves a timid palate, there's also a great steak sandwich served well done.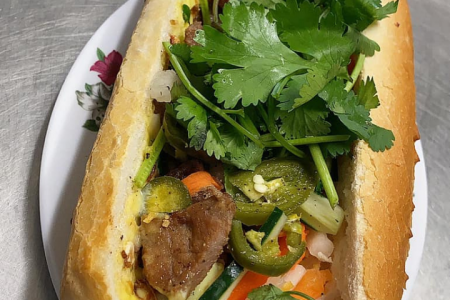 Banh mi -
@trieuchaurestaurant
Trieu Chau
University Avenue's Little Mekong district is positively packed with fantastic restaurants, but for a truly exceptional banh mi, Trieu Chau is a must-visit. Fat demi baguettes are stuffed with tender barbecue smoked pork, snappy cilantro, jalapeno, and carrots create a perfect bite of sweet, spicy, rich, and crunchy.
Tavial Grill
Ask a local for tasty Mexican food on West 7th and an enthusiastic Tavial Grill is the common answer. The menu is stacked with fun hunger-busters like the asada fries, French fries doused in Nacho cheese sauce and studs of shaved steak.
Afro Deli
Header image: Chicken Fantastic at Afro Deli -
@stpldowntown
The chicken fantastic at Afro Deli could be an entire Minnesota Winter Survival guide. Rich sauce containing chicken and vegetables is the best kind of comfort eating. Also add on a sambusa to every order here, the crispy shell holds either beef, chicken, or vegetable filling and a fiery, irresistible hot sauce on the side. Those who know, also know that the rich and sweet Somali tea is a stupendous morning bargain brewed up aromatic and delicious.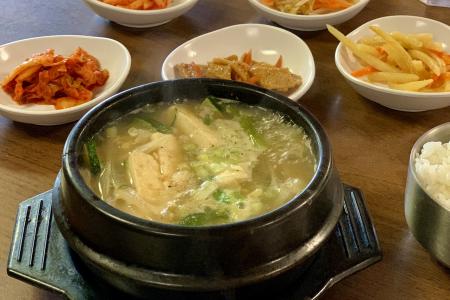 @solecafe
Sole Cafe
Fans have been known to make the bold claim that Sole Cafe has the best kimchi in the Twin Cities. Since before rice bowls were popping up on every other new menu, Sole has been serving classic Korean dishes on Snelling Avenue. The jahpchae is presented as tangles of clear noodles threaded with vegetables packing a deeply savory flavored sauce.
Cheng Heng restaurant -
@moonearkr
Cheng Heng
Dining at Cheng Heng inspires devotion at first taste. The Cambodian cuisine is packed with flavors and textures perfectly suited for any Minnesota day. Getting a spicy order of papaya salad brings the sweet relief of sweat on a muggy summer day. In the winter, the tam yam, a tangy spicy soup with lemongrass and lime leaves, has a blessed bone-thawing effect. For those who don't love the heat as much, start with the crackling crisp Cambodian eggrolls.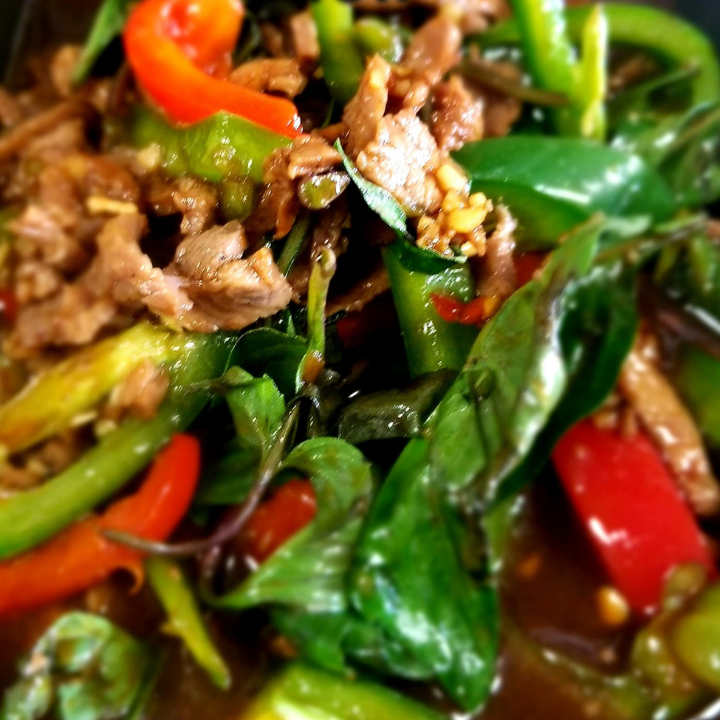 Pad gra prow -
@onsthaikitchen
On's Thai
Thai classics just like mom would have made, straight from chef/owner On Khumchaya's kitchen. Try the pad gra prow, a stir fry with your meat of choice that's filled with purple basil, rich with that singular perfume that tastes like a sunny summer day, tossed in a rich, savory sauce.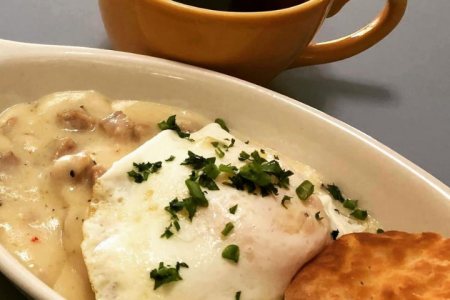 Breakfast at Golden Thyme -
@goldenthymeonselby
Golden Thyme Cafe
Sitting outside Golden Thyme, on Selby Avenue, is a fantastic way to get a taste of this quickly rising neighborhood. Around the tables are a cross-section of the city's people, catching up over coffee, getting ready to start the day, or fueling up on eggs after a long night. It's families and single folks, workers and retirees. It's a part of the endangered art of an all-day coffee shop where folks can sit and share the news of the neighborhood. Grab a hearty breakfast like the loaded hashbrowns, or just a simple slice of sweet potato pie with a steaming cup of coffee and spend a little time getting to know this side of town.
Have some favorites that we missed? Let us know on Facebook, Instagram and Twitter using the hashtag #MYSAINTPAUL!