Following your team to Xcel Energy Center March 6-9 for the best the State of Hockey has to offer at the 75th annual boys' high school hockey tournament? Look no further, here's everything you need to know for a hockey-filled weekend in Saint Paul.
First things, first—tickets
Tickets are offered for each class as season books or single session. Class A season books and single-session tickets typically do not sell out and can be purchased from Xcel Energy Center in advance or at the gate. Class AA books are sold out (with a waitlist of about 5 years), but single session tickets can be purchased one hour before each session begins. Should these tickets be available, be prepared to arrive early and stand in line.
Now, onto the fun stuff—hockey, hockey, hockey
Saint Paul is a hockey town, and boy, do we know it. Grab a bite at Tom Reid's Hockey City Pub, deck yourself out in hockey swag from the Hockey Lodge in Xcel Energy Center, and snap a selfie with the Herb Brooks' statue in Rice Park. After your photo, stop in at his namesake restaurant (Herbie's On the Park) for some more grub and a glimpse at his 1980 Olympic ring.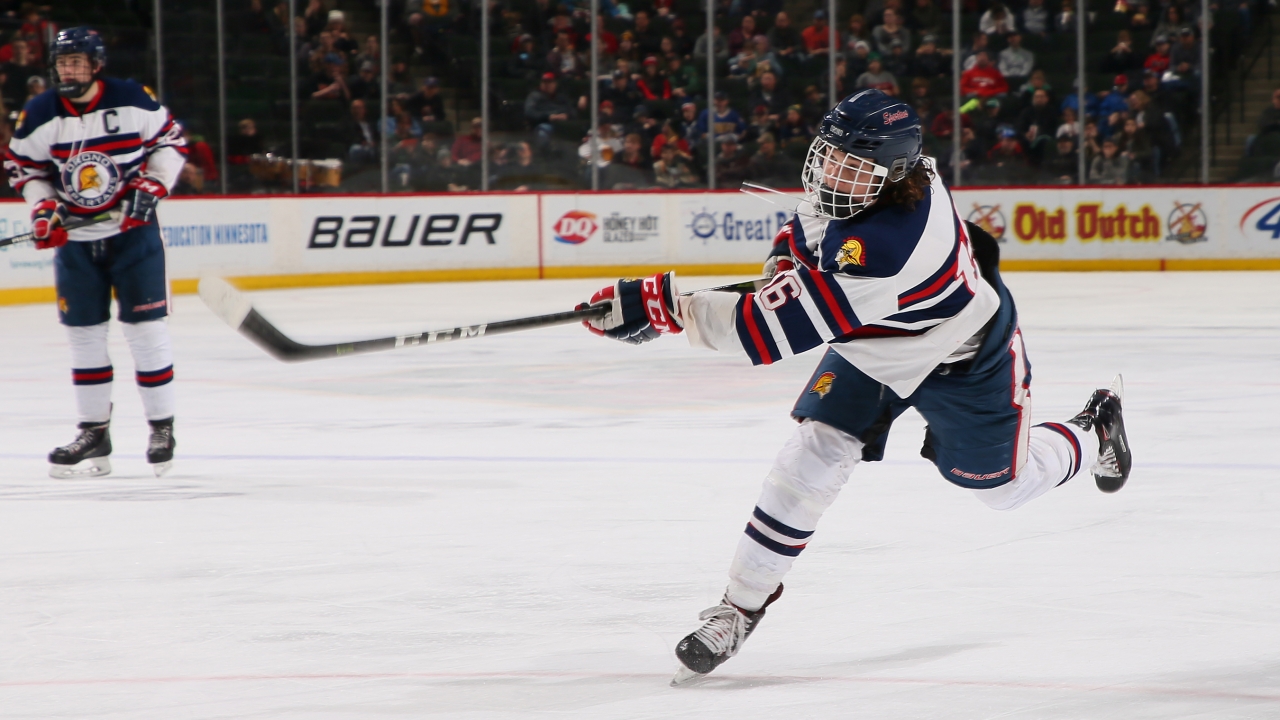 Here's the schedule for the first round:
Class A - Wednesday, March 6
#2 St. Cloud Cathedral vs. North Branch - 11 a.m.
#3 East Grand Forks vs. Minnesota River - 1 p.m.
#1 Mahtomedi vs. New Ulm - 6 p.m.
#4 Greenway/Nashwauk-Keewatin vs. #5 Delano - 8 p.m.
Class AA - Thursday, March 7
#2 Blaine vs. White Bear Lake - 11 a.m.
#3 Eden Prairie vs. Lakeville South - 1 p.m.
#1 Edina vs. Moorhead - 6 p.m.
#4 St. Thomas Academy vs. Duluth East - 8 p.m.
Still hungry?
There's no shortage of restaurants around the arena and there are plenty of opportunities to order the Capital City's staple foods. You'll definitely want to try a Juicy Lucy from the Nook or Burger Moe's and a slice of pizza at Cossetta's or Zamboni's. If you need to please a variety of appetites in your group, check out Seventh Street Truck Park—this West 7th fun house in walking distance of Xcel has multiple food trucks offering everything from tacos to pizza and fried chicken. For a full list of places to eat in the area, check out our West 7th and Downtown dining blogs.
Let's Play Hockey Expo
It's synonymous with the high school tournament and full of the biggest names in hockey. Check out the Let's Play Hockey Expo on Friday and Saturday for the latest in apparel, gear, training tools, sticks, accessories and various other sports equipment. Show runs Friday, March 8 and Saturday, March 9.
Parking
It'll be busy downtown, so it's wise to make a parking plan before you arrive. Visit http://saintpaulparking.com for information on available lots in the area. You can also avoid the stress altogether by taking Metro Transit.
If you need help with anything while you're here or just want to share what an awesome time you're having, give us a shout on Facebook, Instagram or Twitter using the hashtag #MYSAINTPAUL. We also recommend brushing up on your historical data (the first tourney was held at the Saint Paul Auditorium in 1945) with our Saint Paul hockey history blog.