Bite into the Burger Scene in Saint Paul
A perfect burger is emblematic of the Midwest and America and Saint Paul is ground zero for great burgers.
In almost every neighborhood tavern there's a juicy hunk of hamburger waiting to be devoured. Please consider this list just the beginning of your burger discovery mission. Here, you'll find one for every taste: from skinny smashed to monstrous meals you'll have to work to fit your mouth around.
Bennett's
Bennett's is a proper supper club right in the heart of the city. The drinks are cold, beer bottles pop and land quickly, plus there is a phenomenal burger. Get the no-frills, just beefy goodness bacon cheeseburger kissed with grill char and layered with one melty slice of American cheese, plus two crisscrossed slices of crispy bacon. Thursday Burger: It's no surprise that a joint known for its steaks also serves up a pretty tasty burger.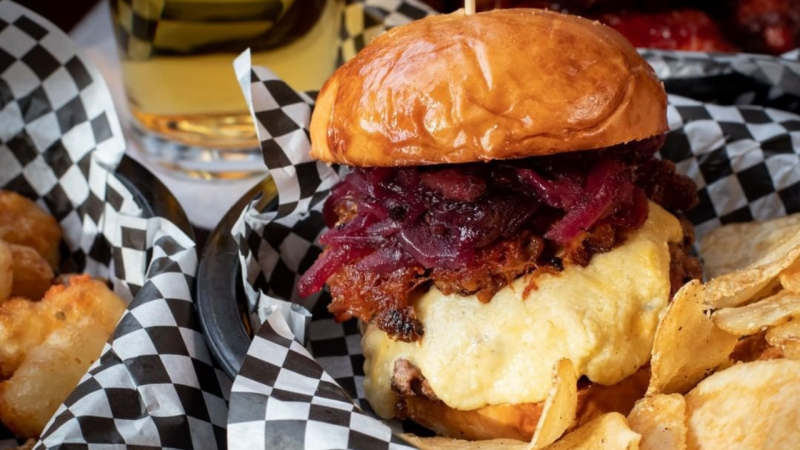 No Payne No Gain @brunsonspub
Brunson's Pub
Located on the Eastside, Brunson's Pub charges into the burger history books with the No Payne No Gain burger. A massively thick burger is topped with both American and blue cheese, a rich onion jam, and the house specialty of pulled bacon. Pork belly is braised and then shredded on top. It's all jammed into a squishy bun for a salty, sweet, rich bite. Order it with a side of the house-made chips with the dipping sauce. If you went a little crazy and crammed a couple of those crunchy chips inside that mess o' burger, just know, this is a judgment-free zone.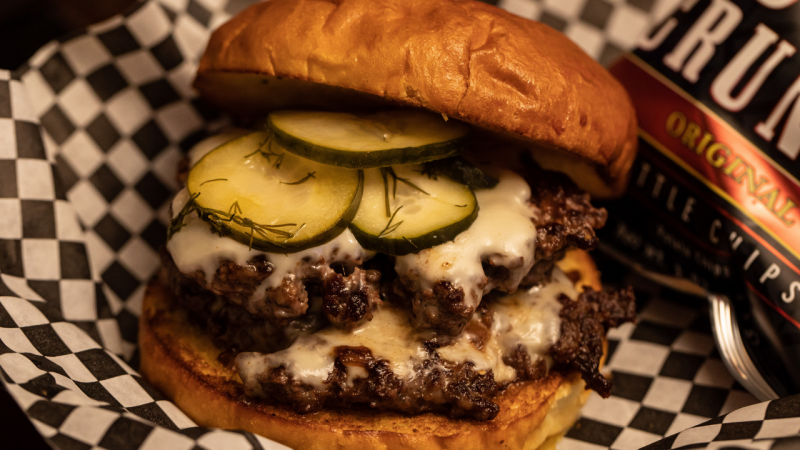 Burger Dive at Bay Street
Burger Dive at Bay Street
In addition to fantastic burgers, Saint Paul has a wealth of neighborhood bars, perfect for long nights that won't break the bank. Burger Dive brings the two together with a chef-owned burger pop-up and the Bay Street bar on Randolph just a few blocks off West 7th.
Chip's Clubhouse
Located right on Snelling Avenue and not far from Macalester college is the new Chip's Clubhouse from Tara Coleman. Coleman also owns the delightful pie and biscuit cafe next door. The restaurant is a fantastic stop for supper club-type food, fabulous drinks, and top-notch hospitality, but the shining star of the menu is the burger. It's a simple patty - that can be ordered double, topped with a knockout sauce of garlic, mustard, and mayo. It's straightforward simple perfection.
ESB | East Side Bar
Inside the historic Hamm's Brewery tie-house is a bustling pub with fantastic food, including the K.I.S.S. Burger. The beef is sourced from Peterson Farms and the quality shows, whether it's ordered as a single, double, or triple stack. Topped with the classic burger cheese square, lettuce and tomatoes it's a pile of meaty bliss.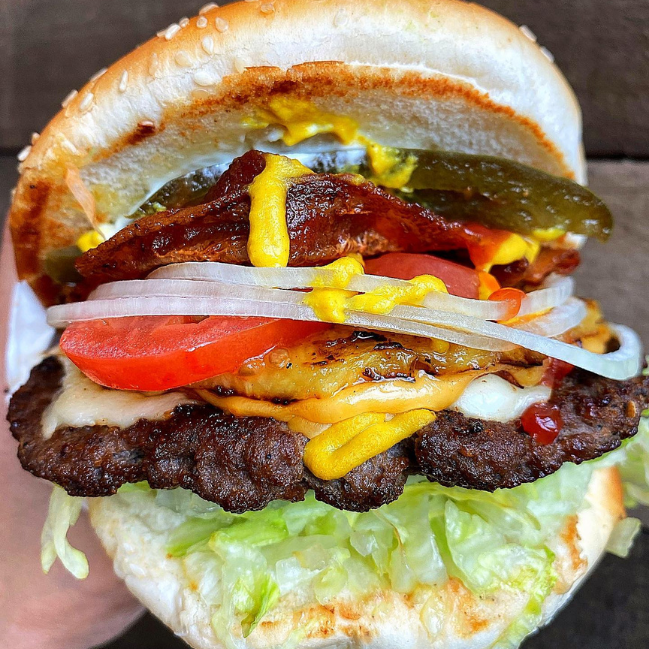 Hamburguesas el Gordo @kimlycurry
Hamburguesas el Gordo
The first bite of an El Gordo burger is a point of no return. As the name implies, there is a whole lot stuffed in between two buns. A thin patty gets star treatment with two kinds of cheese, ham, bacon, avocado, pickled jalapenos, ketchup, mustard, onions, tomatoes, and lettuce. It's a cavalcade of condiments and the party is inside your mouth. It's gooey, spicy, creamy, tangy, meaty, and every bite is better than the last. The Mexican street-style burgers are part of a burgeoning chain with Payne Avenue and Selby Avenue locations in Saint Paul.
The Lexington
There is absolutely nothing about The Lex that screams, "Let's have a burger!" But check your coat at the coatroom and float in through the elegant dining room and multiple bars to a perfect perch. With flair, shake out that napkin and tuck it beneath your chin. This is the only $18 entry on this list, but nobody said being fancy is cheap. Be prepared to clutch this monster topped with special sauce, pickle, lettuce, and Swiss. The burger itself is chopped steak and unbelievably unctuous. It's going to be messy. Embrace the high/low fun and just go for it.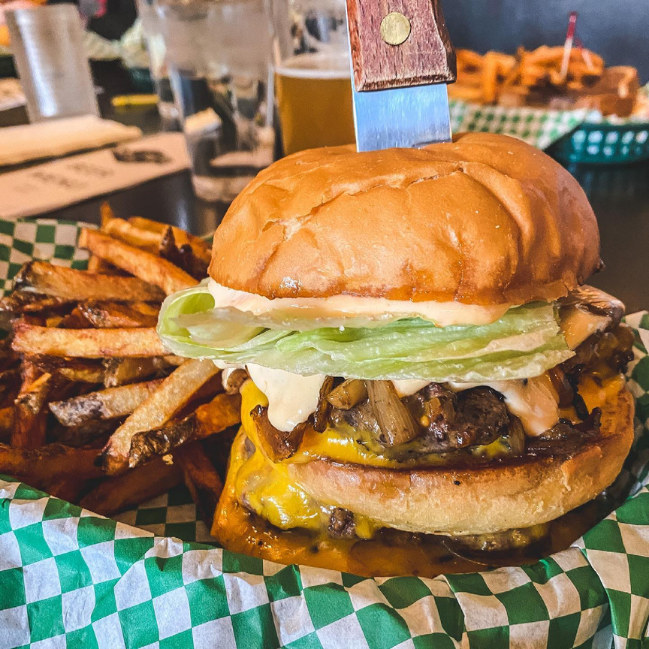 Nookie Supreme at Shamrocks @whats.elle.eating
The Nook (& Shamrocks)
This is all about that Nookie Supreme. This burger is a legend in Highland Park - and was ranked #9 in '101 Best Burgers in America". A towering burger with two patties, cheese, lettuce, and special sauce. The bacon might be gilding the lily, but it's still a welcome addition. The Nook is popular and seating capacity can be limited at popular times, but Saint Paul burger pros know that this exact same burger can be ordered down the hill on West 7th at its sister restaurant, Shamrocks.
Parlour Bar
This restaurant began as an upscale bar in Minneapolis, but the Saint Paul location might just be the superior restaurant in our wholly biased opinion. Maybe it's that their famous burger just tastes better with a little West 7th activity buzzing outside the door. This ultra-rich, skinny burger is served simply adorned with just a bit of their American cheese. Two pickles are on the side and that is it. What it lacks for in ostentatiousness, it makes up for in pure, unadulterated, beef flavor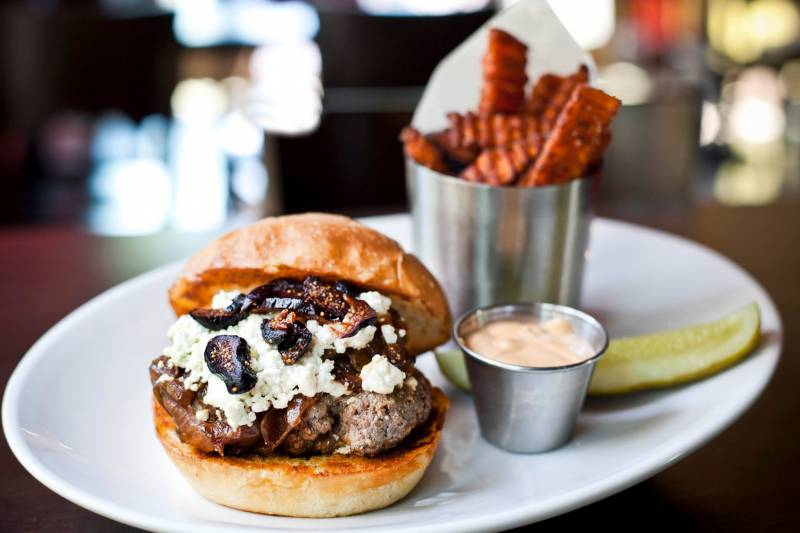 Red Cow
Red Cow
Red Cow has centered its entire menu on burgers, and they do them so beautifully. Whether getting a little bacon ground into the burger like the rich 60/40, or hangover buster with the egg and bacon like the breakfast burger, this is a restaurant that understands the ground meat arts. Before plunging into the variations, start with a classic cheeseburger. The thick patty is cooked to order with a nice crust of salt and pepper. Served on a properly squishy bun with all the fixings this is a perfect burger to bring it all home while others are dolled up with bells and whistles.
Revival
Turns out fried chicken isn't the only thing Revival knocks out of the park. It's easy to get distracted by all the delicious barbecue at the Selby location, but the Revival burger is not to be missed—don't think twice when it comes to adding the thick-cut bacon.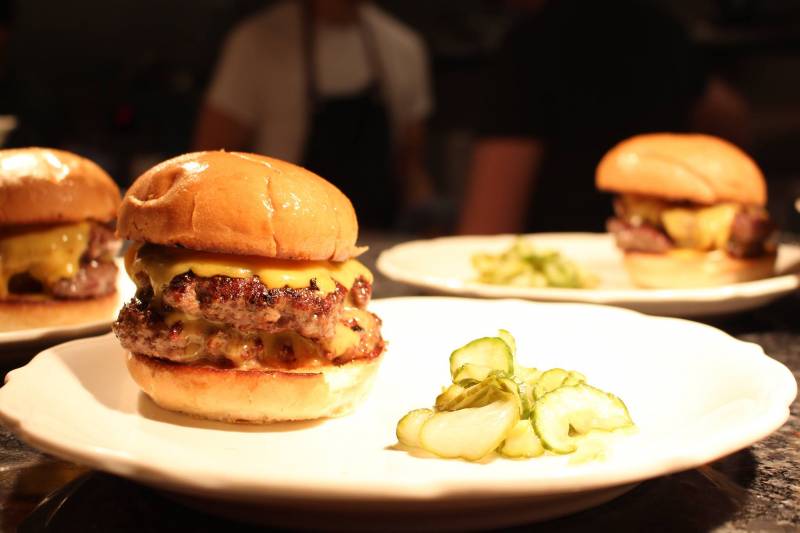 Saint Dinette
Saint Dinette
This Lowertown restaurant has a studied and ever-changing menu, but Saints fans know that every meal ordered here requires a burger. Saint Dinette's Chef Adam Eaton takes a bit of evil-genius level license in crafting this burger by actually putting butter into the burgers themselves. The result is a slip of charred meat so tasty that every bite requires an immediate follow-up until the burger disappears with shocking speed.
Tin Cup's Bar
Tin Cup's is best known for its Lucifer Challenge—finish two one-pound jalapeno-stuffed burgers and two pounds of fries in 45 minutes or less, get the meal free. This fiery challenge was featured on Travel Channel's Man vs. Food Nation. Tin Cup's more tame offerings are also a hit if you'd rather not set your mouth ablaze. Go all-in on the giant Rice Street Pounder: four patties with two slices of bacon and a different slice of cheese on each layer.
Did your favorite burger make the list? Share your thoughts (and juiciest burger photos) with us on Facebook, Instagram and Twitter using the hashtag #MYSAINTPAUL.