Bike Saint Paul: Downtown
Boring? Nah, just Bikeable. A cyclist's pace is plenty in downtown Saint Paul.
When locals walk around wearing "Keep St. Paul Boring" T-Shirts, the tongue-in-cheek joke might specifically be referencing our capital city's downtown.
With a few exceptions, it can feel like the streets get rolled up after dark (there is late-night life, you just gotta know where to look) but that tranquility can make it an exceptional pick for perambulating by bike.

Weave in and out of skyscrapers, the historic architecture of the Landmark Center or Union Depot, and stop at these places to eat, drink, and catch your breath. Even if you're not riding fast, the pit stops are (at least) half the point of the ride.
For proof, take this progressive snacky, drinky ride in a loop around downtown.
1. Start near the Landmark Cultural Center and pop inside to view the site of the original State of Minnesota post office and courthouse.
A skylit five-story courtyard and 20-foot ceilings, bedazzled with marble, mahogany and oak are impressive in their own right, but check the calendar for dance, music, theater, and more.
2. Head across Landmark Plaza towards Meritage, your first stop: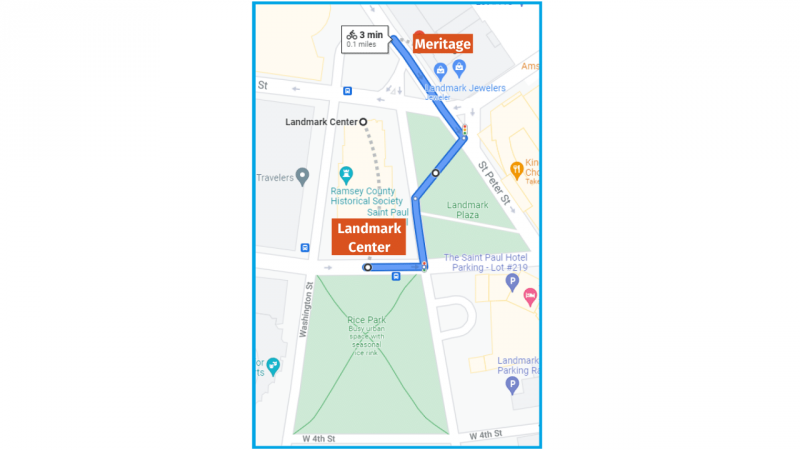 Pedal to elegance: Meritage
Think oysters and champagne and that's Meritage. Whether posting up at the zinc bar for shellfish and absinthe, a full dinner of the best French Onion Soup anywhere plus steak Frites, or watching the world go by with a sweaty glass of bubbly on the sidewalk cafe, Meritage is hands-down the most elegant stop in downtown. And like anywhere in the capital city, feel free to come as you are (bike shorts, clips, and all).
3. Next, bike nine minutes via East 5th Street towards Mears Park, stopping at either Saint Dinette or Big River Pizza (or both!)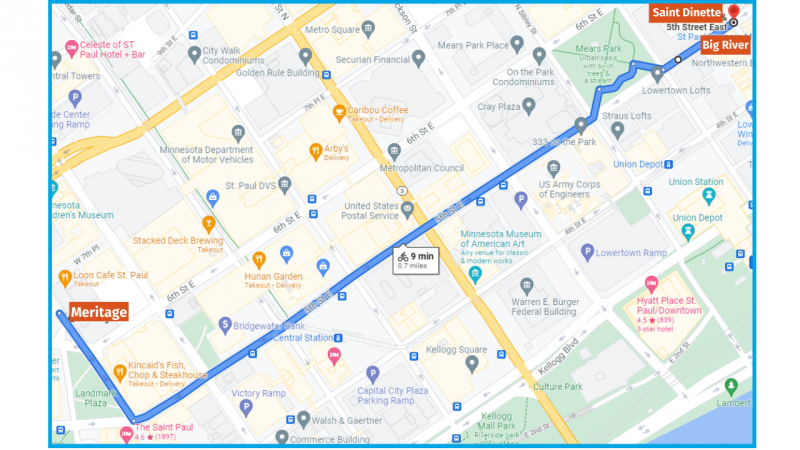 When you're hungry for anything: Saint Dinette
Known best for their pitch-perfect squishy-bun cheeseburgers and fried bologna sandwiches (a thing you never knew you needed but will never stop thinking about) this sleek, pretty "dinette" is really a restaurant for any occasion-- use the bar for a quick one, or the dining room for a bacon and benedict brunch. Saint Dinette sits high over Lowertown and will welcome you like it's been waiting for you all along.
When you just need 'Za: Big River Pizza
Whether you need a quick slice to keep on moving, or to hunker down over one of their truly superior wood-fired pies, Big River Pizza is an authentic taste of St. Paul. Known for gathering as many ingredients as possible from the across-the-street Saint Paul Farmers' Market (a super-worthy stop in its own right if you're visiting on the weekend) this pie is all the way Minnesota. Try the "St. Paulie Girl": red sauce, shredded mozzarella, onion, prosciutto, and arugula.
4. Before moving on, bike two minutes to Union Depot to take in the stunning 1920's neoclassical architecture.
If you've still got room, grab a drink or bite at Station 81 by Appetite for Change, a social enterprise restaurant that uses food as a tool to build health, wealth, and social change.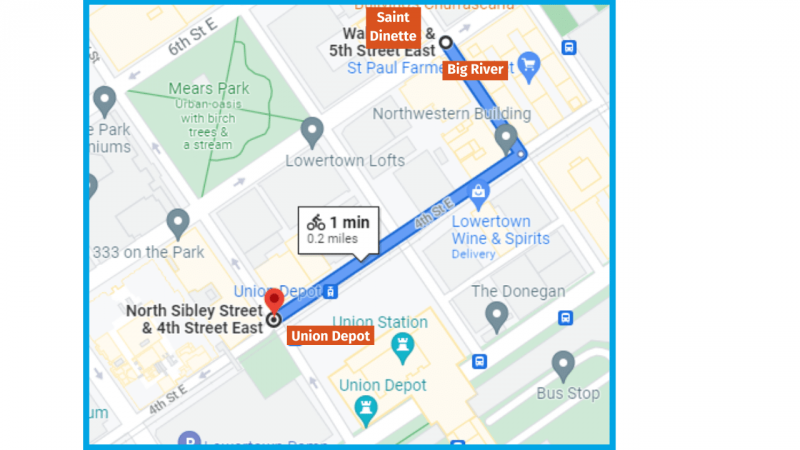 5. Head merely two more minutes into Mears Park and lounge near the creek that runs through it to digest.
The covered bandshell is home to many events and musical performances. Check the calendar to catch one.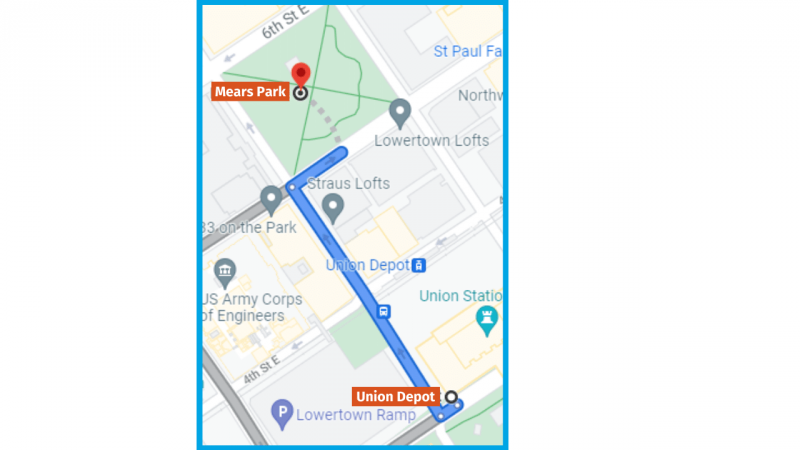 6. Roll past the farmer's market to grab a cocktail and a snack at Kyatchi, 2 minutes southeast side of the park, or pedal three minutes up North Sibley and stop at Dark Horse Bar & Eatery:
For sustainable sushi: Kyatchi
Selections at Kyatchi can be limited-- and that's exactly the point. This unique sushi bar ensures that everything you're eating at a given moment here is in season, and not overfished or endangered. The result is super fresh, sublime sushi you can feel good about. Don't sleep on fish-free selections either-- hot dogs (yes, hot dogs) are part of the place's pedigree, and the yakisoba dog, piled up with soba noodles and Japanese mayo is a one-of-a-kind unforgettable bite.
For anything and everything: Dark Horse Bar and Eatery
When a group consensus is difficult to meet, Dark Horse to the rescue. From pizza to crab cakes to banh mi, there are all the things you need to pair with all the beers, a full bar, and since the kitchen stays open 'til midnight, that all-important need to stay out past 10 and make the most out of easy, breezy, Minnesota summer nights.
7. If there is any gas left in the tank, head down to Shepherd Road bike trail (via North Sibley Street) for a cool jaunt along the River and hit up West 7th, where Cossettas, DeGidio's, and Mancini's Char Bar, all family-owned institutions, offer evidence of the area's history as an Italian enclave.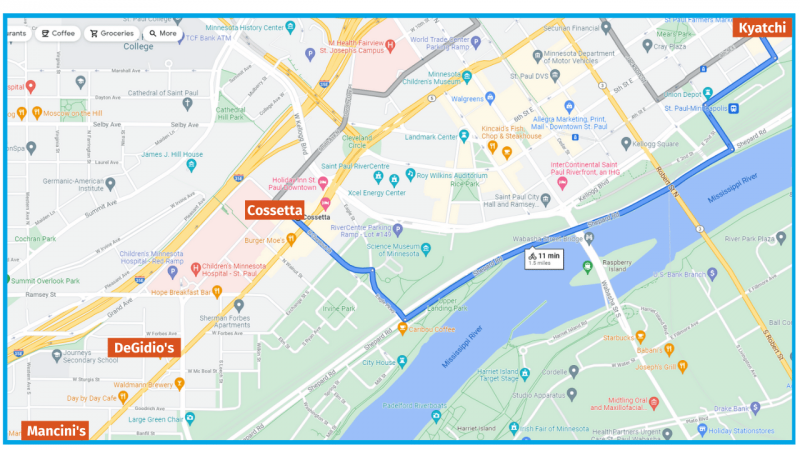 Or, hit up all three, starting with Cossetta's, since 1911, with the full-meal-deal of everything red sauce, a full market and deli, a Pasticceria (don't miss the cannoli) and full-service restaurant Louis on the second level.

Next stop, DeGidio's, my favorite of the trio, the red sauce institution of your dreams (the Italian Sausage Dip is a whole mood) with reasonable prices to match, and the friendliest staff in town.

Finally, Mancini's Char House is the place where I always say: "If only the carpet could talk". Thousands of dances, dreams, and drinks have been played out on its surface. If Sinatra were alive today and checking out The 'Paul, he'd be crooning into the mic on Mancini's stage. Don't forget to order a relish tray.

Show us your urban biking adventures using #MYSAINTPAUL.