MY ITINERARY (

0

)
Minnesota State Fair Pro Tips
There are a few tricks to the trade when it comes to navigating the Minnesota State Fair. We hope these will help you skip the lines or save a few bucks.
Food
There are three Sweet Martha's locations. You'll nearly always find a line at the Grandstand and Carnes locations. Save yourself a little time by venturing out to the North End for the lesser trafficked Randall-Underwood stand.
You're going to need milk to go with those cookies, and the best deal on dairy at the fair is the $2 All-You-Can-Drink Milk Stand kitty-corner from the Coliseum at Judson & Clough.
Did you know the State Fair has a grocery store and deli? Steichen's, the slightly hidden market behind the Poultry Barn on Commissary Way, is your stop for general convenience store items and anything you may have forgotten at home.
Deals
With more than 150 food, merchandise and attraction coupons, The $5 Blue Ribbon Bargain Book more than pays for itself. Discount days include Thrifty Thursday (Aug. 22), Senior & Kids Day (Aug. 26), Military Appreciation Day (Aug. 27), Read & Ride Day (Aug. 28), Seniors Day (Aug. 29) and Kids & Last Chance Day (Sept. 2). For more info on discount days here.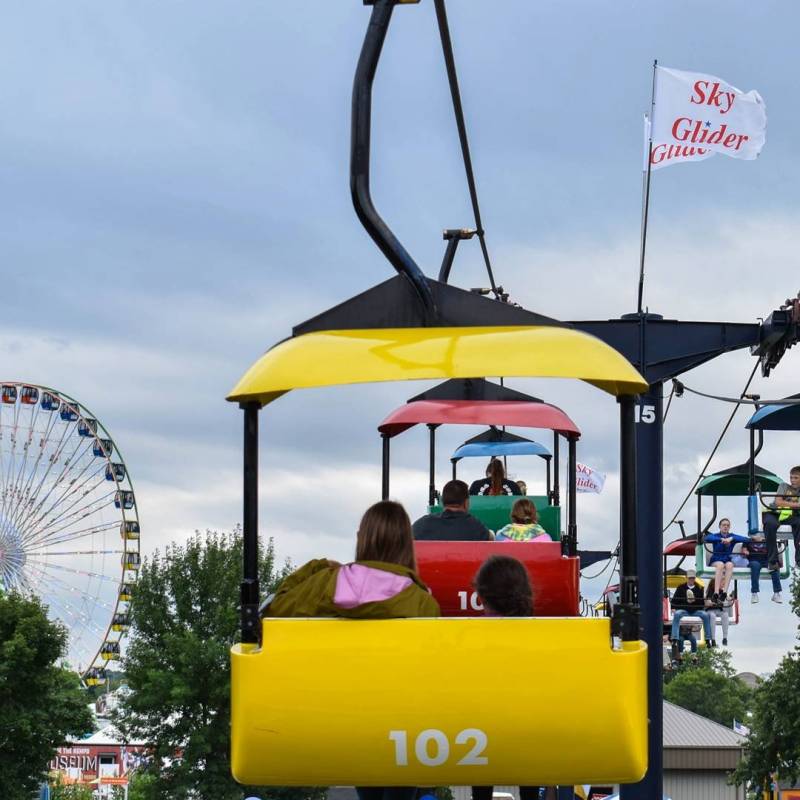 Get Discounted Tickets
You know you're going to end up going, so why not save yourself a little cash with pre-fair discount tickets? Tickets are available for $12 now through August 22—get them online, the fairgrounds ticket office, by phone or at a variety of Twin Cities Cub locations. Save even more fun money by purchasing pre-fair ride and attraction tickets. Regular fair-time admission prices are $14 for adults, $12 for seniors (65+), 12 for kids (5-12) and free for children under 5. You won't save cash after the 23rd, but you can still skip the lines by snagging them online before you go.
Transportation
While the fair does provide on-site paid parking, it's one of those "better get there early" kind of things. We recommend taking Metro Transit's State Fair Express (operating out of dozens of free parking sites in the Twin Cities) or utilizing the free park & ride service from 30 locations around the fairgrounds.
Getting Around
If you want to get from one end of the fair to the other without weaving through hundreds of fairgoers, it's worth spending a few bucks on the Skyride, Skyglider or trolley (bonus that they're fun to ride). Scooters, wheelchairs, wagons and strollers are also available to those who need extra assistance. (Photo: Will Wright)
Stay Cool
Beat the heat (and the crowds) by arriving when the gates open at 6 a.m. You won't find everything open that early (typically happens by 9 a.m.), but it's a great opportunity to grab some coffee, breakfast and navigate the streets with ease. Portable fans can be a life-saver later in the day and we also recommend a refillable water bottle for free hydration (plus environmental brownie points).
You May Also Like