MY ITINERARY (

0

)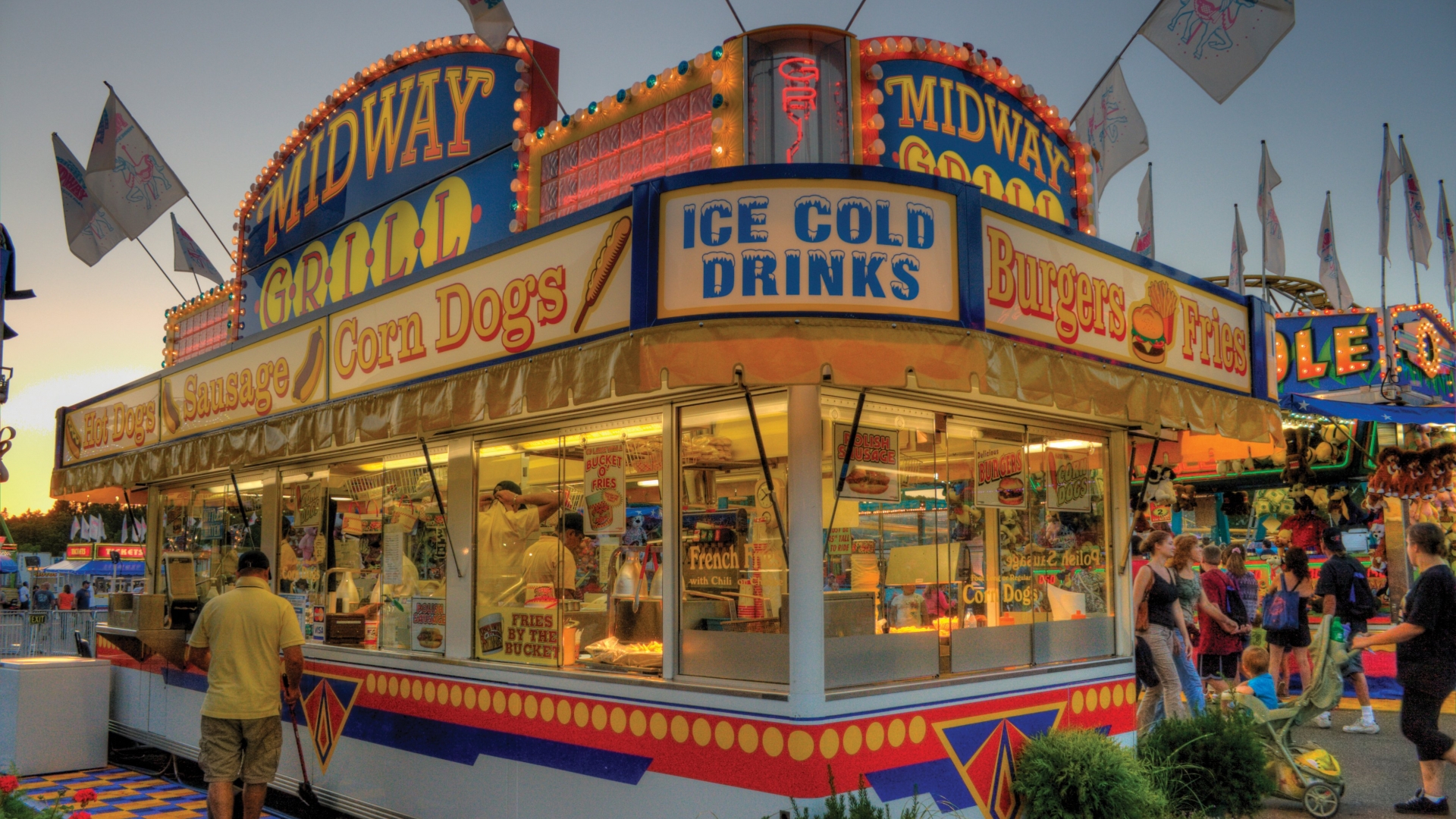 Minnesota State Fair Food Guide
Pick your favorite food—there's a pretty good chance you'll find it deep-fried and/or on a stick somewhere on the fairgrounds. In between bites, fairgoers can also be found enjoying a variety of attractions. By no means a full listing, here are some of the things we recommend you don't miss.
Unfortunately, the 2020 Minnesota State Fair is canceled due to COVID-19. Next year's festival is scheduled for Aug. 26th through Sept. 6th, 2021. We can't wait to see you there! For now, enjoy the last days of summer by dining on one of Saint Paul's many patios.
Top 9 Things to Eat at the Minnesota State Fair
Corn Roast Sweet Corn: Name a more iconic duo than the State Fair and sweet corn—we'll wait. Not only is a fresh ear delicious, you can go back over and over again without triggering the sluggish stomach-ache of some of the fair's guiltier pleasures (or spending a fortune).
Sweet Martha's Cookie Jar cookies: No matter the time of day, you won't go more than ten feet without seeing someone indulging in chocolate chip cookies piled high in Sweet Martha's iconic bucket. Order a cone for a smaller serving or splurge on the pail and make some new friends. (Photo: Kat Peterson)
Pronto Pups: There are a lot of misconceptions about what makes a Pronto Pup different than the more commonly understood corn dog, and a lot of loyalists on each side who debate which is superior. To make a very long story short, it's really just a matter of sweet or savory—corn dogs have a touch of sweetness, Pronto Pups do not. With multiple booths of both, you'll have ample opportunities to conduct your own taste test.
Mouth Trap cheese curds: You can't go to a fair and NOT split at least one order of curds. Someone's sure to comment on the recent closing of the fair's Original Cheese Curds, but we think Mouth Trap more than fills the void.
Fresh French Fries: If there's anything as recognizable as the Sweet Martha's cookie bucket, it's the red and yellow stripes of Fresh French Fries. Served piping hot, they're a simple delight everyone can enjoy.
Peterson's Pork Chops On A Stick: One of the more conventional foods you'll find skewered for on-the-go eating, Peterson's pork chops are a popular choice for those seeking a little protein in their Fair diet.
Big Fat Bacon: If you prefer your pork with a little more fat and grease, you'll want to order up a slab of ¼ pound premium pork belly (served on a stick, of course). Great at breakfast and pretty darn fantastic at any other time of the day, too.
Dairy Goodness Bar Ice Cream: You can't do much better than ice cream whipped up by the Midwest Dairy Association itself. Located in the Dairy Building (that's how you know it's legit), the Dairy Goodness Bar is your spot for tasty malts, sundaes and cones.
What-On-A-Stick?!: When everything is on a stick, you're bound to come across a few that are less than traditional. Notable finds include alligator sausage, deep fried hot dish and deep fried scotch eggs—all of which are actually quite popular.
New in 2019
New Food
For many, the Minnesota State Fair's new food listing is one of the most anticipated announcements of the year. From international flavors like Cuban fusion fajitas and Turkish pizza to crazy delicious combos like the cheesy sriracha funnel cake bites, there are options for adventurous eaters and traditionalists alike. We'll leave it up to you to decide if they're rising stars or foodie flops.
New Beers and Beverages
Crazy combos aren't just for the food. More than 53 new beverages will premier at the fair this year, including a cotton candy cream ale and a pomegranate bubbly mojito. Check out the complete list of new drinks here.
---
#MYSAINTPAUL Ties
We'd be remiss if we didn't mention the numerous Saint Paul ties at the Great Minnesota Get-Together. If you're looking for a taste of the Capital City, plan a stop at these spots.
History On-A-Schtick
Brought to you by the Saint Paul-based Minnesota Historical Society, History On-A-Schtick packs all of Minnesota's history into a fun-filled 30-minute performance. Shows run daily at 9:30 a.m. and 10:30 a.m. in the West End Market's Schilling Amphitheater. Location: Schilling Amphitheater, West End Market, G23
International Bazaar
Some of Saint Paul's best stores bring the best of other cultures to the city, and you'll also find them in the International Bazaar. El Burrito Mercado, Irish on Grand and many others are represented throughout the market. Location: T-31
Mancini's al Fresco
West 7th's Mancini's Char House is an icon and their State Fair location, Mancini's al Fresco, lives up to the reputation. Early morning fair-goers should take advantage of fresh Italian breakfast options, but everyone should make a stop for cannolis. Location: Carnes between Nelson and Underwood, P-26
O'Gara's at the Fair
O'Gara's has three locations: Selby Avenue, the Minneapolis-Saint Paul Airport and the Minnesota State Fair. As a Minnesota icon should, the restaurant serves up local beers, Reuben bites and cheese curds with a cayenne twist during the fair. Location: Southwest corner of Dan Patch & Cosgrove, V-24
Sweet Martha's Cookies
Did you know Sweet Martha herself hails from Saint Paul? Support one of our hometown heroes with a cup—or a bucket. Locations: North side of West Dan Patch, between Ligget & Chambers, K-24; South side of Carnes between Nelson & Underwood, P-27; West side of Underwood between Lee & Randall, R-13
Ball Park Café
How could we write about Saint Paul at the fair and not include the craft beer scene? Summit, Urban Growler, Tin Whiskers and more of your local favorites are sure to be represented at one of the fair's best beer stops, the Ball Park Café. Location: East side of Underwood St. between Dan Patch & Carnes, R-25
Blue Barn
Whether you prefer Groveland Tap for a late-night beer or Highland Grill for a hearty brunch, the Blue Plate Restaurants are an integral part of the Saint Paul dining scene. Blue Barn is the group's State Fair establishment, known for serving up some of the most beloved dishes on the grounds. Location: West End Market, east side, south of the History & Heritage Center, H-24
Fan Central and More
All bunch of capital city sports teams in one place. Gear up at Fan Central with the Minnesota RollerGirls, St. Paul Saints and United FC (plus many other Minnesota teams, too). Location: FAN Central, Q-25.
Find the Minnesota Wild in its new location on the North End.
Visit Saint Paul at the fair
Pick up the 2019 Saint Paul Insider's Guide and chat about your love for the Capital City with us at our booth inside the Grandstand. We won't object if you bring cookies. Location: Grandstand lower level, southeast corner, M-24
---
Pro Tips
There are a few tricks to the trade when it comes to navigating the fair's food scene. Hop over to our Pro Tips page to learn more.
You May Also Like