MY ITINERARY (

0

)
Insider's Guide to the Minnesota State Fair
When the whole state gets together, it's sure to be a good time.
Jump To:
---
Fan Favorites
Pick your favorite food—there's a pretty good chance you'll find it deep-fried and/or on a stick somewhere on the fairgrounds. In between bites, fairgoers can also be found enjoying a variety of attractions. By no means a full listing, here are some of the things we recommend you don't miss.
Top 9 Things to Eat at the Minnesota State Fair
Corn Roast Sweet Corn: Name a more iconic duo than the State Fair and sweet corn—we'll wait. Not only is a fresh ear delicious, you can go back over and over again without triggering the sluggish stomach-ache of some of the fair's guiltier pleasures (or spending a fortune).
Sweet Martha's Cookie Jar cookies: No matter the time of day, you won't go more than ten feet without seeing someone indulging in chocolate chip cookies piled high in Sweet Martha's iconic bucket. Order a cone for a smaller serving or splurge on the pail and make some new friends. (Photo: Kat Peterson)
Pronto Pups: There are a lot of misconceptions about what makes a Pronto Pup different than the more commonly understood corn dog, and a lot of loyalists on each side who debate which is superior. To make a very long story short, it's really just a matter of sweet or savory—corn dogs have a touch of sweetness, Pronto Pups do not. With multiple booths of both, you'll have ample opportunities to conduct your own taste test.
Mouth Trap cheese curds: You can't go to a fair and NOT split at least one order of curds. Someone's sure to comment on the recent closing of the fair's Original Cheese Curds, but we think Mouth Trap more than fills the void.
Fresh French Fries: If there's anything as recognizable as the Sweet Martha's cookie bucket, it's the red and yellow stripes of Fresh French Fries. Served piping hot, they're a simple delight everyone can enjoy.
Peterson's Pork Chops On A Stick: One of the more conventional foods you'll find skewered for on-the-go eating, Peterson's pork chops are a popular choice for those seeking a little protein in their Fair diet.
Big Fat Bacon: If you prefer your pork with a little more fat and grease, you'll want to order up a slab of ¼ pound premium pork belly (served on a stick, of course). Great at breakfast and pretty darn fantastic at any other time of the day, too.
Dairy Goodness Bar Ice Cream: You can't do much better than ice cream whipped up by the Midwest Dairy Association itself. Located in the Dairy Building (that's how you know it's legit), the Dairy Goodness Bar is your spot for tasty malts, sundaes and cones.
What-On-A-Stick?!: When everything is on a stick, you're bound to come across a few that are less than traditional. Notable finds include alligator sausage, deep fried hot dish and deep fried scotch eggs—all of which are actually quite popular.
9 Must-See Attractions at The Minnesota State Fair
Giant Slide: You'd be hard-pressed to find a Minnesotan who doesn't know the feeling of gliding down the yellow and green waves of the Giant Slide atop a burlap sack. Not just for the kiddos, folks of all ages can enjoy this State Fair tradition.
Skyride & Skyglider: Another fair tradition is surveying the crowds as you short-cut from one side of the fair to another on the Skyride (enclosed gondolas) or the Skyglider (open-air chairlifts).
Space Tower: If you seek a higher vantage point than those provided by the Skyride and Skyglider, the 340-foot Space Tower will take you up into the clouds for amazing views of the fairgrounds and beyond.
Grandstand Concerts: Some of music's biggest names have been known to rock the open-air Grandstand stage each summer. 2018's headliners include Niall Horan, Sugarland, The Beach Boys and Old Dominion. Click here for a full list of Grandstand performances.
Free Music: You can also catch over 100 local and national acts for free at various stages throughout the fairgrounds. This year's biggest free shows include BoDeans, Clay Walker, En Vogue and Har Mar Superstar. Find them on these stages.
CHS Miracle of Birth Center: In addition to the full-grown animals who temporarily reside at the fairgrounds, over 200 babies enter the world each summer at the CHS Miracle of Birth Center. The newborn calves, lambs, piglets and more are a hit with kids and adults alike.
Midway & Kidway: What's a fair without rides and games? Get your adrenaline going, weave through fun-houses and win your sweetie a giant stuffed animal in the Mighty Midway. If you've got little ones, plan some time at the more tame Kidway.
Ye Old Mill: This over 100-year-old "Tunnel of Love" is the oldest (and weirdest) attraction at the fair, with an experience that is essentially the same as it when it first opened. The two-minute boat ride through a darkened tunnel of various kitschy (and bizarre) vignettes is quite the tradition.
Butter Sculptures: Butter sculptures? You butter believe it. The Dairy Building's butter sculptures of Princess Kay of the Milky Way and the other 11 finalists are one of the fair's most popular yet strange traditions.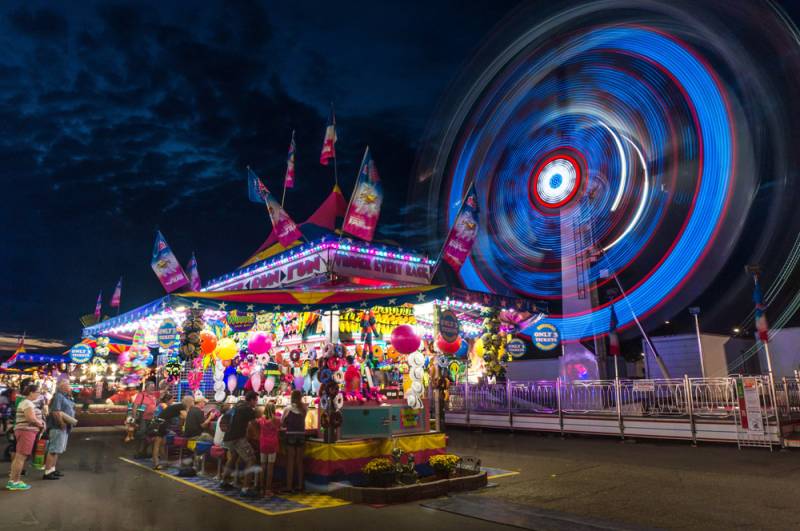 New in 2018. What's New at the Fair This Year?
New Food: For many, the State Fair's new food listing is one of the most anticipated announcements of the year. From international flavors like tuna poke bowls and Swedish meatball smorgas to crazy combos like PB&J sausage, there are options for adventurous eaters and traditionalists alike. We'll leave it up to you to decide if they're rising stars or foodie flops. Click here for the full list and where to find them.

New Beverages: Crazy combos aren't just for the food. More than 27 new beverages will premier at the fair this year, including deep-fried cake-flavored and caramel corn beers. Click here for the complete list of new drinks and read The Growler's "Complete Guide to Beer at the 2018 Minnesota State Fair" here.

New Attractions: Add to your list of favorite exhibits this year with loads of new attractions. Notable adds include seven new rides, interactive experiences and a variety of popular food, clothing and hobby vendors. Check out the full list here.
---
#MYSAINTPAUL Ties
We'd be remiss if we didn't mention the numerous Saint Paul ties at the Great Minnesota Get-Together. If you're looking for a taste of the Capital City, plan a stop at these spots.
History On-A-Schtick: Brought to you by the Saint Paul-based Minnesota Historical Society, History On-A-Schtick packs all of Minnesota's history into a fun-filled 30-minute performance. Shows run daily at 9:30 a.m. and 10:30 a.m. in the West End Market's Schilling Amphitheater. Location: Schilling Amphitheater, West End Market, G23
International Bazaar: Some of Saint Paul's best stores bring the best of other cultures to the city, and you'll also find them in the International Bazaar. El Burrito Mercado, Irish on Grand and many others are represented throughout the market. Location: T-31
Mancini's al Fresco: West 7th's Mancini's Char House is an icon and their State Fair location, Mancini's al Fresco, lives up to the reputation. Early morning fair-goers should take advantage of fresh Italian breakfast options, but everyone should make a stop for cannolis. Location: Carnes between Nelson and Underwood, P-26
O'Gara's at the Fair: O'Gara's has three locations: Selby Avenue, the Minneapolis-Saint Paul Airport and the Minnesota State Fair. As a Minnesota icon should, the restaurant serves up local beers, Reuben bites and cheese curds with a cayenne twist during the fair. Location: Southwest corner of Dan Patch & Cosgrove, V-24
Sweet Martha's Cookies: Did you know Sweet Martha herself hails from Saint Paul? Support one of our hometown heroes with a cup—or a bucket. Locations: North side of West Dan Patch, between Ligget & Chambers, K-24; South side of Carnes between Nelson & Underwood, P-27; West side of Underwood between Lee & Randall, R-13
Ball Park Café: How could we write about Saint Paul at the fair and not include the craft beer scene? Summit, Urban Growler, Tin Whiskers and more of your local favorites are sure to be represented at one of the fair's best beer stops, the Ball Park Café. Location: East side of Underwood St. between Dan Patch & Carnes, R-25
Blue Barn: Whether you prefer Groveland Tap for a late-night beer or Highland Grill for a hearty brunch, the Blue Plate Restaurants are an integral part of the Saint Paul dining scene. Blue Barn is the group's State Fair establishment, known for serving up some of the most beloved dishes on the grounds. Location: West End Market, east side, south of the History & Heritage Center, H-24
Fan Central: All of your favorite capital city sports teams in one place. Gear up at Fan Central with the Minnesota Wild, Minnesota RollerGirls, St. Paul Saints and United FC (plus all of those other Minneapolis-based teams, too). Location: FAN Central, Q-25
Visit Saint Paul at the fair: Pick up the 2018 Saint Paul Insider's Guide and chat about your love for the Capital City with us at our booth inside the Grandstand. We won't object if you bring cookies. Location: Grandstand lower level, southeast corner, M-24
---
Pro Tips
Food: There are a few tricks to the trade when it comes to navigating the fair's food scene. We hope these will help you skip the lines or save a few bucks.
There are three Sweet Martha's locations. You'll nearly always find a line at the Grandstand and Carnes locations. Save yourself a little time by venturing out to the North End for the lesser trafficked Randall-Underwood stand.
You're going to need milk to go with those cookies, and the best deal on dairy at the fair is the $2 All-You-Can-Drink Milk Stand kitty-corner from the Coliseum at Judson & Clough.
Did you know the State Fair has a grocery store and deli? Steichen's, the slightly hidden market behind the Poultry Barn on Commissary Way, is your stop for general convenience store items and anything you may have forgotten at home.
Deals: With more than 150 food, merchandise and attraction coupons, The $5 Blue Ribbon Bargain Book more than pays for itself. Discount days include Thrifty Thursday (Aug. 23), Senior & Kids Day (Aug. 27), Military Appreciation Day (Aug. 28), Read & Ride Day (Aug. 29), Seniors Day (Aug. 30) and Kids & Last Chance Day (Sept. 3). For more info on discount days, click here.
Get Discounted Tickets: You know you're going to end up going, so why not save yourself a little cash with pre-fair discount tickets? Tickets are available for $11 now through August 22—get them online, the fairgrounds ticket office, by phone or at a variety of Twin Cities Cub locations. Save even more fun money by purchasing pre-fair ride and attraction tickets. Regular fair-time admission prices are $14 for adults, $12 for seniors (65+), 12 for kids (5-12) and free for children under 5. You won't save cash after the 23rd, but you can still skip the lines by snagging them online before you go.
Transportation: While the fair does provide on-site paid parking, it's one of those "better get there early" kind of things. We recommend taking Metro Transit's State Fair Express (operating out of dozens of free parking sites in the Twin Cities) or utilizing the free park & ride service from 30 locations around the fairgrounds.
Getting Around: If you want to get from one end of the fair to the other without weaving through hundreds of fairgoers, it's worth spending a few bucks on the Skyride, Skyglider or trolley (bonus that they're fun to ride). Scooters, wheelchairs, wagons and strollers are also available to those who need a extra assistance. (Photo: Will Wright)
Stay Cool: Beat the heat (and the crowds) by arriving when the gates open at 6 a.m. You won't find everything open that early (typically happens by 9 a.m.), but it's a great opportunity to grab some coffee, breakfast and navigate the streets with ease. Portable fans can be a life-saver later in the day and we also recommend a refillable water bottle for free hydration (plus environmental brownie points).
The Minnesota State Fair By The Numbers
1859 - date of first Minnesota State Fair
1,997,320 - total record attendance (2017)
260,374 - daily record attendance (2016)
320 - acres of the fairgrounds
300 - food vendors
3,000,000 - cookies made daily by Sweet Martha's Cookie Jar
25,000 - ears of corn consumed daily by the Corn Roast
14 - dollars required to get you in the door
---
We're always looking to update our list of tips and tricks for a great State Fair experience. If there's something we missed, shout it out to us on Facebook, Instagram and Twitter using the hashtag #MYSAINTPAUL! This is also where you can share all of your fantastic photos and Fair stories. Don't forget to swing by our booth in the Grandstand—see you in August!
Tuesday, May 21, 2019
Breezy starting in the afternoon and rain starting in the evening.

High:

61°

low:

46°

Chance of Rain

94%

Wind:

E at 14 MPH

Light rain in the morning and breezy until evening.

High:

66°

low:

48°

Chance of Rain

97%

Wind:

S at 12 MPH

Partly cloudy throughout the day.

High:

69°

low:

49°

Chance of Rain

10%

Wind:

W at 6 MPH

Rain in the morning.

High:

77°

low:

55°

Chance of Rain

94%

Wind:

S at 8 MPH

Partly cloudy overnight.

High:

71°

low:

55°

Chance of Rain

3%

Wind:

W at 8 MPH

Partly cloudy throughout the day.

High:

71°

low:

53°

Chance of Rain

15%

Wind:

at 4 MPH

Mostly cloudy throughout the day.

High:

69°

low:

44°

Chance of Rain

2%

Wind:

S at 2 MPH

Heavy rain until afternoon, starting again overnight, and breezy overnight.

High:

77°

low:

49°

Chance of Rain

97%

Wind:

S at 8 MPH
Upcoming Events
More Info >
Suggested Content
SocialStream
Related Blog Posts