MY ITINERARY (

0

)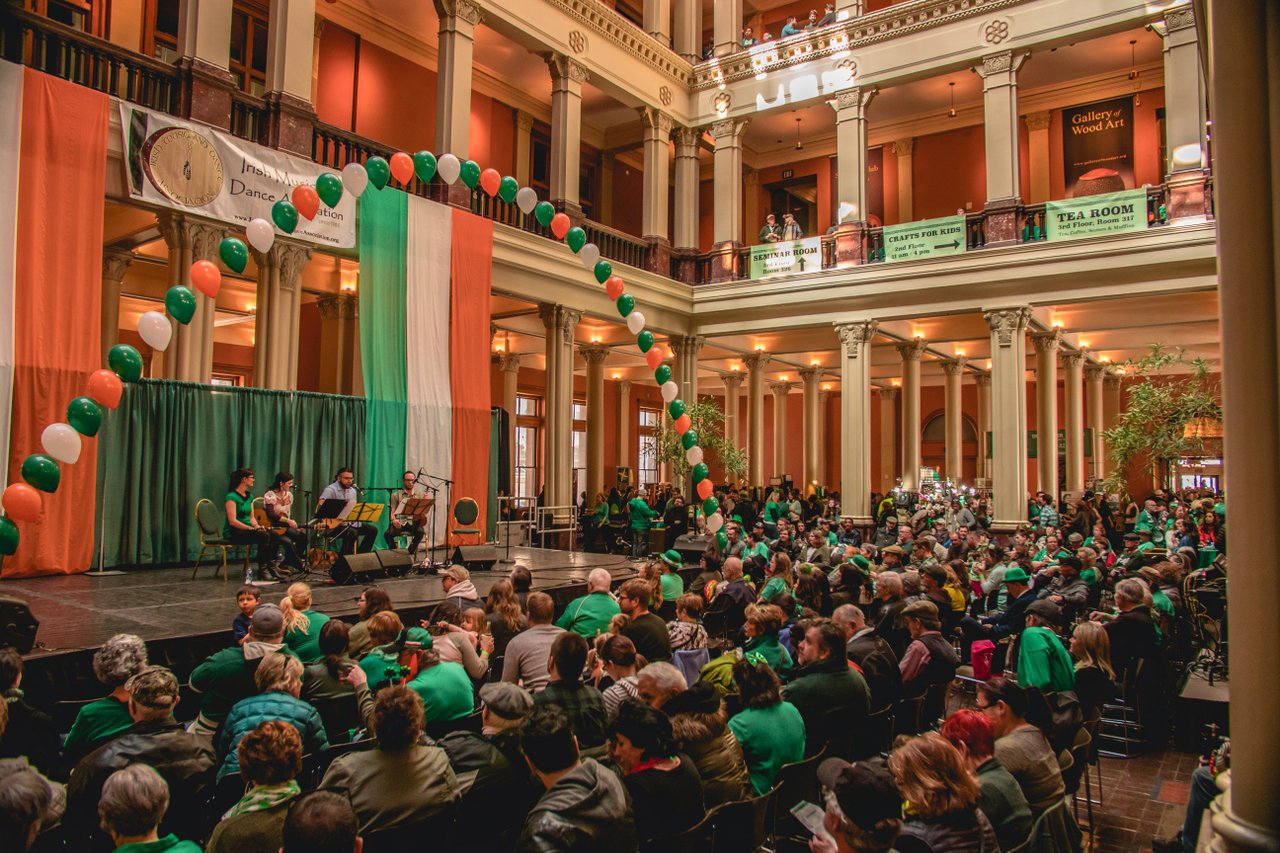 38th Annual Irish Celebration
The Irish Music & Dance Association (IMDA) proudly hosts its 38th annual St. Patrick's Day Irish Celebration
38th Annual Irish Celebration
38th annual St. Patrick's Day Irish Celebration has been canceled. See below for more info.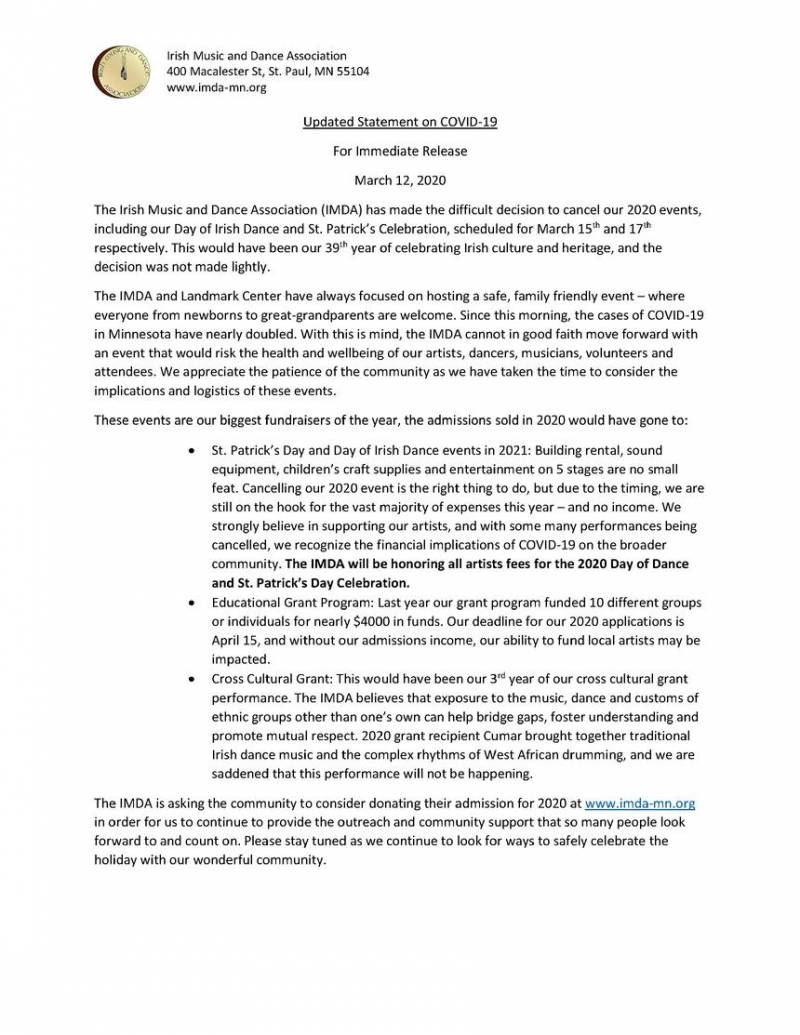 ------------------
The Irish Music & Dance Association (IMDA) proudly hosts its 38th annual St. Patrick's Day Irish Celebration on Tuesday, March 17, 2020 featuring regional and local Irish entertainment, Irish dance, Celtic vendors, Irish cuisine, pipe bands and children's crafts and entertainment. There will be something for everyone!
The St. Patrick's Day Irish Celebration is held from 10 a.m. to 5 p.m., Tuesday, March 17, at the Landmark Center, 75 West Fifth Street, in downtown Saint Paul.

Bring the family downtown for Saint Paul's St. Patrick's Day Parade and come over to Landmark Center to continue the celebration.
Irish attractions include:
Local and regional Irish music throughout the day on four stages.
Traditional Irish dancers from area dance schools and adult groups performing high-spirited exhibition-style Irish dance.
Traditional Irish music along with tea and scones in our Irish Tea Room.
The Irish Marketplace with authentic Irish merchants, artisans and informational resources.
Traditional Irish food and American style sandwiches, along with local and Irish beer.
Children's crafts with an Irish theme, offered free of charge.
Children's stage with special entertainment just for the 'wee ones.'
Seminars on Irish topics, including Irish music, language and culture.
The St. Patrick's Day Irish Celebration is produced by the Irish Music and Dance Association and is presented in partnership with the Minnesota Landmarks.

Tickets are $7 for adults, $5 for kids 6-18 and seniors 65 and over and may be purchased at the door (cash or credit card). Kids 5 and under are free. Group discounts can be arranged by calling 651-341-3618 or e-mail at Info@IrishMusicandDanceAssociation.org.
Entertainment schedule:
Main Stage
10:00 a.m. - SisterTree
10:40 a.m. - O'Shea Irish Dance
11:20 a.m. - Center for Irish Music Advanced Youth Ensemble
12:00 p.m. - Mulhern School of Irish Dance
About 12:45pm - Brian Boru Irish Pipe Band
12:50 p.m. - Locklin Road
1:30 p.m. - Rince na Chroi
2:10 p.m. - Cumar, a Cross-Cultural Performance that brings together traditional Irish dance music with
the complex and irresistible rhythms of West African drumming
3:00 p.m. - Mooncoin Ceili Dancers
3:40 p.m. - Barra with the Loma Mór Irish Dance Club
4:30 p.m. - Corda Mor Irish Dance
F. K. Weyerhaeuser Auditorium
10:00 a.m. - Dorain
11:00 a.m. - The Eddies
11:55 a.m. - Green Fire Irish Dancers
12:40 p.m. - The Inland Seas
1:35 p.m. - Knocknagow Irish Dancers
2:20 p.m. - Tom Dahill & Ginny Johnson
3:15 p.m. - Eilis Academy at Escalate
4:00 p.m. - The McNordiques
Tea Room Stage
10:30 a.m. - The Bellows Brothers
11:25 a.m. - Ensemble from the Center for Irish Music
12:20 p.m. - The Eddies
1:15 p.m. - Clairseach
2:10 p.m. - Dunquin
3:05 p.m. - Murie-Wenstrom Singers (Whinnie-Muir)
4:00 p.m. - Sona
Children's Stage
10:30 a.m. - Ross Sutter – Songs and Stories
11:25 a.m. - Parent & Kid Céili Dance Party with Mooncoin Céili Dancers
12:05 p.m. - Play and Sing with Charlie Heymann
1:00 p.m. - Ross Sutter – Songs and Stories
1:55 p.m. - Instrument Petting Zoo with Center for Irish Music instructors Mattie Ernst and Iain Dove Lempke
2:40 p.m. - Interactive Storytelling with Sir Gustav Doc'Tain
Seminar Room
1:00 p.m. - To be announced seminar by Dunquin
2:00 p.m. - "Irish for Tourists" - Gaeltacht Minnesota
3:00 p.m. - To be announced seminar by Clairseach
Related Blog Posts
Saturday, Jan 16, 2021
Overcast throughout the day.

High:

34°

low:

24°

Chance of Rain

17%

Wind:

NW at 9 MPH

Foggy in the evening and overnight.

High:

26°

low:

20°

Chance of Rain

8%

Wind:

NW at 7 MPH

Overcast throughout the day.

High:

26°

low:

17°

Chance of Rain

9%

Wind:

NW at 6 MPH

Mostly cloudy throughout the day.

High:

23°

low:

10°

Chance of Rain

11%

Wind:

W at 7 MPH

Overcast throughout the day.

High:

38°

low:

18°

Chance of Rain

4%

Wind:

SW at 12 MPH

Overcast throughout the day.

High:

34°

low:

10°

Chance of Rain

9%

Wind:

NW at 13 MPH

Clear throughout the day.

High:

12°

low:

-0°

Chance of Rain

5%

Wind:

W at 6 MPH

Foggy throughout the day.

High:

22°

low:

10°

Chance of Rain

19%

Wind:

SE at 5 MPH
SocialStream