MY ITINERARY (

0

)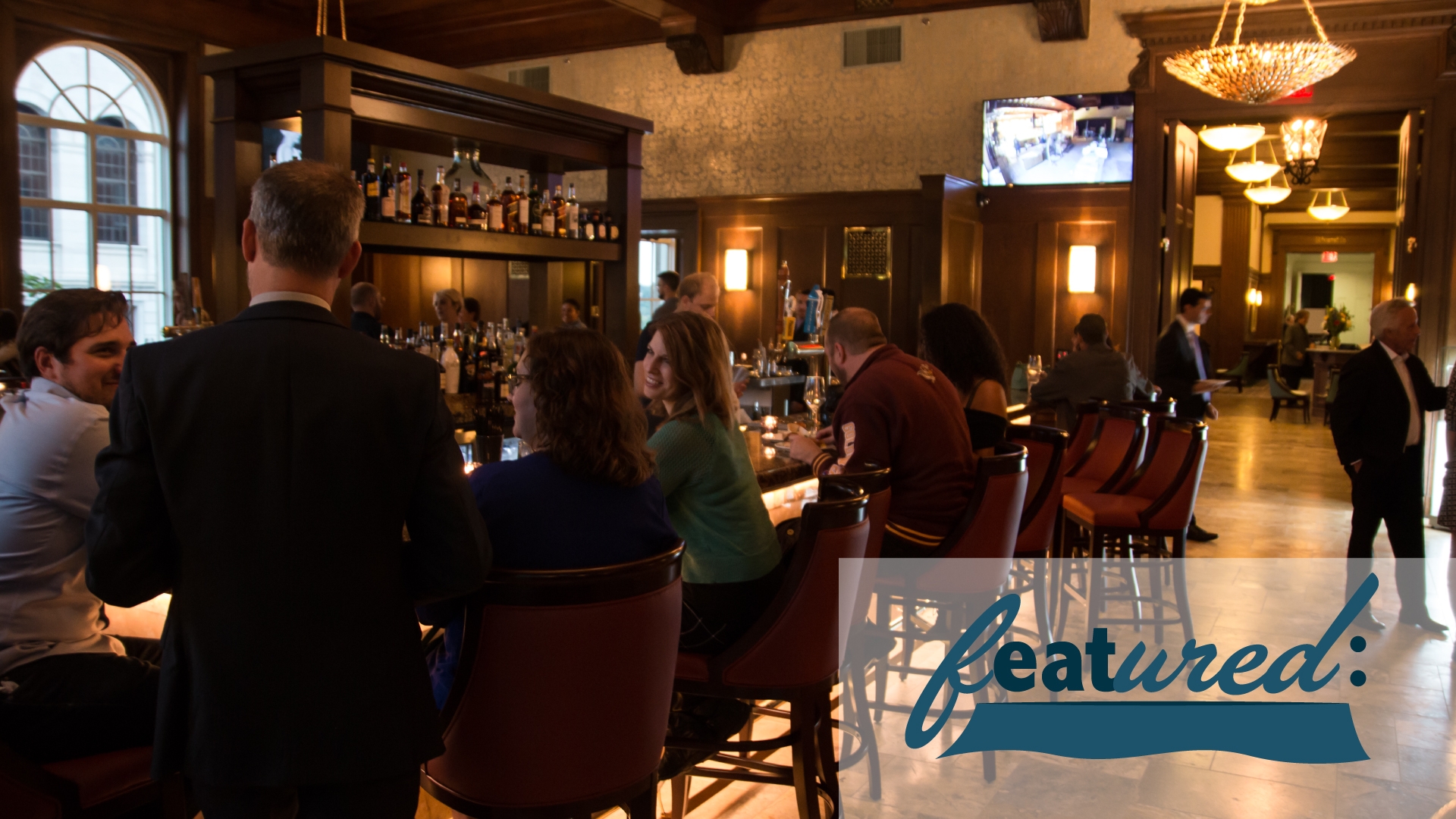 Herbie's on the Park
Featured: Herbie's on the Park
Saint Paul's newest restaurant is a tribute to its beloved hockey coach
It's a place you can feel comfortable walking into in a jacket or in a jersey.
That's what general manager Aaron Johnson said about Herbie's on the Park, Saint Paul's newest restaurant, which opened to the public Saturday, Sept. 24.
Named after beloved Saint Paul native and famous hockey coach Herb Brooks, the restaurant, owned by Minnesota Wild owner Craig Leipold, is located in the former Minnesota Club off of Rice Park right in front of the statue of Herb, which soon will get replaced with an even larger version.
"You've got to hit the mark right from the get-go," Johnson said about the new restaurant. "We've got a name to live up to. It's Herb Brooks."
Johnson, who has been in the restaurant business for about 28 years and is part owner of The Strip Club, knew that one of the keys to that would be turning a beautiful space that has been known for elegance into more of a contemporary and approachable social house.
"I mean, we have a 90-inch screen TV. If you want to come in here and you want to watch a Wild game, it's going to be playing right there," Johnson said.
The menu reflects those efforts as well, with food that Johnson calls, "elevated comfort food." You can get a burger with fried onions on it and a Hamm's beer, just like Herb would have, and sit next to the glass case with Herb's 1980 Olympic ring or you can have braised Duroc pork shank with a glass of wine in front of the fireplace.
And you can get anything on the menu at the large bar in the center of the space.
"When we looked at this space, we realized there aren't a lot of large bars in finer casual restaurants in this area. So we wanted to build a big bar," Johnson said. "There are a lot of people these days and they go out and eat full menu at the bar with their friends or significant others because it's interactive."
The end result is a place that feels very Saint Paul.
"It's warm and it's inviting. I think that's exactly one of the reasons why new restaurants and bars and things are coming to Saint Paul," Johnson said. "Because you can really genuinely feel that sense of community when you open up a business here. That says a lot."
---
AROUND TOWN
---
BEST THING ON THE MENU
Sometimes, the most daunting part of dining out is tackling the menu. Everything sounds awesome but what if you could just be told what the best thing on the menu is...now you can! Saint Paul restaurants tell you about their best right here.
Golden's: Santa Fe Scramble (Hash browns with scrambled eggs, bell pepper, onion, jalapeno, corn, black bean, cheddar, sour cream and salsa)
---
STEAL OF A DEAL
Whether you're a strapped-for-cash college kid or a family of four on a budget, "Steal of a Deal" will fill you up without emptying your pockets.
Sweet Pea's Public House: Gameday football specials. Available all day on Sundays and during pro football games on Monday and Thursdays. Free shuttle to home games, $6 classic lucy, $6 flatbreads, $5 bloodys, $4 summit taps, $3 grainbelt taps, $2 Tallboys (PBR, Hamm's, High Life). Mondays include $2 Coors Light taps and $10 Heggies pizza.
---
GET TO KNOW
Eddie Wu III is one intriguing dude. He's the owner of COOK Saint Paul on Payne Avenue, returning to Saint Paul roots after 12 years abroad as a Marine and world traveler. When Eddie and his then-business partner started COOK, it was created with the intention of helping out other restaurant owners in the community--and that goal is largely achieved through partnerships and popup nights. Still, his hours completely revolve around his dedication to his family, and we got to know plenty about Eddie when we sat down with him.
VSP: Can you tell us a little bit about yourself?
EW: I was born in South Saint Paul. When I was 14, I got a job washing dishes at Drover's Inn. Apparently, people used to like it. I just thought it was a rundown hotel that employed children. I was a line cook there… Then I joined the Marines for five years, stayed in San Diego. Moved to Denver for six years, and then I moved back. My wife and I had actually gone to the same school elementary and high school that I did--she would have nothing to do with me through high school, but, 12 years later, as I was able to mature and come into my own, we started dating. My two boys are my stepsons--their dad actually worked with me at Drover's Inn--but I came back from 3,000 miles away. And I got back to my roots and went back to restaurants... I didn't know what I was going to do--I took a survey of community colleges. I probably have enough credits for a Bachelor's degree, but I've done Intro to Brit Lit like, four times. I had a lot of surgeries due to spinal and ankle injuries in the Marines that required a lot of surgeries and kept me from getting other jobs, but in that time between surgeries I did an apprenticeship at Sole Cafe on Snelling, and that helped me remember that I like doing real food--not like, corporate structure.
VSP: That's a cool life story!
EW: Yeah, and I grew up as a Hanson. When I was growing up, my last name was Hanson. I took my wife's last name. People will come in and ask for the Asian guy who owns the place, and I'm like, I apologize for my Scandinavian heritage. It's cool--it's weird. My wife sends the statistics to me--it's like, eight percent of men say that they'd be willing to do that. But I was like, Eddie Hanson? I'm literally related to three of those people. It sounds pretty mediocre. I hear Eddie Wu and I'm like, he's probably doing something cool. I don't understand why people are so attached to a Danish guy who probably moved here 120 years ago and changed it from "Hansen" to "Hanson." So none of my family probably has the right name anyway. My two sisters got married, right? The two names that they picked up? Leech and Bonk. What a bummer, right? And they know it. Like, just make one up. Be "Asskicker."
VSP: So, you made a bit of a splash with your tattoo promotion. Can you tell us what that was about, and did anyone take you up on it?
EW: Yeah, seven people got a tattoo. We have a list (of people who get a free meal each week for one year because they got the COOK logo tattoo), but, I mean, we know them all by now. Six out of the seven were regulars, and one girl was friends with the artist who did my logo--the artist is a guy out of Saint Paul… It came about because, in my survey of community college, I took a lot of business courses, and I really took to the idea of guerilla marketing. The benefits of it, but also it helped me break from the monotony of doing the same thing over and over again. I was attempting to get as many people involved in a Payne Avenue pop up night, called Loco Duuk--it's a combination of the names of four restaurants that helped make it a popup night. We got Sidhe Brew and Flat Earth involved, and there's a photo shop that we wanted to get involved… We were talking with Porky's down the street, and then the tattoo shop was there. We were like, "What can we do with that?!" So for $30, you could get a small, generic tattoo. And I'm heavily tattooed, so people would ask, "When are you gonna get your logo?" You know? It was a thing that people would joke about, so I decided we could tie the two together. And yeah, it was gimmicky. But it was a good story, and they booked out. They only had time for the seven people when the deal was on--there was one tattoo artist, and he filled up all of his time.
VSP: Ah, you'll have to tell us when you're doing that again!
EW: We are! I love to rep Saint Paul, but October 1 is Loco Duuk 2 in Minneapolis. This will be the first time I'm going to be the person doing the popup. We'll be at Gigi's Cafe in Minneapolis... Lil' Pan Pan is the name of the tattoo this time around. My friend in Minneapolis who tattoos me designed this. My children named it… The push is that it'll get people out in Saint Paul, on Payne Avenue. I want people to realize, "Hey, Saint Paul's not scary. The East Side has something that's cool." And I do my best to support Saint Paul--our ice cream, our rootbeer, our chai tea, our coffee, our coffee mugs, they all come from Saint Paul. So, against my better judgement, I need to go to Minneapolis and bring them back to us. But I'll get 'em over here.
VSP: Yeah, we like that, too!
EW: We'll do a promo video--maybe an Adele song.
VSP: What's your dream vacation?
EW: I want to go to Korea with my entire family. I went once when the prices dropped--it was only like $500 round trip--so I went with my daughter and my wife. (My daughter) wasn't in kindergarten yet, and my boys were in school and couldn't miss school. We were able to take my wife, my daughter and I for five days. It'd be awesome because, well, first off, it's a vacation which is awesome--I used to do a lot of international travel, but you get married, have kids and open a business, and that doesn't happen as much. I loved eating my way through Korea. And my wife was adopted from Korea, so it's cool seeing her connect with it--and my kids, seeing them connecting with that heritage. This is the closest they can get with their heritage. Because I'm a classic mutt. I can't connect to anything where it's like, oh, 1/36 of my DNA is from somewhere. But, yeah, it'd be nice to take the whole family to Korea--and for more than five days.
VSP: If there's anyone who you could meet?
EW: Hmm. Alive or dead? Like in "Fight Club," when he wants to fight Abraham Lincoln? Who would I want to hang out with, though? Maybe Donald Glover. Like that dude just seems super cool. Not only is he a really good writer, but he's a really good actor. "Community" was great. And--Atlanta?! Have you watched it?
VSP: Yeah, I loved the first two episodes, and…
EW: No, don't drop any spoilers. It's only three episodes in. I don't know if this is the first ever, but the entire writing staff is Black. But the other thing, he's a really good rapper. Childish Gambino? He's good. He came straight out of college and immediately became a writer on "30 Rock"! He seems like a renaissance man, and his stand up comedy is amazing. So, yeah, I think he'd be a cool person to hang out with.
Also, the guy behind Mission Street Food. I modeled my popups after what they did.
VSP: Can you talk a little bit about your popups?
EW: Well, it took me 13 banks to get approved for a loan. Global debt service ratio. I'm mostly an English guy and I didn't know what that meant, but I know what it means now. So, all of my income is hypothetical. I had a great idea, but banks wanted to know, "OK, but how do you know what it's going to make?" So what I do for other people is I give them the space, and I give them the analytics. So the people who do the popups can take this information to a bank and say, "Look at this--this isn't hypothetical. I did a night, and in a night I did $4,000 in sales" or whatever. So Lola Rosa has done five nights, and they can say that this isn't a fluke, they bring people out, which then for a bank works exponentially better than a thumbs up. It gives me a chance to hang out with my family, too. I close at 3, my kids get home at 3:30. When I was doing popups, too, other people would want at least a third of my sales. After all of the effort, you're not making any money. So, I say, "OK, you can use this space for $100." That covers my utilities, expenses. Use my aprons and towels. You keep all of the sales from food, I keep all of the sales from beverages. You can't share a liquor license--see, city of Saint Paul, I'm doing this correctly. I'll still do a sales night that will equal what I'd do for an evening on a weekday, but I don't have any labor costs, and this new group can keep their sales.
VSP: Is there anything on your bucket list?
EW: I've done a lot. I've skydived, parasailed. There's a lot of things that I've done when I was with the Marines. I think I want to bottle my sauce--my sauce is my baby. Well, besides my babies. I'm already working on bottling my drink, the Eddie Wu, that's made with Grey Duck Chai Tea and lemonade, but they don't use my lemonade, which is made differently. Oh, I also want to take my daughter to compete in a jui jitsu competition. She's five and she's in it--I'm in it, too--but she really wants to compete. I'll let her, but she's five, and she's 33 pounds in a class that goes up to 50 pounds. It's cool if she loses, it's not about that. It's just that I don't want to set her up for a bad situation. But yeah, I can't wait to see her compete one day.
Featured is a bi-weekly email to keep anybody and everybody, foodies and even fast-fooders, up to speed on Saint Paul's flourishing food scene. If you know someone or have something that should be featured, please send it to ncusick@visitsaintpaul.com.
Related Video
Related Blog Posts
You May Also Like