Nonalcoholic Cocktails at Myriel
Where to Drink When You're Not Drinking
Saint Paul's Best Bars for Nonalcoholic Cocktails.
Above Photo: @lizzie_kaufman at Myriel
Whether giving up alcohol forever or just looking for a welcome break from rough mornings, there are plenty of reasons to skip spiked drinks when heading out for an evening. In fact, the dry movement has never been more popular, with a proliferation of taking-a-break-from-booze mentality. However, getting together with friends for a grown-up night on the town can still prove a little tricky when trying to navigate a bar menu. Instead of being saddled with a nighttime kick of caffeine from sodas and coffee, try one of these bars with adult beverages built for booze liberation.
Myriel

Chef Karyn Tomlinson's romantic bistro in Highland Park has a few coveted, cozy walk-up seats in the bar that are the perfect place to meet an old friend for an in-depth reconnective evening. Everything about Myriel is understated excellence, including its beverage menu. For a wildly memorable experience, book the tasting menu and request n/a beverage pairings for a fun flavor adventure. Start with the Lavender Lemonade, an elegant sipper that's just the right balance of tart and floral.
Meritage
Sitting inside the bar at Meritage feels like stealing away to a favorite cafe in Paris, high tables, stunning bar with an Absinthe dispenser, and a raw bar piled up with the catch of the day. The cocktail list is a doozy, with artfully prepared beverages including those made entirely alcohol-free. The Black Tea Plum Shrub leans into those sublime dark tannic notes with a deep thread of sweetness from the fruit and a dry finish from the shrub.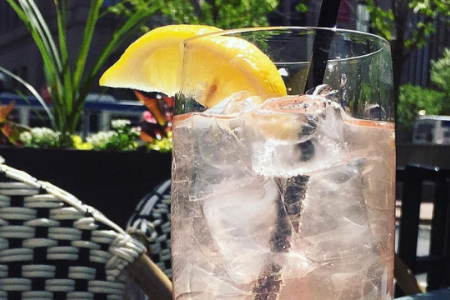 @bettyeatsthecity
W.A. Frost
All the charm of the historic Cathedral Hill neighborhood is encapsulated inside this bar. After the mandatory shut down during the pandemic, the old space reopened with a refresh including windows that open into the back patio, shined floors, and polish on the old wood fixtures. W.A. Frost also returned with an impressive low-proof and n/a bar menu. Slip into the dry Spanish Tonic. Spiced with juniper berries, it's a sophisticated herbal refresher.
Hyacinth
An utterly charming corner of the Italian countryside in a metropolitan setting, Hyacinth is one of the best date night spots in the city. Its intimacy lends itself to romance, and the beverage menu suits it. Try the Ghia Spritz. Ghia is a bitter apéritif, sans the booze, that's perfect to kick off a meal and prime the appetite for good times.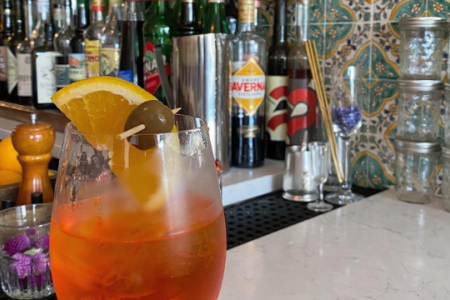 @annasfoodguide
Saint Dinette
Saint Dinette's owner, and major hospitality force for good, Tim Niver was at the forefront of Minnesota's craft-cocktail wave. N/A drinkers are safe in the capable hands of the bar staff in this Lowertown restaurant. Try the Bitter Orange, a spirit-free negroni of sorts, with rooibos tea, blood orange, gentian, and rhubarb.
Tongue in Cheek
This Eastside bar makes great use of its talented beverage team in building any drink, including those without alcohol. On Tongue in Cheek's beverage menu is "The Placebo Effect." The bartender will build a customized drink to your tastes that's entirely n/a.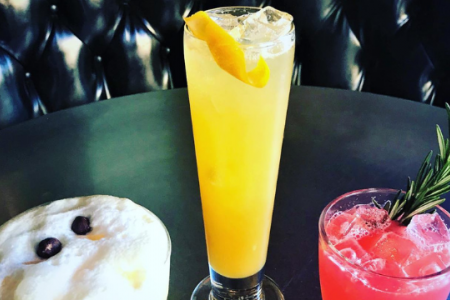 @tongueincheekmn
Red Rabbit
Casual and spacious, this Italian eatery on Grand Avenue has a fabulous beverage book that's packed with all kinds of options, including a sizable selection of liquor-free beverages. Red Rabbit's herbaceous, Dry Tonic is a perfect pairing for a brisk day.
Red Cow
Nestled in the Cathedral Hill neighborhood on Selby Avenue, Red Cow is sophisticated, classic and is a go-to destination for locally-renowned burgers to pair with delicious spirit-free cocktails. Shock your tastebuds with the Red Shield made with cranberry, hibiscus, grapefruit and sparkling water.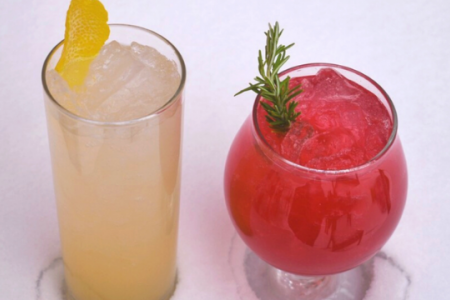 @redcowmn
Hope Breakfast Bar
Hope is an ideal stop for those looking for a full board brunch experience without having to follow it immediately by an Uber and a nap. Located just off West 7th this beloved all-day breakfast spot serves a wide selection of coffee cocktails as well as n/a cocktails. Sample the Peach and Rose Punch with biting ginger kick balanced with a peachy syrup.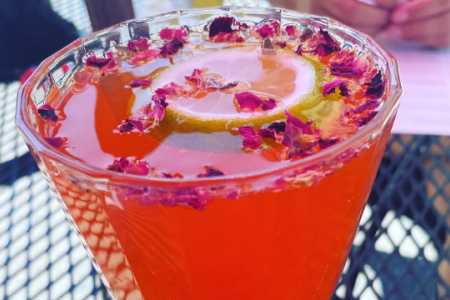 @lovestogather
Nico's Taco & Tequila Bar on Como
Swing by this festive beauty of a bar for a dose of sunshine feels when the winter days get long. On Nico's menu is an entire "Feel Good Tomorrow" beverage selection that includes the usual coffee and Mexican Coke, but there's also horchata, fresh-squeezed juices, and coconut water.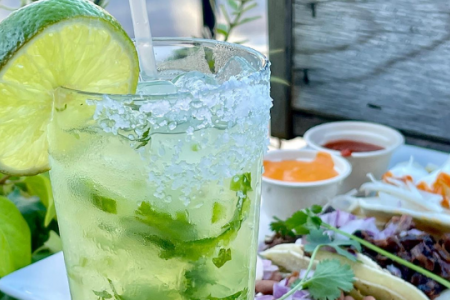 @danny_runsforbeer

You can't top a Valentine's Day in North America's most romantic getaway with the nation's best local food scene.
Learn More
Patio season is the best season! Find the perfect one for you in Saint Paul.
Learn More
Minnesota's vibrant music scene always surprises visitors, but you won't be so shocked after you visit these awesome live music clubs.
Learn More