Foodies Guide to the Minnesota Get-Together
The First Foods to Try at the Minnesota State Fair according to Joy Summers
We've made it easy for you and narrowed down the list of what to try first at the Great Minnesota Get Back Together.
The Minnesota State Fair is a beacon of summer, a rite of passage for a Minnesotan, particularly those of us here in Saint Paul. From the first moments that our neighbors from around the state begin to file into the fairgrounds: the horse trailers, food stands with colored lights waiting to blink, long RVs moving in: the excitement builds. And there is nothing like stepping onto those fairgrounds on the first day. That excitement is palpable. The greens are groomed and fresh, vendors are waving, chatting, and welcoming. The exhibits are all shined up and ready to show off - and the farm babies are coming.
If you're anything like me, the minute your foot crosses that threshold, there's a distinctive stomach rumble. The hardest decision of the day to make: is what to eat first. It's got to be a balance between exciting new entries and tried and true classics. To help you start your fair visit out right, here are the top 10 firsts to devour at the Great Minnesota Get Back Together (and where to find them).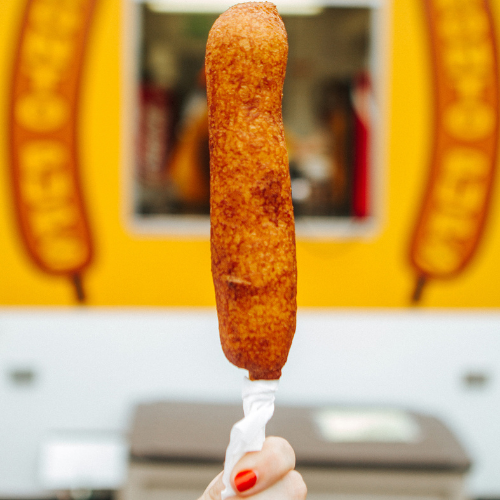 Photo credit: Minnesota State Fair
1. Pronto Pup (Practically everywhere)
Okay, first of all, we're not here to start a fight with all you corn doggers out there. If that's your thing, get a corn dog first. For us, though, that siren call of the Pronto pup, with the puffy, sweet/savory crust and the meaty dog inside is pure MN Fair satisfaction. Get the classic. Check it off the list. Gnaw that bad boy off its impaler and get going on the rest of this list. This is appetizer number one. Four more will likely be ordered before Labor Day hits.
2. Bahn Mi Bun/Bowl from Sausage Sisters (Inside the Food Building])
The Sausage Sisters have long been known for their meaty evangelism by way of creative flavors. These sisters come from a long line of butchers and know how to put all the good flavors inside the ground meat. This year, their new flavor entry takes a cue from a banh mi sandwich. Warm spices will be mixed with peppery heat and tart pickles, either in a bun or a bowl. It's worth dipping into the food building to give this newbie a try.
3. Egg Coffee at the Salem Lutheran Church (1615 Randall Avenue)
This is an ideal stop if you're at the fair first thing in the morning, or need a little afternoon pep while chasing small humans around. There are only two church stands remaining at the fair, and this one is easy to find, with its steamy, giant coffee pot on top. Egg coffee is an old Minnesota tradition, where a whole egg is cracked into coffee grounds before being steeped on the stovetop. For the uninitiated, do not look for any egg evidence in the cup. This is just smooth coffee, but so good. The egg acts like a filter, pulling any impurities, and bitter flavor out of the mix. Go try it, and get a little neighborly dose of kindness from the folks working inside.
4. Eggroll on a Stick/Vietnamese Coffee at Que Viet
That's right - there are two coffees on this list: this is the fair! Are those comfy shoes on your feet? Are you strapped in with a fanny pack? This is a delightful marathon of people watching, animal observing, and face stuffing: coffee is required! Slurp down this delightfully strong sweet, icy drink of coffee mixed with condensed milk and maybe share that giant eggroll with a friend. These things are big, and wondrously greasy. The shatter-crunch of the outside reveals with rich and peppery meat mix that is just fried-food-on-a-stick perfection.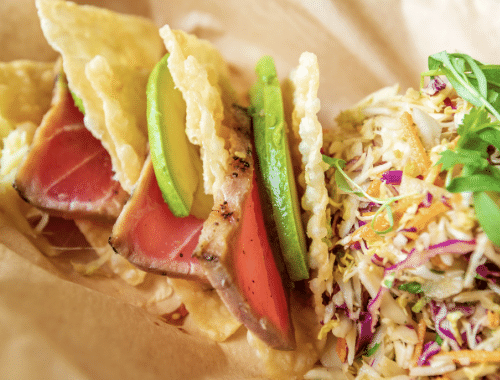 photo credit: Minnesota State Fair
5. Sashimi tuna tacos from New Scenic (By the little Farm Hands)
New Scenic Cafe is a must-visit, just outside of Duluth, along Minnesota's North Shore. The cafe is an ode to Scandinavian design and fresh, new American food. One of its classic dishes is the sashimi tuna taco. Thin slices of rare tuna are wedged into crispy, open wonton wrappers with wasabi-spiced avocado for a tangy, fresh, crunchy, and spicy bite. A cool taste of Up North will be a welcome addition to the fairgrounds.
6. Mouth Trap Cheese Curds (Inside the Food Building)
Every year, the line looks too long and every year, it moves with lightning speed and efficiency. Also, show of hands, how many other people are surprised this place isn't called "Mouse Trap," every year? There's a mouse in the neon sign, right there! Anyway, before one has the chance to ponder these questions for too long, a little paper boat of crusty shelled fried cheese slides across the counter and into a waiting hand.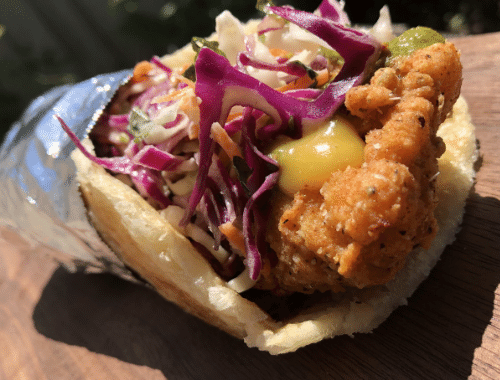 photo credit: Minnesota State Fair
7. Kerala Fried chicken Kati Roll from Hot Indian (Inside the Food Building)
Getting the goods from Hot Indian at the fair is usually a limited-time deal. The popular food truck and market vendor is usually at the Midtown Global Market stand for several days, but now the spice is being brought for the entirety of the MN Get Together with a new, fully dedicated stand. And there's fried chicken! Kata rolls are thin flatbreads harboring tasty goodies. The hot new dish will wrap that tender, crusty bread around spiced fried chicken. Sounds like some fine one-handed eating.
8. Honey Ice Cream (Outside the Ag Building)
There's no denying the childlike joy of just watching the bees moving their little strippy butts all over the active hives inside the ag building. After all those reports of mass hive collapse, and honestly, the way we're all feeling after being pelted with bad news inside our homes for over a year, it's easier than ever to feel a kinship with our little pollinator bros. Stop by and say 'hey' to the lil fellers working so hard in there, and stop by the honey producer's stand for some rich and just-sweet-enough honey ice cream. It's an undersung gem of a dish at the fair and one that pairs beautifully with sunny summer days full of bright optimism.
9. Beer at the MN Craft Brewer's Display (Inside the Ag Building)
It's okay if you've lost track a bit of the Minnesota beer scene. Our state has experienced an explosive number of small craft breweries, all making their claim on the frothy adult beverage industry. Stop by this impressive array of samples to take a little peek into what's been brewing all over the state. Samples can be ordered by the type of beer, so if you're into hazy IPAs, this is fun stuff - likewise, if you're seeking the safety of porters, there's a tasting for that, as well.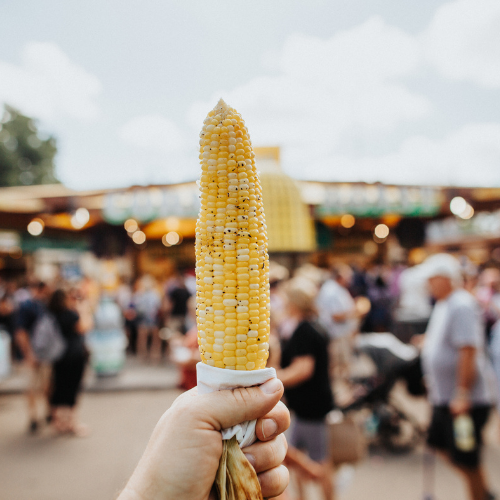 photo credit: Minnesota State Fair
10. Corn on the Cob
Another thing we wait for all summer long, besides the Minnesota State Fair, is the chance to gnaw on some farm fresh sweet corn. (Besides, after this whole list, a vegetable wouldn't be a bad thing.) Pony up to the long lines for a charred cob, freshly shucked and doused in Minnesota sweet-cream butter.
Plan the rest of your Minnesota State Fair trip with our Guide to the Minnesota State Fair. And don't forget to share your pics with us on Instagram, Facebook and Twitter with #MYSAINTPAUL.
More About the State Fair