All About Allianz: Guide to the Home of Minnesota United
Allianz Field became the permanent home to the Minnesota United when they took the field in 2019. Here's what you need to know about this incredible soccer stadium in Saint Paul.
The Name
Pronounced ahh-lee-ahnz, Allianz Field is sponsored by Allianz Life—a Golden Valley-headquartered subsidiary of German financial company, Allianz, who sponsors seven other major sports facilities around the world.
The Stadium
Allianz was inspired by Minnesota's natural wonders—the Northern Lights, great rivers and countless lakes. The bowl-shaped stadium features a first-of-its-kind glass-like mesh exterior with an extensive LED lighting system, enabling it to illuminate in an endless combination of colors and designs. The stadium will seat 19,400 on opening day, with plans for future expansion of up to 24,474.
The north end features a Brew Hall serving up 96 taps and full food service to all MNUFC fans. This is also where you'll find the Black and Blue Official Team Store, where you can get all sorts of team swag—including on-site jersey customization. This Fanatics Experience store in the northwest corner will be open year-round to the public.
Wondering where you'll find rambunctious supporter groups like Dark Clouds and True North Elite? These rowdy, energetic fans will be leading cheers and getting the crowd hyped from the general admission MNUFC Supporter sections on the south end of the stadium.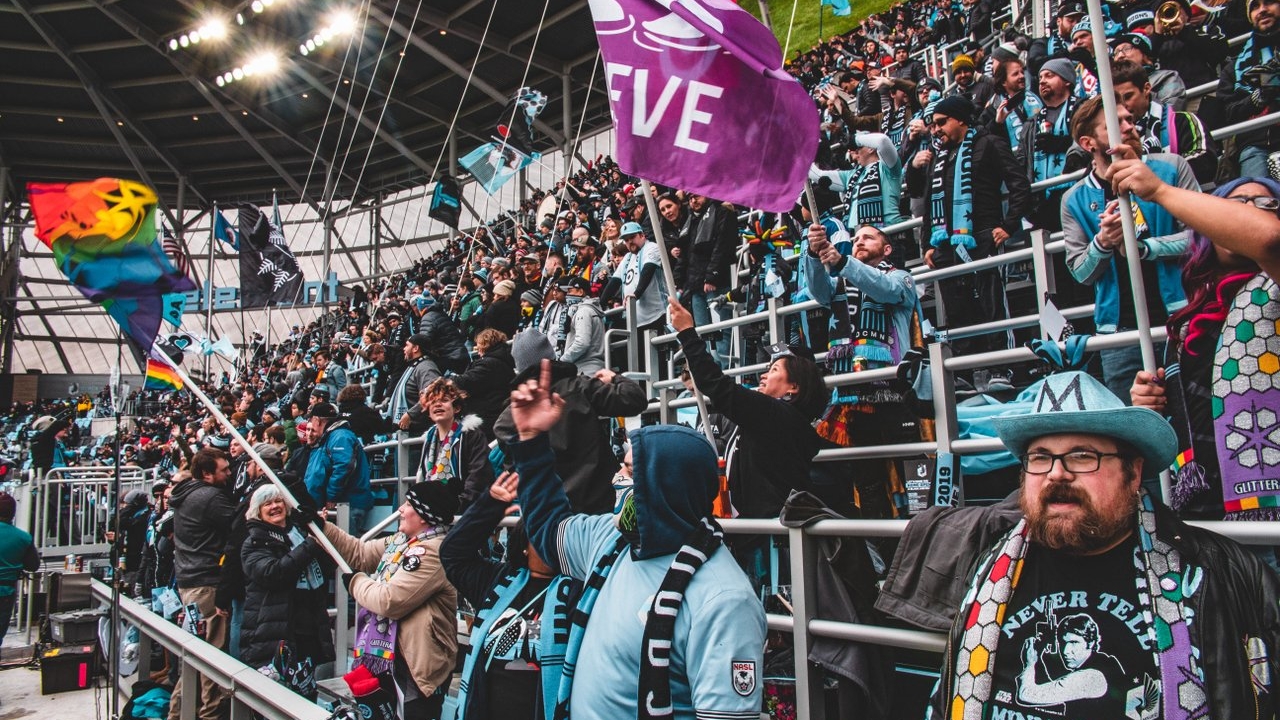 Designed for more than just aesthetics, the 360-degree canopy, open roof, natural grass and exclusive use of LED lights make for an incredibly low-energy footprint. Rainwater collected from the roof canopy will flow into a central stormwater system that will serve the 35-acre development surrounding the stadium.
The Food
Allianz Field is serving up more than your garden-variety stadium food (though they have that, too). In addition to all of the family favorites, you'll find a wide variety of dishes representing the area's diverse local flavors. Offerings with Saint Paul ties include plant-based fare from J. Selby's, delicious eats from Blue Plate and more. And that's not even the half of it—outside of Allianz stadium, you will find Food Truck tailgate parties open to the public and non-ticket holders, plus convenience store-style mini-markets throughout the concourse where you can grab sandwiches, snacks and beer on the go.
Not only will you have plenty of tasty options on game day, the Brew Hall is also open to the public every Thursday-Sunday with the potential to also operate during more unconventional hours for viewing of European and other international matches.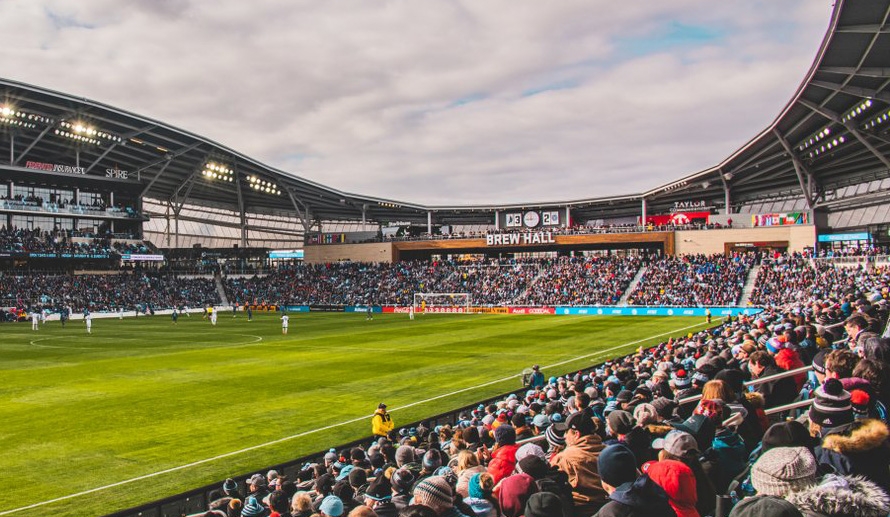 Green Space
Outside, you'll find 2.6 acres of outdoor gathering space. Most notably is The Great Lawn—a 28,000-square-foot space on the north side of the stadium. Nearly 200 trees were planted for these public spaces, including a host of native maple trees with fun names like Autumn Blaze, Fall Fiesta Sugar, and Northwood Red.
Fun Fact:
In 2019, Allianz Field attracted fans from across the Midwest when it went international hosting a doubleheader in the Concacaf Gold Cup —the biennial men's soccer championship between the North American, Central American and Caribbean regions. Tickets for the event at Allianz were gone in a flash in what was the fastest sellout in Gold Cup history.
Getting to Allianz Stadium
Allianz is immediately adjacent to the Snelling Avenue Metro Transit Green Line station, making arrival and departure incredibly convenient for fans—even on the busiest of game days. Taking public transit is highly encouraged and MNUFC has put together a comprehensive transportation guide with routes for all methods of arrival—biking, park-and-ride, metro transit light rail or bus, rideshare and driving. We also have a transportation guide.

400 Snelling Ave N Saint Paul, Minnesota 55104 Midway Website >
Minnesota UnitedAllianz Field, 400 Snelling Ave N
Saint Paul, Minnesota 55104