A Geeky Guide to Saint Paul
To all the self-proclaimed nerds and life-long learners—this one's for you.
Whether you're intrigued by the lifestyles of the 1860s rich and famous or the incredible advances we see today in science, there's plenty in Saint Paul to satisfy your academic curiosity.
Science Nerd
Science Museum of Minnesota
This fun-for-all-ages museum is three stories, plus an Omnitheater dedicated to educating people about science's role in the world. From understanding the growth of a human body to experimenting with the way sound and motion are connected, this hands-on museum is a treat for anyone who takes the time to visit.
Bonus: If you're 21+, the Science Museum hosts Social Science, a happy hour with a scientific discussion, on the first Thursday of each month. From zombies to superheroes, learn about the science in science fiction with a drink in your hand.
Saint Paul EcoDistrict
While you're downtown, make time to check out the EcoDistrict in downtown Saint Paul. The Saint Paul EcoDistrict is the only place in the United States where visitors can explore nine solar installations, district energy, heat recovery, combined heat and power, composting programs and other renewable energy and advanced technology solutions. These two city blocks are a free and accessible way to check out the sustainability efforts and technological advances that cities use to promote a greener community. There are six stops on this mini-tour that include some of Downtown's most prominent buildings and it's a great excuse to check out Harriet Island's grounds across the river afterward.
Sweet Science Ice Cream
This organic ice cream brand is sourced locally and perfected with science. Each flavor is made with the ingredients in its name—you'll absolutely taste it in each bite, so you better be ready for rhubarb cinnamon almond, chocolate peanut butter, pear riesling sorbet or whichever flavor you fancy. The ice cream brand is sold at plenty of co-ops and local restaurants, but we think it's best served during samplings at breweries. Check this page to see where the next Sweet Science event might be.
History Nerd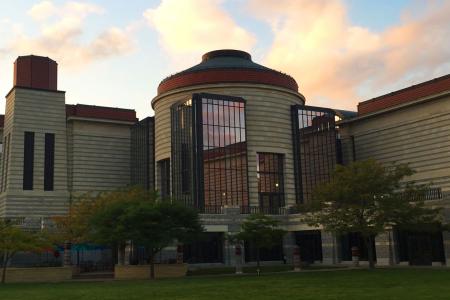 Minnesota History Center
There's so much to know about Minnesota's history and you'll find it all at the Minnesota History Center. The rotating exhibits profile how policies and people shaped the state we know today, and you'll leave with a greater understanding of Minnesota's past.
Bonus: Take Summit Avenue, the nation's longest stretch of preserved Victorian architecture, to get here from the west side of the city. You'll see the homes of some of Saint Paul's most famous names, from Garrison Keillor to F. Scott Fitzgerald, James J. Hill and the governor's mansion.
Gangster Tours
History buffs of the 1930s will get plenty out of the gangster tours in Saint Paul. John Dillinger and the Barker-Karpis gang often hung out in Saint Paul when they were in hiding, and some of some of those hangouts still exist today.
Fort Snelling
Fort Snelling is one of Minnesota's oldest standing establishments, so there's no shortage of notable information to learn here. Engage with costumed reenactors, participate in special programs and recount significant moments in Minnesota's role in American history.

The Commodore
After you're done with this book tour of the city, finish your day at The Commodore, where F. Scott and Zelda Fitzgerald used to live (and drink). This bar is completely restored to its 1930s art deco glory and you'll definitely want to grab a bite to eat here, too.
Bonus: In addition to the Fitzgeralds, Sinclair Lewis is another famous writer who lived on Summit Avenue. Rumor has it that he worked on an unpublished novel about the life of railroad tycoon James. J. Hill while he resided at 516 Summit Avenue.
Amsterdam Bar and Hall
Remember the spelling bees of your childhood? They just grew up. Every fourth Friday of the month, Amsterdam Bar and Hall downtown hosts the Drunk Spelling Bee, in which participants win beer every time a word is spelt(?) correctly. Relive your proudest middle school moment or cheer on the brave souls on stage.
Camp Bar
On the first Monday of the month, every lit nerd will want to be at Camp Bar for the soapbox poetry slam. You've seen many of these poets' best work on Huffington Post, Everyday Feminism and Upworthy, and you can watch them perform their best material as they prepare to take on national competitions.


The Nook
Bowling, anyone? Aside from serving the most legendary burgers in Saint Paul, The Nook is also known for having a bowling alley in the basement. If that's not the kind of gaming you were looking for, sit upstairs at the bar and watch the pros on TV—you're sure to find other game fanatics.
Bad Weather Brewing
If you love Settlers of Catan enough to proudly play it anywhere, grab a flight at Bad Weather Brewing. The taproom stocks up plenty of games, but feel free to grab your friends (or your other favorite games) and bring them to West 7th.
Not geeky enough for you? Tell us what we're missing. We'd love to know, so tell us on Facebook, Twitter or Instagram using the hashtag #MYSAINTPAUL.