8 Catering Options that are Uniquely Saint Paul
Home to a colorful range of formidable flavor, try these catering options that are distinctively Saint Paul.
Our city is home to large and unique immigrant populations, each bringing formidable flavor to our Midwestern table. Here are eight spots to call for your next party, lunch or gathering.
1. Fasika
A visit to Saint Paul would not be complete without East African food from Fasika, the Twin Cities Ethiopian institution. A feast of injera bread, heavily spiced beef tibs, wot (curried stew) and vegetarian lentils, greens, beans, and peas is perhaps the most convivial meal you've ever eaten. As we all get reacquainted with the idea of "breaking bread" together, this might be the ideal time to break off a piece of ultra-healthy sourdough injera, and eat by hand with friends, and make some new ones in a most congenial way.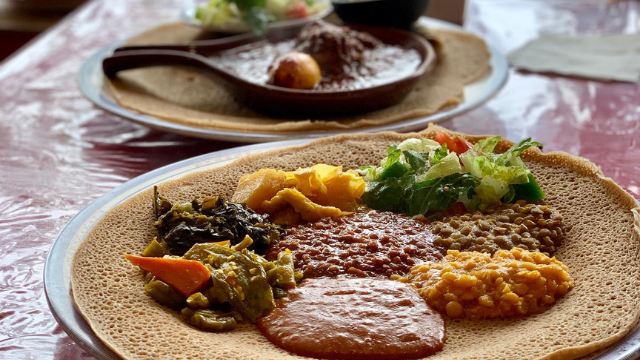 @branjohn09
2. El Burrito Mercado
West Saint Paul's Mexican encleave's best known and longest standing culinary institution, El Burrito is one part grocery, one part deli, one part restaurant, and all parts foundational to St. Paul. Anchoring the neighborhood, regulars turn to them for the most comprehensive Mexican menu in town-- tamales, barbacoa, tortilla soup, a full made-in-house Mexican bakery lineup including flan, tres leches, and churros. Also, how could your party guests resist mini quesadillas and tamales? They can't.
3. Bangkok Thai Deli
Ground zero for fiery Thai staples and specialties, Bangkok Deli is responsible for establishing lifelong addictions. Old favorites (Pad Thai, Basil Fried Rice) mash up with harder to find items (Hoi Jor-- stuffed bean curd) to make the most fragrant, exhilarating buffet imaginable. Don't miss the Thai or Lao Papaya Salads, green papaya tossed with dried shrimp, a not-insignificant portion of chiles, and fish sauce to taste. It's your new (or old) addiction, depending on your first encounter.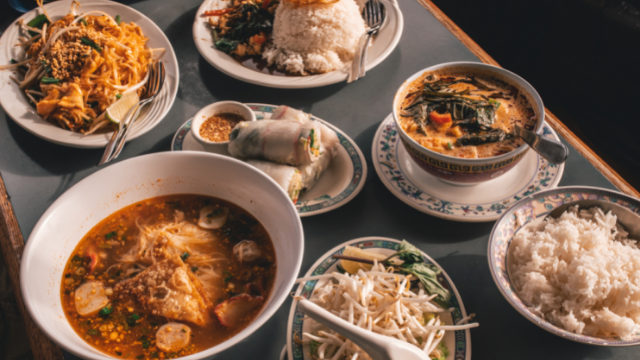 @visitsaintpaul
4. Mekong BBQ
A newcomer to Saint Paul's East Side, Mekong BBQ is your go-to for pitch perfect banh mi and Hmong specialties like sausages with sticky rice and noodle stuffed chicken wings, but they also specialize in whole roasted pigs for all sorts of events. Crackling pork belly is a calling card, served alongside papaya salad and fermented sausage-- a meal from this tiny storefront offers a tour of the flavors of Laos, Vietnam and Thailand, with a world of Minnesota flavor within.
5. Bap and Chicken
A Korean adoptee of Midwestern parents, John Gleason says Bap and Chicken is a great place to try Koran food if you've never tried it before. Find "approachable" seasonings and sauces, as well as build-your-own bap bowls and even wildly popular Korean Corn Dogs on Thursday nights. Formerly of Masu Sushi and Robata, Gleason still likes to put a fine touch on things-- sous vide eggs on the bap bowls, for instance, and don't miss the housemade kimchi and gojuchang.
6. Spinning Wylde
This woman and BIPOC-owned cotton candy business makes their confections with all organic ingredients, natural cane sugar, and no dye. But more important than Spinning Wylde's treats, which come in over 60 flavors like banana flan, blood orange, and blueberry yuzu, the family says they like to "spin smiles."
"Super cute" is another of the company's mottos, so expect plenty of it from their catered events. They've devised a way to offer all of the flavors as options, so you won't have to choose between mushroom or mojito. Founder and the creative mind behind the business Tevy Phann-Smith says that as a refugee, magic was missing from her childhood, so she's made it her mission to "craft joy" as much as possible now.
Pro tip: Keep your eyes peeled for their coming soon refrigerated cotton candy vending machine that will be placed in the vestibule of their storefront, which is temporarily closed.
7. Twin Cities Global Cuisine
Twin CIties Global Cuisine, a Black-owned catering company offers flavors of the African Diaspora -- Caribbean, Creole, Cajun, Ghanaian, and even Geechee, but also dabbles in Asian Fusion and Kansas City style smoked meats inspired by owner Jay Elhan's hometown. He learned to cook the old fashioned way -- "by watching mom and grandma," and combined with partner Vernetta Owusu's Le Cordon Bleu education, the duo offers "a world of flavor with a little bit of olds school and a little bit of new school." Also check out the Soul Menu with Hot Links, Southern Peach Cobbler, and more.
8. Taste of Rondo
A "Rondo Rooted" Saint Paulite (Kesara Carter's grandparents are neighborhood natives) and her Mississippi transplant husband Charles have taken over this historic Rondo building -- it was the first African American Legion in the state and reinvented it -- complete with catfish that's "the talk of the town." Taste of Rondo's full menu, which reflects the ethos of this historically Black neighborhood, is available for catering. Don't miss the shrimp and grits, "fried to perfection" dry rub wings, or the cornbread, beans, and greens culled from the home cooking recipes that the Carters grew up on.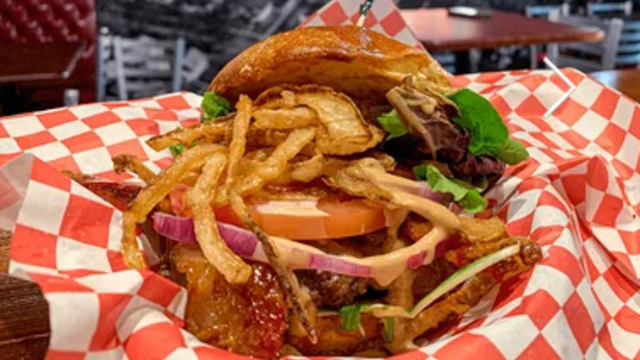 @tasteofrondo