10 Outrageous #MYSAINTPAUL Foods
Instagrammable and epically devourable dishes you can't miss.
Sometimes, you're feeling just a little extra. Whether the social media beast needs feeding, or your stomach is demanding a feast of gargantuan proportions, there is an utterly outrageous meal waiting in a corner of the city to fulfill the need. Whether looking for the opulence of drinkable gold or a burger the size of your head, there's a dish for that on this utterly outrageous list of Saint Paul delights.

1. Stuffed Chicken Wing

at Hmoob Kitchen inside Hmongtown Marketplace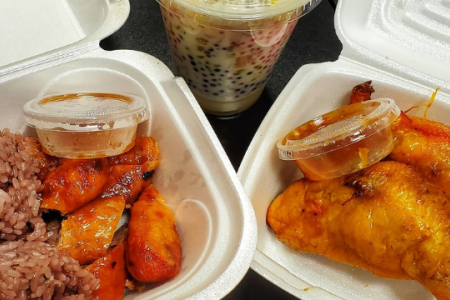 A spectacular feat of the poultry structural arts, this is a regular-sized chicken, methodically deboned on the double wingy section, and then stuffed with gently seasoned ground meat, finely chopped herbs, and bean thread noodles. The mix is re-sealed within the skin and the entire business is cooked up extra crispy. The result is a fat and crusty wing that reveals a mountain of flavor inside. This is the only case where one chicken wing counts as an entire meal.
Get this chicken wing.


2. 24K Latte
at Cafe Astoria
This is a tiara-worthy coffee drinking experience. Don the proper headgear before heading to this small coffee shop just off West 7th in Saint Paul. All of their latte art demands photographic evidence, but none more so than the 24K Latte. The perfectly steamed milk and rich espresso are garnished with edible gold leaf.
Get this drink.

3. Le Meritage Plateaux
at Meritage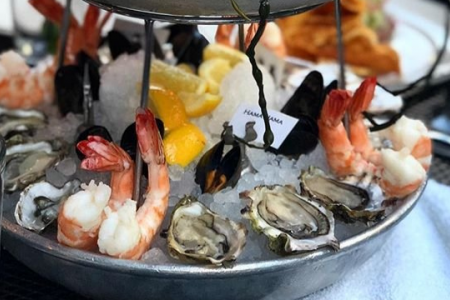 Because of Minnesota's unfortunate geography, seafood lovers aren't able to readily access fantastic, fresh fish and shellfish without some planning ahead. Luckily, the airport is nearby and there are daily flights coming in from the coast. At Meritage, a perennial favorite for the finest in French dining, the raw bar is one destination for those just-plucked-from-the-icy-Atlantic goods. Break the bank with the Le Meritage Plateaux for $270 with 24 just-shucked oysters, ten shrimp, 18 littleneck clams, Maine lobster, king crab, chilled mussels, salmon rillettes, and tuna tartar, all presented on a silver tower of ice and opulence. C'est Magnifique.
Get this seafood.

4. The Schweitz Burger
at Brunson's Pub
Sometimes a burger demands a second patty of pork sausage. Like a little fabulous hat of porkiness, the burger then leans into the extra of absurdity with a feathering of sauerkraut. Then, because that can't certainly be enough audaciousness, the burger layers in Swiss cheese, pub mustard, saucy onion, and has the nerve to arrive on your plate tucked inside a pretzel bun dome. Even at the outset, before even touching it, know that it is impossible to encounter this burger without an extra stack of napkins.
Get this burger.

5. Poultrygeist Chicken
at Revival
Revival fried chicken launched a whole trend in the Twin Cities with crispy, tender birds. Fans of spice rave about the Tennessee Hot, a cayenne pepper sauce that has just the right amount of warm spices mixed in with a chile-spiked oil. However, there's always someone in a crew who wants the hot to really hurt. Like the glory in punishment pain and bragging rights for survival. For those people, there is an off-menu opportunity to order a ghost pepper spiked chicken, the Poultrygeist. According to reports, the sauce is flavorful, it is tasty for almost the first second before the sweats arrive and the body's survival instincts kick in.
Get this chicken.

6. Carrot Cake Pancakes
at Hope Breakfast Bar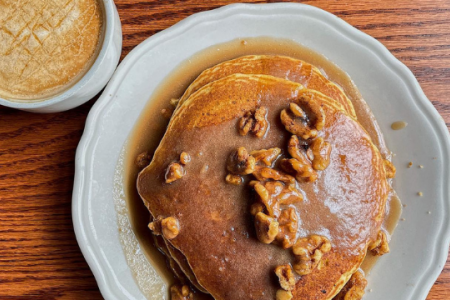 The restaurant inside this historic fire station is built entirely around a celebration of breakfast and the hope of a new day. Hope Breakfast Bar serves the most important meal of the day all day long with savory and sweet options, along with a slew of coffee drinks and cocktails. The menu was written under the Too Much Is Never Enough directive, exemplified by pancakes made with actual cake batter. Try the carrot cake pancakes, rounds of warm spiced carrot cake batter are griddled up fresh and served with candied walnuts along with a healthy dousing of maple syrup with a savory edge from cream cheese. For an extra dose of good, it's nice to know that Hope Breakfast Bar and its parent company donate 3% of its proceeds to local folks in need.
Get these pancakes.

7. Giant Pretzel
at The Gnome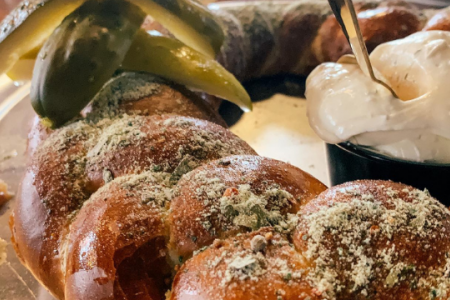 Part of the misleading nature in the pretzel's stature is that it has the audacity to appear on the appetizer listing at Cathedral Hill's The Gnome. It's understandable that some people don't realize this is an entire meal of bread and cheese, despite the description clearly labeling it as 30 ounces - which is just not a common person's method of sizing out a loaf of bread. The enormity of this folded gluten wonder is enough to derail great plans for a whole spread of menu items. When ordering the pretzel: it's best not to make any other plans. A massive dish, it takes up an entire school lunch-sized tray. Then, because this lilly needs some pasteurized gilding, it comes with rich and gooey raclette and zesty, bright orange pimento cheese.
Get this pretzel.

8. Chicken n' Bubbles
at Handsome Hog
Little known fact: the best beverage pairing for crispy fried chicken isn't a cold beer, but actually a chilled bottle of champagne. At Justin Sutherland's Cathedral Hill restaurant, for a mere $175, guests can down some of the local celebrity chef's incredible crusty-good bird and a bottle of bubbles. It's the baller move.
Get this meal.
9. Nookie Challenge
at The Nook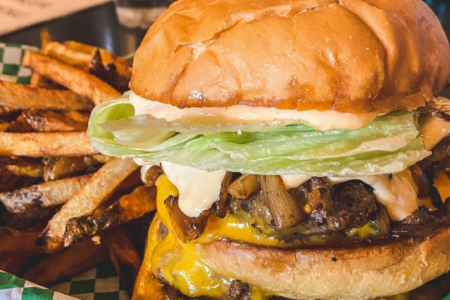 Minnesota is famous for our contribution to the burger pantheon with the Juicy Lucy. That's a cheeseburger with the goods on the inside. Casper & Runyon's Nook in Highland Park, and their second restaurant, Shamrock's on West Seventh both serve a version of this beloved burger. However, sometimes the simple act of taking a bunch of rough ground, fatty beef with a gob of cheddar cheese in the middle isn't enough to appease the hunger gods. In that case, go all-in with the Juicy Nookie Supreme. It's a triple-decker burger with three buns and special sauce. And if you really want bragging rights and a free t-shirt, take the TV-famous Nookie Challenge by finishing off two Nookie Supremes and an order of fries.
Do this challenge.

10. Lumberjack
at Nelson's Ice Cream
This seasonal ice cream shop on Snelling Avenue specializes in a variety of fun flavors and giant scoops of ice cream. Even the small/single scoop averages about the ice of a regular shop's triple scoop. Go all in on a brain freeze by ordering Nelson's Lumberjack for $10, a cacophony of creamy treats all balanced together in a never-be-hungry again arrangement. It's enormous and best enjoyed with a few friends.