Visit Saint Paul Wins Explore Minnesota Tourism Award
Excellence in Marketing award for Insiders Campaign received at state's tourism conference
FOR IMMEDIATE RELEASE
February 12, 2019
Contact:
Nick Cusick, Marketing & Media Relations Manager
P: 651.265.4907 | C: 651.341.9422 | ncusick@visitsaintpaul.com
Adam Johnson, Vice President of Marketing & Media Relations
P: 651.265.4904 | C: 651.226.5403 | ajohnson@visitsaintpaul.com
---
SAINT PAUL, Minn. (February 12, 2019) – Visit Saint Paul was recognized for Excellence in Marketing by Explore Minnesota Tourism at the state's 2019 tourism conference, held at the InterContinental Saint Paul Riverfront Hotel last week.
Visit Saint Paul received the Branding and Integrated Marketing Campaign award for the organization's 2018 Insiders Campaign. It is the organization's first statewide tourism award in nearly two decades.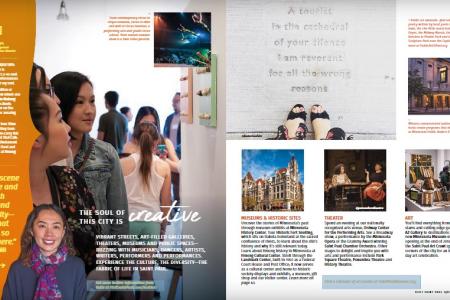 The Explore Minnesota Tourism Awards celebrate the outstanding people, events, marketing initiatives and activities that help to make Minnesota a premier travel destination. This award, under the Destination Marketing Awards category, was for a marketing campaign with effective integration of two or more components, including advertising, digital media, print, social, public relations, etc.
The Visit Saint Paul Insiders Campaign was created with the goal of inspiring and emotionally connecting with travelers through the experiences and recommendations of Insiders—local "experts" with a passion for Saint Paul. Insiders are selected according to how they fit into the campaign's overarching Saint Paul story, with a great deal of attention paid to representing a mix of age, gender, race, cultural background, sexual orientation, family status and interests. The 2018-2019 campaign focuses on key themes from Visit Saint Paul's 2017 perception research: family-friendly activities, sports, shopping, arts and culture, history and architecture.
"We tell the Saint Paul story through the authentic collection of voices that make Saint Paul a unique and diverse destination," said Terry Mattson, President & CEO of Visit Saint Paul. "We're honored to accept this award for the organization and for all the insiders who have been a part of this exciting campaign."
Each Insider agreed to be featured throughout the campaign via photo, video and transcribed interviews in which they share their favorite things about the city. In addition to showcasing this content in the annual Insider Guide, it is part of an Insiders microsite on VisitSaintPaul.com. The microsite houses the Insider video series, which is regularly shared along with the longer transcribed interviews on Visit Saint Paul's social media accounts.
Visit Saint Paul is currently working on its next rendition of the campaign with the next set of Insiders. The new Insider Guide and supporting digital efforts are planned to launch in the spring of 2019.
About Visit Saint Paul:
Visit Saint Paul, formerly the Saint Paul Convention & Visitors Authority, was founded in 1927 as the Saint Paul Convention and Visitors Bureau, making it one of the oldest destination marketing organizations in the United States. The mission of the organization is to generate economic growth for Saint Paul by effectively marketing the RiverCentre campus, Saint Paul and the region as a preferred convention and tourism destination. Visit Saint Paul oversees management of the Saint Paul RiverCentre Convention Center and Legendary Roy Wilkins Auditorium.