Fashion Week MN Arrives in Saint Paul
Visit Saint Paul releases video with Co-founder, launches Style Hunt promotion with deals app
FOR IMMEDIATE RELEASE
April 19, 2017
Contact:
Nick Cusick, Marketing & Media Relations Manager
P: 651.265.4907 | C: 651.341.9422 | ncusick@visitsaintpaul.com
Adam Johnson, Vice President of Marketing & Media Relations
P: 651.265.4904 | C: 651.226.5403 | ajohnson@visitsaintpaul.com
---
SAINT PAUL, Minn. (April 19, 2017) – Fashion Week MN is coming to Saint Paul.
The semi-annual collection of fashion-related events that launched in 2015 in Minneapolis returns Thursday, April 20, to Saturday, April 29, and will include three official events in Saint Paul:
The Saint Paul Collection Fashion Show, Saturday, April 22, The University Club of Saint Paul
Mind-Full: By Alissa Paris + Stacie Yokel, Saturday, April 22, 8 p.m., Gem Salon + Spa
The 5th Annual HAMMS Event, Saturday, April 29, 10 am. – 5 p.m., City House
Bonus event: Spring Fling Fashion Show, Friday, April 28, 7-9 p.m., Shops at Selby and Snelling
Jahna Peloquin, Fashion Week MN Co-founder and Style Editor of Minnesota Monthly, is featured in Visit Saint Paul's fourth Retail Insider video, which was released today. Watch the video here. The Retail Insiders series, produced by Visit Saint Paul — the city's official tourism bureau and official sponsor of Fashion Week MN — puts viewers in the shoes of locals as they showcase some of their Saint Paul favorites. Other Retail Insiders include Justin Sutherland of Handsome Hog, Robyne Robinson of Minneapolis-Saint Paul International Airport and the family of Tom and Lora Horgen of The Star Tribune and Stephanie's Shop, respectively. To check out the rest of the Retail Insider series, go to www.visitsaintpaul.com/shopsaintpaul.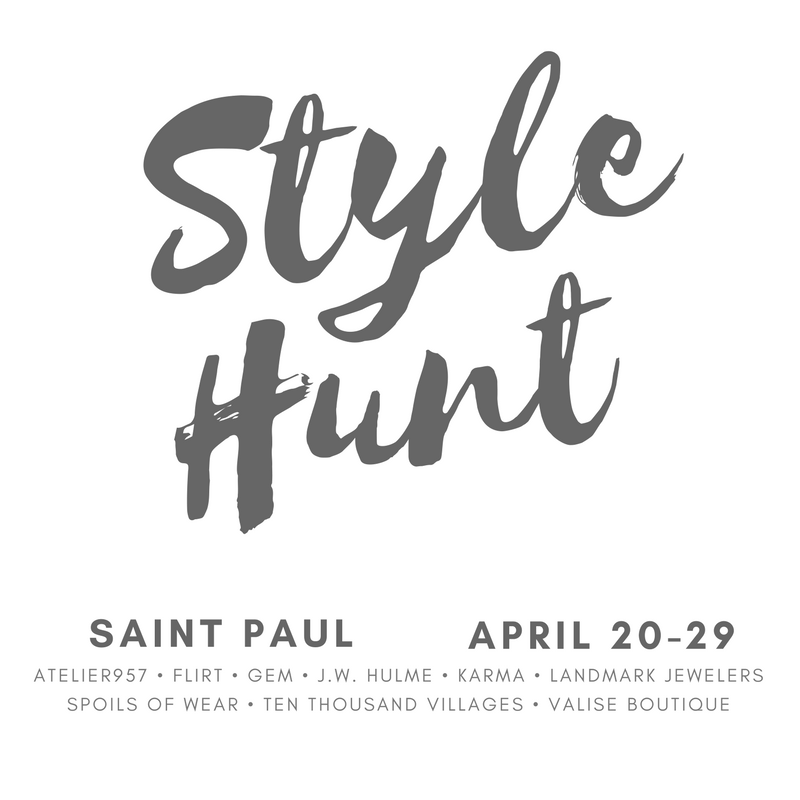 Visit Saint Paul has also partnered with nine local boutiques to create Saint Paul Style Hunt, a promotion taking place during Fashion Week MN with the chance to win a shopping spree in Saint Paul valued at $1,000.
The Style Hunt utilizes a mobile punch card that works with a smartphone to track punches and enters users into a drawing for prizes from Atelier957, Flirt Boutique, Gem Salon + Spa, J.W. Hulme, Karma, Landmark Jewelers, Spoils of Wear, Ten Thousand Villages and Valise Boutique. Punches are collected by visiting one of the nine participating boutiques and scanning the Style Hunt code. At each location, a punch results in an entry to win individual prizes such as accessories, bath and body items, home goods and gift cards. Customers that visit five or more participating boutiques are entered to win a shopping spree valued at $1,000.
Customers can download their Style Hunt punch card by visiting www.visitsaintpaul.com/stylehunt. When a customer taps the "Click to Start Winning" button on that page from their mobile phone, it downloads the Chinook Book app, which hosts the punch card, and gives the customer their first punch. No purchase is required to receive punches at participating boutiques. Prize winners will be selected April 30 and notified by May 5.
Also through the Chinook Book app, users can access 70-plus deals for more than $800 in savings at Saint Paul retailers, restaurants, attractions and more with Saint Paul Deals. Go to www.saintpauldeals.com for the activation code and directions on how to download the Chinook Book app.
For images of Jahna Peloquin from her Retail Insider video or Saint Paul Style Hunt promotional images, go to this Flickr album.
About Fashion Week MN:
Fashion Week MN is a semi-annual initiative from a collective of independent producers and designers with a mission of community engagement and celebrating the best designers, brands, retails, stylists, and producers in the Minnesota fashion industry through a series of public events. The inaugural Fashion Week MN was held on Sept. 20-26, 2015, in Minneapolis, Minnesota. For more information go to www.fashionweekmn.com.
About Visit Saint Paul:
Visit Saint Paul, formerly the Saint Paul Convention & Visitors Authority, was founded in 1927 as the Saint Paul Convention and Visitors Bureau, making it one of the oldest destination marketing organizations in the United States. The mission of the organization is to generate economic growth for Saint Paul by effectively marketing the RiverCentre campus, Saint Paul and the region as a preferred convention and tourism destination. Visit Saint Paul oversees management of the Saint Paul RiverCentre Convention Center and Legendary Roy Wilkins Auditorium.