MY ITINERARY (

0

)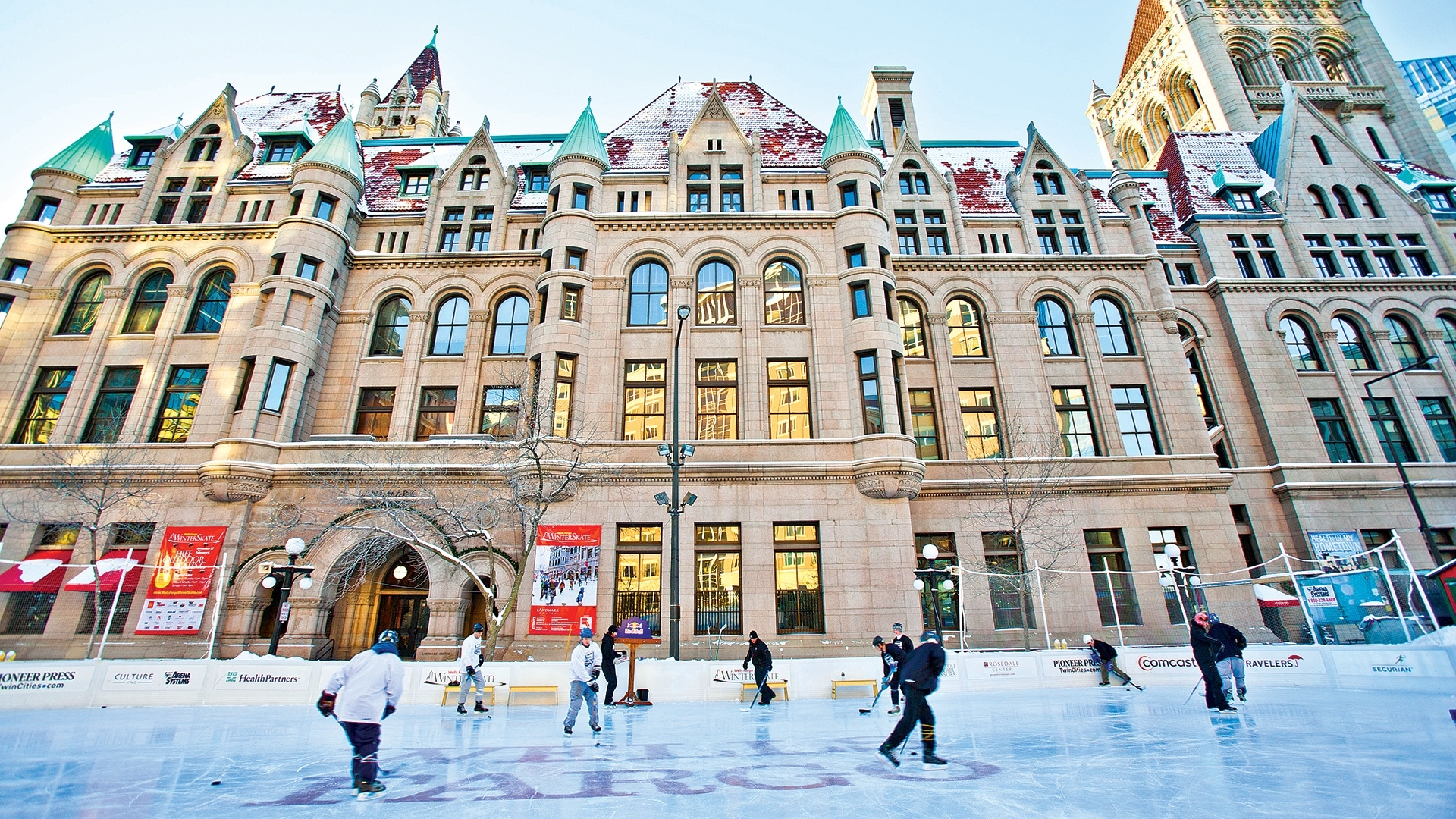 Co-Ed Corporate Broom Ball at WinterSkate
Corporate Broomball
Co-Ed Corporate Broomball has become a downtown winter tradition with bragging rights on the line. Get your co-workers together and signup to show why your company is the best broomball team in Saint Paul.
Registration:
To register, you must complete this Broomball Registration Form and submit the team registration fee. Each team must have at least 4 female players listed on their roster. Registration forms can be emailed to kate.frye@ci.stpaul.mn.us.
Players:
1. Games are played with 5 players (4 plus the goalie). Each team must have 2 females on the ice. If a team only has one female eligible to play the team must play with 4 players rather than defaulting. You may not have more than 3 males on the ice at one time.
2. All players must sign a participant waiver. This waiver will be available during your first game. All added players will need to sign the team before participating in the game.
3. The team manager must supply a cell number so that the league director can reach the manager outside of office hours in case of inclement weather.
4. The team manager is responsible for calling the league director if for some reason their team has to forfeit a game. Please give as much notice as possible.
5. You must have at least 4 players to start and continue a game.
6. The goalie may be male or female.
7. Players must be predominantly from your company and/or board members, partners, clients, etc. but some friends and family are allowed as well (approximately an 80/20 breakdown).
Game Time:
1. Game time is two 23 minute periods.
2. Teams are allowed only one 20 second timeout.
3. Teams will switch goals at halftime.
4. There is no overtime in league play. Ties stand.
5. Teams will officiate themselves. There will be no official referee.
6. A team may have as many substitutes as it desires and may freely substitute.
7. Each team will have a team manager who will be responsible for the rules relating to the game.
8. Team managers or a designated captain should introduce themselves to each other prior to the start of each game.
Equipment:
1. Each team must have a playable game ball. The Forest Ice BLSA 720 or the Baden 332 are the official broomballs. The Acadia King is also acceptable.
2. Opposing teams should not wear the same color jerseys or pullovers.
3. All protective equipment with the exception of gloves, helmet and ankle pads, must be worn beneath the uniform. This includes leg and elbow pads.
4. Teams must supply their own brooms which may have a plastic or molded rubber head.
5. Clean tennis shoes or broomball shoes are required. Skates are not allowed.
6. Goalie equipment will not be provided. Players may play goal without protective equipment as this is a recreational league. Goaltender pads are not permitted. Helmets (broomball, hockey or even bicycle), skin/knee pads, elbow pads, gloves are encouraged. Everyone must have a "broom".
7. Any personal equipment that might be considered unsafe or illegal needs to be removed.
Rules:
1. There is NO body contact. Checking or intentional physical contact is not allowed. Players must play the ball and not the body at all times.
2. The game will begin with a face-off at center. All players must begin their own game.
3. The ball may be played with the broom if the ball is below the player's waist
4. Broom checking is allowed to the waist or below. The ball must be in the immediate vicinity.
5. No player shall bring or pass the ball back into their defensive zone over the center red line, once a team has gained the offensive zone with the intent of killing time.
6. Icing is automatic.
7. It is permissible to kick the ball at all times as long as an offensive player does not kick the ball into the goal crease. However, goalies are not allowed to punt the ball.
8. You can hand pass in your defensive zone as long as the pass is started and completed behind the blue line.
9. If the goalie freezes the ball it is a face off. They can be called for delay of game if they freeze unnecessarily to waste time, if they are not in contact with their crease.
10. Players can knock the ball down in the air with their hand, but cannot carry the ball.
11. The mercy rule will be enforced if a team is ahead by eight or more goals after the first half, unless the losing team manager wishes to continue.
12. There is NO high-sticking. Any stick movement above the mid-torso level is considered high-sticking.
13. If the ball is shot out of play, the team who shot the ball is responsible for retrieving it, but a different player may sub in.
14. Please watch the language both for the fun of the game and for the courtesy of kids, families and old folks who may be walking by.
Adapted from Saint Paul Municipal Athletics Broomball Rules
The most important rule: have fun while you play!
Good sportsmanship is of the utmost importance.
No alcohol is allowed at the rink. The space is not zoned for it—it's illegal, don't do it.
Reminder: Do not leave valuables unattended.
Tuesday, Oct 15, 2019
Possible drizzle in the evening.

High:

48°

low:

42°

Chance of Rain

55%

Wind:

NW at 12 MPH

Mostly cloudy throughout the day.

High:

52°

low:

40°

Chance of Rain

22%

Wind:

NW at 9 MPH

Partly cloudy throughout the day.

High:

59°

low:

36°

Chance of Rain

8%

Wind:

SE at 6 MPH

Overcast throughout the day.

High:

66°

low:

43°

Chance of Rain

8%

Wind:

SE at 13 MPH

Partly cloudy throughout the day.

High:

66°

low:

49°

Chance of Rain

8%

Wind:

W at 8 MPH

Mostly cloudy throughout the day.

High:

65°

low:

47°

Chance of Rain

9%

Wind:

SE at 8 MPH

Mostly cloudy throughout the day.

High:

63°

low:

51°

Chance of Rain

52%

Wind:

E at 12 MPH

Rain until afternoon, starting again overnight.

High:

57°

low:

45°

Chance of Rain

74%

Wind:

NW at 14 MPH