MY ITINERARY (

0

)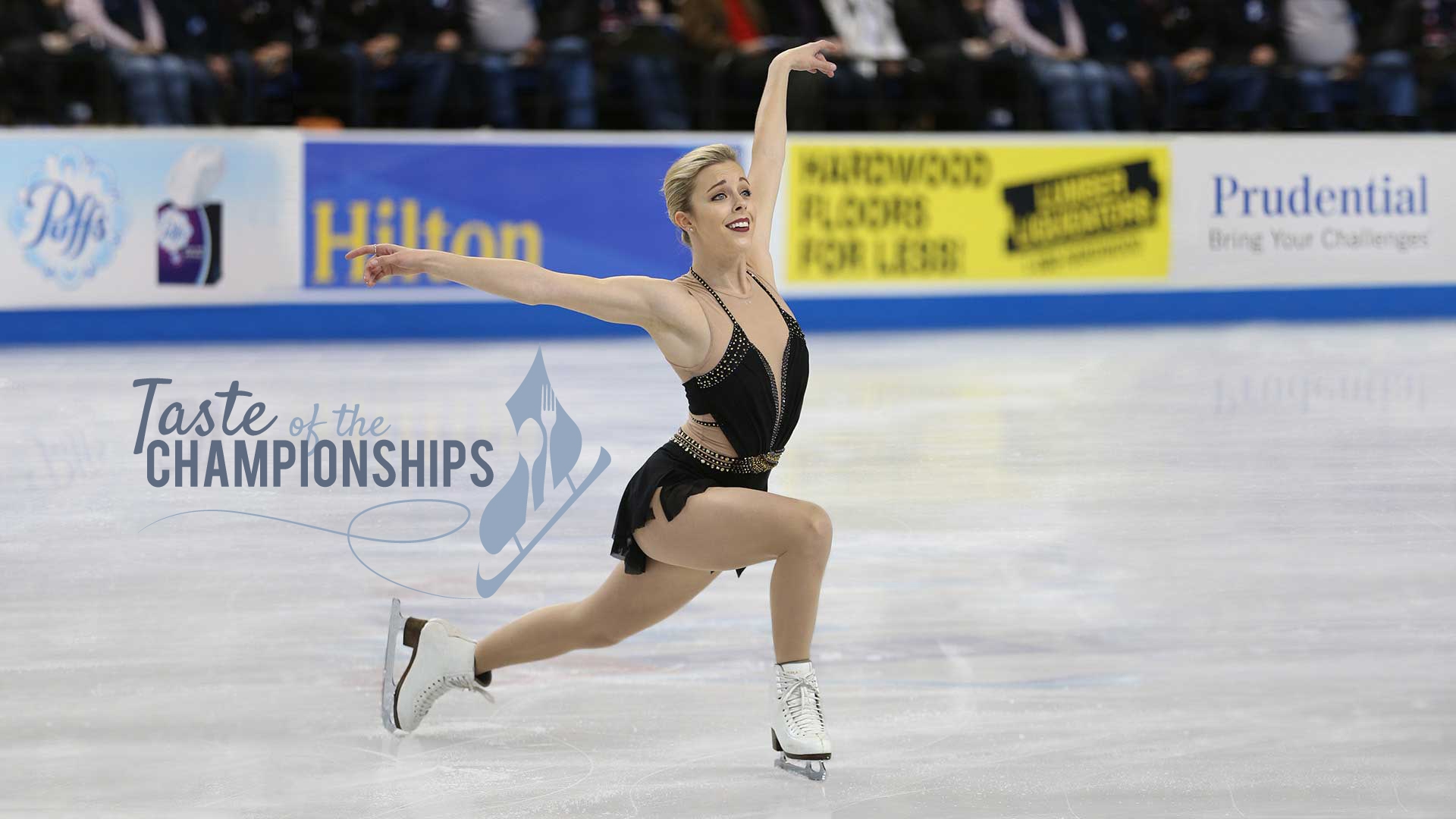 Watch. Cheer. Eat. Repeat.
Taste of the Championships
Taste of the Championships, presented by Visit Saint Paul, is a culinary competition between nine Saint Paul restaurants, judged by 1988 Olympic Gold medalist and foodie Brian Boitano and friends.
From Jan. 15-24, 2016, visit any of the nine participating restaurants to try their uniquely-created-and-named entrees that are part of the 2016 Prudential U.S. Figure Skating Championships Taste of the Championships competition. Restaurants will be judged by Brian Boitano and friends on flavor, creativity and nutritional value. Winners will be crowned on Saturday, Jan. 23. A special thank you to all of the participating restaurants for their support of the 2016 Prudential U.S. Figure Skating Championships. "I'm really excited to be a part of this unique Taste of the Championships promotion," Olympic gold medalist Brian Boitano said. "It is a perfect pairing of my two loves - figure skating and culinary creativity." Entrees will be sampled and judged on Wednesday evening, Jan. 20, from 6-8:30 p.m. throughout Saint Paul.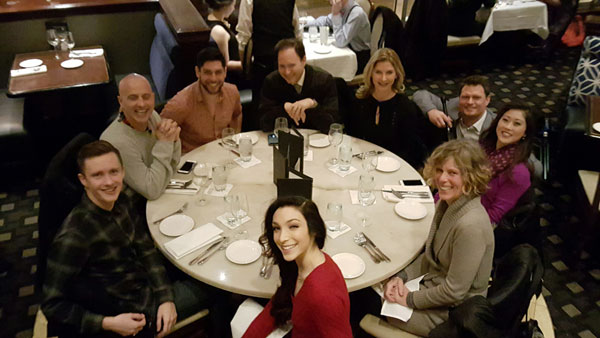 Judges: Jeremy Abbott, Brian Boitano, Brent Bommentre, Jason DeRusha, Caryn Kadavy, Rusty Kath, Kristi Yamaguchi, Linda Leaver and Meryl Davis.

Winners Announced:

TASTE: Pazzaluna
CREATIVITY: Kincaid's
NUTRITIONAL VALUE: Rival House

Citizen Supper Club - Historic, glamorous, and genuine, Citizen Supper Club offers an unparalleled experience in the Intercontinental Saint Paul Riverfront. The edgy elegance and retro, mid-century style emits a lasting, nostalgic glow.
Entree: "Kiss & Cry" Wild Striped Bass - Sicilian-style sweet and spicy wild striped bass, bulgur wheat, oil-cured olives, roasted artichoke, fennel and orange. A 6-ounce-skin-on-filet of wild striped bass is sautéed until crispy. The bulgur is heated with garlic, chilis, roasted artichoke hearts and roasted fennel. It is finished with fennel pollen, orange segments and extra virgin olive oil.
Nutritional Information: 440 calories, 12.5 grams of fat, 35 grams of protein

Cost: $24

Signature Cocktail: The Bermuda Rum Swizzle Cocktail
---

Great Waters Brewing Company - Located in the heart of downtown Saint Paul in the Historic Hamm Building, this brewpub is just a short walk from Xcel Energy Center and RiverCentre and all downtown hotels and theaters. Enjoy great food and handcrafted beers.
Entree: "'Tano Lutz" Pork Tenderloin - A 4-ounce grilled pork tenderloin served on a bed of Minnesota wild rice and sautéed vegetables including spinach, broccoli, mushrooms, red onion and tomatoes.
Nutritional Information: Approx 190 calories, 30 grams of protein, and 5 grams of fat
Cost: $13.95
---
Kincaid's - Branch of an upscale American chain preparing steaks, seafood & cocktails in a sophisticated space.
Entree: "Signature Move" Seared Ahi - Togarashi- and sesame-crusted ahi served on a bed of coconut jasmine rice with Thai curry sauce finished with limes, red pepper and cilantro.
Nutritional Information: N/A

Cost: $31.95
---
Pazzaluna - Urban, high energy, warm and engaging, all wrapped into one restaurant and bar that will transport you through an authentic Italian food and beverage experience.
Entree: "Trip Jump" Bell Pepper Risotto - Braised beef brisket on smoked bell pepper risotto.
Nutritional Information:N/A

Cost: $28
---
Rival House - Harkening to an era when social clubs were celebrated neighborhood institutions, Rival House serves interactive entertainment, delicious wood-fired pizza, snacks and entrees as well as an enviable selection of local craft beers and specialty cocktails, all in a captivating vintage industrial space
Entree: "Season's Best" Citrus Broiled Salmon - Citrus broiled salmon, braised spinach and farro with mushrooms.

Nutritional Information: N/A

Cost: $18
The St. Paul Grill - Serves up East Coast style, traditional American fare in a beautiful and classic atmosphere that makes diners feel distinguished. The gorgeous mirrored-back bar features a wide variety of liquors and single malt scotches.
Entree: "Triple Axel" Seafood Linguine - Shrimp, mussels, sea bass and halibut tossed in a lemon garlic cream sauce with fresh linguine.
Nutritional Information: 600 calories

Cost: $35.95
---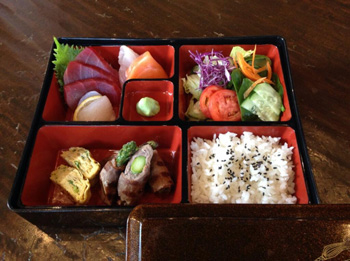 Sakura - Offers an excellent selection of Japanese cuisine to both the novice and connoisseur. The restaurant, located in downtown Saint Paul, has spacious dining areas on two levels, a large sushi bar for those who wish to watch their sushi prepared before them, and a full length bar.
Entree: "Cherry Flip" Bento Box - Fresh sashimi and asparagus beef roll grilled with ginger sauce. Japanese style egg omelet and steamed rice and a salad with Japanese dressing.
Nutritional Information: N/A

Cost: $15 for food only; $25 with souvenir take home bento box
---
Tom Reid's - Catch the big game with some buddies and enjoy the delicious food and plentiful drink options. The pub even features a ten-foot TV!
Entree: "Waltz Jump" Walleye - Minnesota's favorite ice-fishing prize, the walleye, is set on a bed of kale salad and topped with mango salsa. Combined with spicy wild rice you are left with an unforgettable combination of sweet, savory and spice. Don't forget to ask about our BiDs Bourbon drink special.
Nutritional Information: N/A

Cost: $17.95
---
Vieux Carre - Fine cuisine is the result of passionate people combining simple, quality products and imagination. For simple cravings Vieux Carré delights with fine local product beautifully prepared and presented.
Entree: "From the Ice" Blackened Walleye - Blackened Great Lakes walleye, ancient grains bar, local honey, collard greens, herb yogurt and chervil.

Nutritional Information: 549 calories, 3.9 grams of total fat, .5 grams of saturated fat, 115.5 grams of carbs, 33 grams of protein, 354 grams of sodium and 87.5 grams of sugars

Cost: $21