MY ITINERARY (

0

)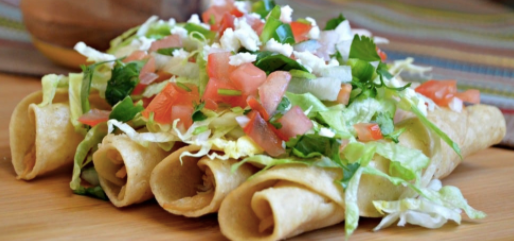 Get a taste of El Burrito Mercado while you are at home.
Flautas
Recipe provided by Milissa Silva, CEO of El Burrito Mercado
I N G R E D I E N T S:
1 chicken breast cooked and shredded
12 corn tortillas
1 cup chopped lettuce
1/2 cup crema
1/4 cup oil for frying (enough to cover flautas)
1 cup salsa aguacate or nortena from EBM deli
1 cup pico de gallo - optional
1/2 bunch fresh chopped cilantro
4 chopped jalapenos optional
1 lime
salt to taste
toothpicks
P R E P A R A T I O N:
Add the chicken to the previously heated tortillas (they need to be flexible to roll) and roll. Stick a toothpick to make it easier to hold or use tongs to hold each taco in hot oil until it seals and doesn't unroll.
Fry them on all sides turning until golden brown, drain on a paper towel, remove toothpicks.
Top with all desired garnish!

---

El Burrito Mercado is currently open for takeout/curbside pickup and delivery via BiteSquad and Doordash.
S U P P O R T:


El Burrito Mercado would like to highlight the Neighborhood House's Food Support Program, which includes two food markets serving those in need. The Food Markets provide emergency bags for those in need via curbside pick-up. Neighborhood House is a multi-service agency, providing wrap-around services for people when they need it most. Learn more about this organization here.

---

Download the printable recipe here.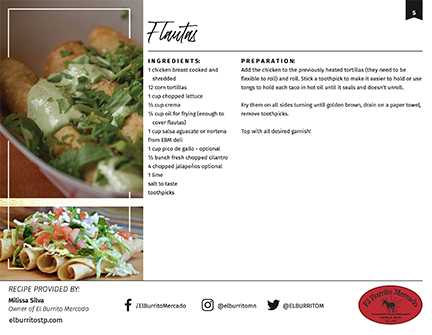 Suggested Content
You May Also Like