MY ITINERARY (

0

)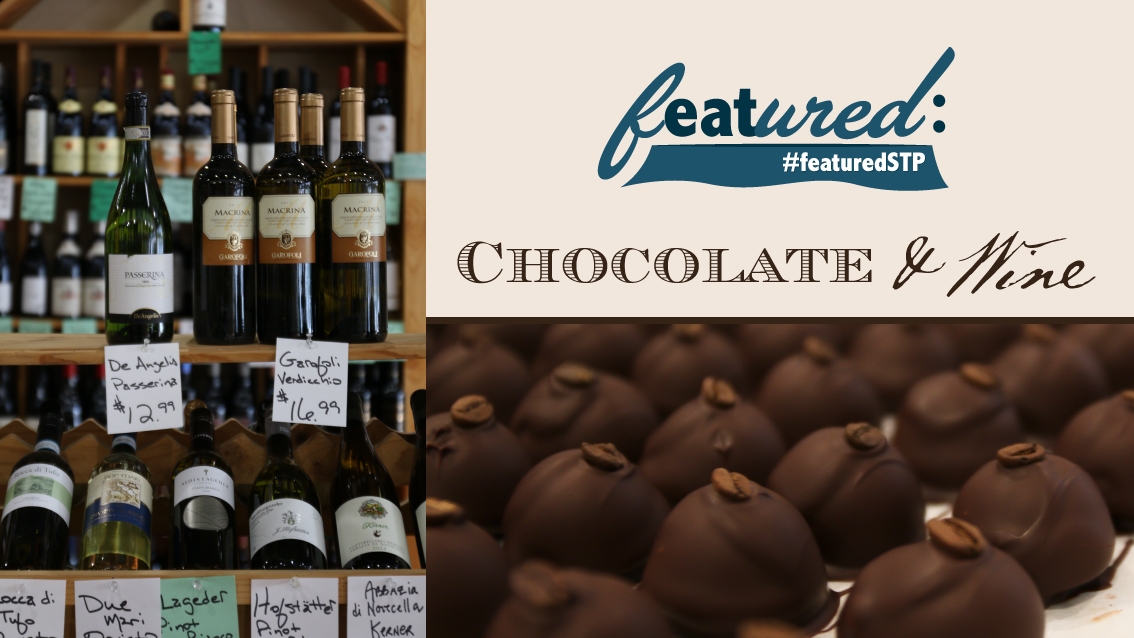 Chocolate & Wine, what else do you need?
Featured: Chocolate and Wine, What Else?
Get ready for Valentine's Day with Just Truffles, Legacy Chocolates and Mademoiselle Miel
In a city known for its hockey, history and well, hops, chocolate doesn't always make it to the top of the promotion list when touting all that Saint Paul has to offer.
Valentine's Day, however, is an annual reminder that Saint Paul has some of the best chocolate around — and a variety of it.
The granddaddy of the Saint Paul chocolate scene is Just Truffles, which got its start in 1987 and shortly after a glowing review by the Pioneer Press was invited to open its first shop in The Saint Paul Hotel. There, Just Truffles served local and visiting chocolate lovers, including celebrities staying at the historic hotel.
"We were there for about 10 years, became candy makers for the stars because of a lot of the clientele that we had," said Kathleen O'Hehir Johnson, owner of Just Truffles.
Just Truffles is no longer slinging its chocolate excellence from the lobby of The Saint Paul Hotel, now located at 1363 Grand Ave. in an ornately decorated house front. Over its nearly 30 years of business, Just Truffles has been featured on an episode of Food Network's "The Best of," HGTV and Oprah Winfrey's show "Only the Best."
With such a strong reputation, it's clear why Just Truffles is a Valentine's Day go-to.
Featured: Chocolate & Wine, what else?
"During the week before Valentine's Day you get a lot of the women coming in and then the day before or the day of there's nothing but men in the store," Kathleen said, laughing. "It's like, 'Hello! You have not seen the commercials? You didn't know what was coming?'"
As well-known as Just Truffles is, though, there is always room for more chocolate in the eyes of its consumers, which is why many were heartbroken when Legacy Chocolates closed the doors of its Marshall Avenue location in Saint Paul in 2009. That's why current owners Mark and Lorraine Dixon knew Saint Paul was the best location for them to grow their business when they decided to move Legacy's headquarters from Menomonie, Wis., where it had been for 12 years, to the Pioneer Endicott building in downtown Saint Paul in 2014.
"(Legacy Chocolates) already had the legs in Saint Paul," Mark said. "It needed to be put on a pedestal."
They have done just that in Saint Paul, with a product that was developed by previous owner Michael Roberts, who Mark called a "super-taster" and said has a palette that only about 2,500 in the country have.
"We came here because we have a product that we know is very unique. Very unique," Mark said. "It's all in the taste."
This week, Legacy has opened a temporary spot next to its current location where they will sell pre-packaged boxes of Chocolates and roses.
"You know, because we didn't take on enough last year, we'll add to it," Mark said, laughing. "To make it more of a … one-stop shop."
Susan Brown, owner of Mademoiselle Miel, believes there is a simple reason why people connect with chocolate so strongly on Valentine's Day.
"True love is very pure and I think our chocolates reflect that romance and that love that we are celebrating at Valentine's Day," Susan said.
Mademoiselle Miel, which Susan started in 2011, is located at 342 W Kellogg Blvd. in downtown and is known for its honey-filled chocolates, or bon-bons, which uses honey harvested from man-made hives located on the rooftop of downtown buildings — including Union Depot. On Valentine's Day, Mademoiselle Miel brings out a special bon-bon: Pure Rose.
"We use this sort-of rare oil that comes from steam-distilled Bulgarian roses," Susan said. "You're tasting the essence of the rose and it's really beautiful and it creates an emotional reaction in many people."
That's what makes all of the hard work and dedication to their craft worth it.
"This is the easiest — can't even call it a job. This is my life and it's like, yeah I make chocolate all day … " Mark said, laughing. "Not too hard. I've had worse."
For more information on Just Truffles, Legacy Chocolate and Mademoiselle Miel, go to:
---
---
Sometimes, the most daunting part of dining out is tackling the menu. Everything sounds awesome but what if you could just be told what the best thing on the menu is...now you can! Saint Paul restaurants tell you about their best right here:
French Hen Cafe: Bahn Mi Benedict (Eggs with an asian flair: Glazed pork, poached eggs, fresh vegetable relish, sriracha hollandaise and cilantro on french bread)
---
Whether you're a strapped-for-cash college kid or a family of four on a budget, "Steal of a Deal" will fill you up without emptying your pockets:
Bennett's Chop and Railhouse: 10-ounce flat iron steak and free domestic tap for $12.95 on Wednesdays. (Nightly specials at Bennett's are not available on event nights, i.e. concerts, Wild hockey games etc.)
---
Chuck Kanski, owner of Solo Vino wine shop located at 517 Selby Ave. in Saint Paul.
Chuck was born and raised on the east side of Saint Paul and attended Hill-Murray School in Mapelwood. The "ATTEMPTED physics major" played football at St. John's in Collegeville for a couple seasons, but after financial aid complications Chuck moved back to the Twin Cities where he attended Normandale Community College and eventually the University of Minnesota. Chuck's realization of his passion really came when he served as a bartender and server at WA Frost & Company, where restaurant veteran Bob Crew gave Chuck his first book on wine, and at the airport Hilton where he served as the dining room and wine program manager. He also worked at Pazzaluna before opening Solo Vino on Halloween of 2001.
"Wine chose me," Chuck said.
Chuck regularly joins The Current's morning radio show to talk about wine trends and his shop has annually put on the Rose Tent Tasting event since 2009.
In addition to wine, Chuck is passionate about yoga and practices it four to five times a week.
"It saved my life, really," Chuck said.
Chuck and his wife, Kim, live in Saint Paul near Solo Vino and are expecting a daughter, Evelyn, in early March.

We sat down with the always-personable wine connoisseur and small business owner to get to know him a little better.
VSP: Where do you most want to travel, but have never been?
CK: I'm very curious about eastern Europe, specifically Hungary and western Ukraine. My family on both sides immigrated to the U.S. in the early 1900s. I'd love to see the towns that our families came from.
VSP: What is it about wine?
CK: No other topic holds my attention like wine. Wine is one of the only things that can bring you back to a specific moment. I tend to remember events in relation to what wine was poured.
VSP: What's your favorite restaurant in Saint Paul?
CK: Meritage!!! Nico is a good friend and I believe curates one of the best, thoughtful wine programs in town.
VSP: Star Wars or Star Trek?
CK: That's a tough one but I'd have to say Star Wars.
VSP: Besides wine, do you collect anything?
CK: My father gave me his vintage Hamilton wrist watch many years ago. It was from the 1950s. I now have three other vintage watches that I bounce between every few weeks.
VSP: What would you sing at karaoke night?
CK: Easy…Eddie Rabbitt "I Love a Rainy Night." I have moves and everything.
VSP: If you had to pick one wine to drink for the rest of your life, what would you pick?
CK: It would have to be bubbles for sure. Probably something from the 'grower producer' Pierre Callot.
VSP: If you were a super hero, what powers would you have?
CK: Teleportation. I really do not like driving so commuting would be so easy.
VSP: Bungee jump or skydive?
CK: Can I just sip a glass of Rosé and watch? OK, If I had to pick I'd skydive.
VSP: Other than wine, what's your favorite type of beverage?
CK: It would be espresso.
VSP: Doc Brown visits you with the DeLorean and says you can go anywhere you want. What year do you travel to and why?
CK: I'd LOVE to go through the '80s again! I sometimes miss blow drying my hair and rolling up my Girbaud jeans.
Related Video
Related Blog Posts