MY ITINERARY (

0

)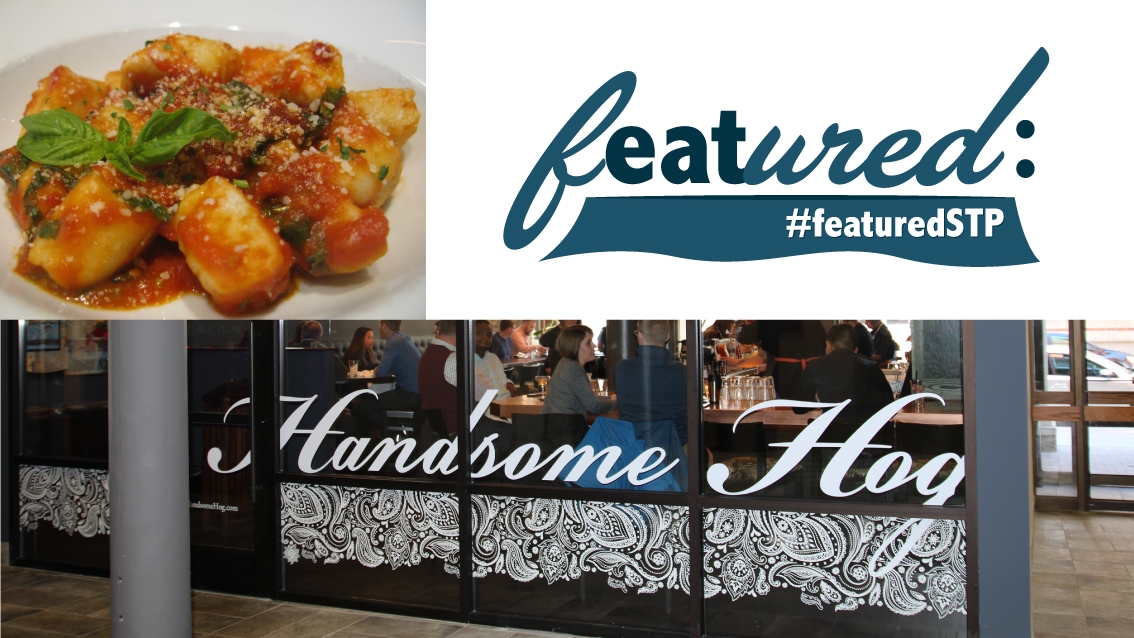 Handsome Hog now open
Featured: Handsome Hog Opens; Alicia Hinze Picks Batman
Lowertown just added another must-visit to its list of restaurants. Handsome Hog opened Monday, March 22.
When PUBLIC kitchen + bar opened on Mears Park right next to Barrio and The Bulldog, East Sixth Street became one of the most exciting Saint Paul blocks for foodies.
Now there's even more buzz.
Carol March, owner of PUBLIC kitchen + bar, opened Handsome Hog — her second restaurant — Monday in the same building as PUBLIC where Bin Wine Bar used to be located.
Handsome Hog brings 'bourbon & smoke' to St. Paul's Lowertown http://ebx.sh/1o1lbRV pic.twitter.com/RjUmCi5fmo
"Bourbon & Smoke" is Handsome Hog's mantra and the contemporary southern and a pig-centric menu by former Meritage chef Justin Sutherland uses all parts of the pig, from the snout to the tail. For example, you'll find whole roasted hog jowl, crispy pig tails and P.O.D. (Pig of the Day) listed under starters.
You won't be able to order those dishes all the time, however, as Handsome Hog offers different menus for lunch, mid-day, dinner and late night. Check them out here.
The Farm from @handsome_hog! Braised Oxtail, Buttermilk Biscuit, Sunny Side Duck Egg, Cris... http://ift.tt/1RvSIBw pic.twitter.com/j15VC9y4Do
One of the most unique parts of March's new restaurant is the "Meat Bar," where a full-time "Charcu-Artist" puts together plates of charcuterie.
As memorable as Handsome Hog will be to the carnivores of the foodie world for its pork in many forms, it may stand out even more to some because of its bourbon offerings. The bar has more than 100 bottles of bourbon and there are plans to barrel-age and offer its own in the future. And don't forget to try the Handsome Hog Smoke Ale made by Tin Whiskers.
Enjoying a @handsome_hog Smoked Stout made by yours truly, w/ malt smoked by Handsome Hog! Welcome to the 'hood! pic.twitter.com/WOne3a820a
Handsome Hog is open Monday-Saturday and does not take reservations.
---
---
Sometimes, the most daunting part of dining out is tackling the menu. Everything sounds awesome but what if you could just be told what the best thing on the menu is...now you can! Saint Paul restaurants tell you about their best right here:
Pazzaluna: Gnocchi
---
Whether you're a strapped-for-cash college kid or a family of four on a budget, "Steal of a Deal" will fill you up without emptying your pockets:
The Salt Cellar: $2 off bar menu during happy hour Mon-Thurs 3-6 p.m. & 9 p.m.-close, Fri-Sat 3-6 p.m. & 10 p.m.-close, Sunday open to close.
---
Alicia Hinze is owner and pastry chef at The Buttered Tin, which opened in 2013. Before entering she the pastry industry, Alicia worked at a large retailer in human resources. She says it was a job she loved but that she didn't belong in corporate America. That's why she went to patisserie school, where she found her "thang" and got to work with other talented people. It was those experiences and the support of her family that led to her opening The Buttered Tin.
VSP: What's it been like watching your restaurant become a Saint Paul favorite in less than three years?
AH: How do you explain a dream come true?! It has been such an amazing experience. It's no lie that no one can prepare you for how much work it is or how trying it can be at times. But the staff at The Buttered Tin is like family and we all care so much about our guests and about the food that sharing that passion with them has been more than I could have ever asked for.
VSP: Besides The Buttered Tin, what's your favorite place to go to in Saint Paul?
AH: Where do I begin??? I go to Savoy for my favorite pizza, I go to The Saint Paul Hotel for a great martini and burger (burger fest anyone?!), I go to Barrio for guacamole, Boca Chica for a margarita, Saint Dinette for a watermelon shrub, The Bulldog for the best bar food. I'm a girl who loves to eat! But of all of my favorite places, I love walking to Harriet Island and looking at the beautiful river and skyline of Saint Paul. It's a great place to live.
VSP: What did you want to be when you were a child?
AH: I wanted to be a veterinarian because I LOVE animals. When I realized that I would actually have to see hurt animals and give them shots and such, I was OUT!
VSP: What is the worst gift you've ever received?
AH: This is going to sound really cliche, but I think that any gift is great because the person giving it was thinking of you, and that is really all that matters.
VSP: What is it about baking and pastries?
AH: It is the gratification that comes when someone takes a bite of something you've made and the expression on their face turns to pure happiness. That is the reason for it all. Happiness.
VSP: Lowertown has changed a lot since you first opened. What's the best part of being on the edge of this vibrant historic neighborhood?
AH: People say we really took a chance on Lowertown, and especially Saint Paul, by opening a restaurant here. I don't feel that way. I think it was well calculated. Because I live down here and know how under-served we were in the bakery and breakfast department, it just made sense to me. But now that I see the other restaurants here before us thrive and other great places opening, I feel even more proud to be a part of Saint Paul's boom. It is so awesome to see!
VSP: Batman or Superman?
AH: I think my 3-year-old nephew, Dylan, would be upset if I didn't say Batman
VSP: What is your favorite Saint Paul event?
AH: I love Music in Mears Park! Every Thursday in the summer it brings all of the Lowertown community together for great music. The Buttered Tin also sells cupcakes and cookies there!
VSP: What song are you most likely to be listening to right now?
AH: Adele – "All I Ask"
Related Video
Related Blog Posts
You May Also Like