MY ITINERARY (

0

)
Community Events, Culinary, Fairs & Festivals, Kids & Family, Music & Concerts, Arts & Culture
The Irish Fair of Minnesota
Sorry, this event has already happened
Please check out our events calendar for current events in Saint Paul.
The 2019 Irish Fair of Minnesota will run Friday, August 9: 3pm - 11pm, Saturday, August 10: 10am - 11pm, Sunday, August 11: 10am - 7pm (Mass at 9am)
Location: Harriet Island
Time: 3:00 PM to 11:00 PM
200 Dr Justus Ohage Blvd , St. Paul, Minnesota
Each year, we invite you to join us on the banks for the Mississippi River for a celebration of Irish heritage with music, dance, family activities and good craic! Since 2001, beautiful Harriet Island Regional Park in downtown St. Paul has hosted Irish Fair of Minnesota. The festival is recognized as one of the most family-friendly events in the Twin Cities, one of the most authentic Irish festivals nationwide and an amazingly great time by the 100,000 people who attended last year's festival. Come by, listen to the music, watch the dancers, and even enjoy a pint or two!
Contact: info@irishfair.com
651-645-0221
Visit our website
Add To Itinerary
From the EcoArts Festival to the annual Irish Fair, Harriet Island is center stage for… Read More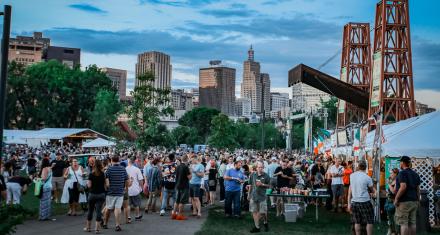 Did you know the largest free Irish fair in the nation is held in Saint Paul? Read More