MY ITINERARY (

0

)
June
1
Holiday & Seasonal, Kids & Family, Sports & Recreation
Spring Sightseeing Cruises
Next Upcoming Date: Saturday, June 1 2019
Come aboard Spring Sightseeing Cruises June through August. Our Spring Sightseeing Cruises are a great way to kick off the riverboating season!
Location: Padelford Riverboats
Time: 12:00 PM to 1:30 PM
205 Dr Justus Ohage Blvd , St Paul, Minnesota 55107
Narrated public excursions depart from Harriet Island in St. Paul. The narrated public sightseeing excursions run 90 minutes. Sights along the way include: the St. Paul High Bridge, Pigs Eye's Cave, the Minnesota River mouth, Pike Island, and the timeless splendor of the mighty Mississippi River. All sightseeing cruises offer a full bar as well as snacks such as hot dogs and popcorn (please no outside food or beverage). Additionally, on Monday's we offer a 6pm cruise and Monday Madness prices for all sightseeing cruises.
Additional cruise at:
1pm on Sundays
2:30 p.m. Monday-Sunday
6:00 p.m. Mondays
Contact: info@riverrides.com
(651) 227-1100
Admission: $18 for Adults $16 for Seniors (65+) $10 for Children 3-17 (2 & under free) Mondays: $10 for everyone
Visit our website
Buy Tickets
Add To Itinerary
For an unforgettable day on the water, check out the general sightseeing tours conducted by… Read More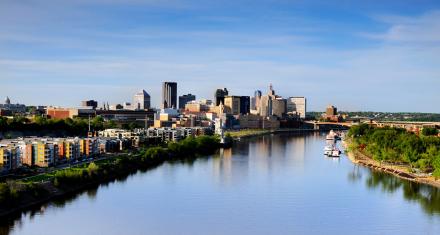 Did you know Saint Paul has more shoreline than any other city along the entire Mississippi River? Take advantage of all that riverfront with these activities. Read More
Upcoming Dates