MY ITINERARY (

0

)
July
14
Community Events, Fairs & Festivals, Kids & Family, Music & Concerts
Dragon Festival
Sorry, this event has already happened
Please check out our events calendar for current events in Saint Paul.
Saint Paul Dragon Festival is a cultural festival that takes place at Lake Phalen Park. Celebrating 18 years as the Dragon Festival, honoring the Pan-Asian heritage and spirit!
Location: Lake Phalen and Lake Phalen Park
1600 Phalen Drive , St. Paul, Minnesota
Lake Phalen Park in Saint Paul, Minnesota, comes alive again in 2018, with two days of colorful, traditional dances and music to showcase the performance arts of Asia. Dances from the ceremonial to the theatrical and are as varied as the colors on the performers' authentic clothing! Each Asian country has its own indelible sound even though the instruments are rather similar. From the mesmerizing sound of the Chinese flute to the energetic Taiko drumming, Asian music with its pentatonic melody sounds. Wherever you are from, come join us again as we explore all that this unique, energetic cultures have to offer!
Contact: dragonboat@dragonfestival.org.
651-266-6400
Visit our website
Add To Itinerary
Phalen Park is an outdoor haven on the east side of the state's capitol. The site boasts… Read More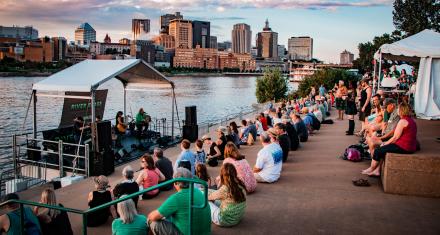 Don't just sit around this summer. Make it memorable with a stop at these festivals in Saint Paul. Read More