MY ITINERARY (

0

)
April
27
Community Events
Brews and Buses: St. Paul Brewery Bus Crawl
Sorry, this event has already happened
Please check out our events calendar for current events in Saint Paul.
The "Craft Beer Boom" is in full swing throughout the great state of Minnesota and our capital city is no exception! For a fifth year in a row, GetKnit wants to help you explore the unique breweries throughout Saint Paul with our 5th Annual "Brews & Buses: Saint Paul Brewery Bus Crawl."
Location: Meet-Up location at Union Depot in Lowertown
Time: 11:00 AM to 6:00 PM
240 Kellogg Blvd. E. , Saint Paul , Minnesota
For this next installation in our City Crawls Event Series, we have hired a fleet of buses to transport you from door-to-door of 15 breweries within Saint Paul's borders. At each stop, you will be treated to special beer, food and merchandise discounts, limited-edition beers just for event participants, and a variety of other activities. Kick back to some live music, enjoy cuisine from a variety of food trucks, and enter exclusive contests for big-time prizes, all while tasting a wide array of the finest brews around!
To better serve our guests, participants will choose between three "check-in windows" (10:15 AM – 11:00 AM, 11:15AM – 12:00PM, and 12:15 – 1:00PM). Space will be limited for each check-in window, so get your tickets early to ensure you get your preferred window. You'll need to check in during your selected window and buses will depart promptly at the top of each hour. At check-in, you will receive your exclusive Brews & Buses T-shirt, two tokens redeemable for a delectable pint at any of the 15 participating breweries, and your event "passport" which will be your guide for all festivities – including maps, brewery and activity information, and contests!
Once you've received your exclusive passport, you will hop aboard one of our private "Brewery Buses" that will whisk you away to 1 of the 15 breweries along our route. From there, your journey is up to you: travel stop-to-stop, explore new breweries, or visit old favorites. Buses will arrive at each brewery every 20-25 minutes, ready to deliver you to the next stop in your brewery exploration. Brewery buses will be running in both directions in a shuttle format, allowing you to control your travel by heading either direction through our "brewery circuit". No matter which way you go, you are sure to find new flavors and make new friends during this one-of-a-kind event.
At the end of the event, we will have shuttle service from each brewery back to Union Depot for a full hour from 6:00 – 7:00 PM. Included in your ticket package is an All-Access MetroTransit pass to get you safely to and from the event, so you can also feel free to keep the fun going, explore Saint Paul, and take public transit home!
As part of your event ticket, you also gain access to our exclusive hotel block at the InterContinental St. Paul Riverfront, which is just a short 5 minute walk from Union Depot. The InterContinental is a newly renovated property conveniently located in the heart of downtown St. Paul. This property is offering discounts on both King and Double Queen rooms for our guests starting at only $149 (normally $179). These discounted rooms are limited so we encourage you to make your reservations early to take advantage of these rates.
We cordially invite you to "GetKnit with Saint Paul's brew scene" as part of our 5th Annual Brews & Buses: Saint Paul Brewery Bus Crawl!
Contact: GetKnitGuru@getknitevents.com
855-333-KNIT (855-333-5648)
Visit our website
Buy Tickets
Add To Itinerary
GetKnit Events is a full service event, tour, and sightseeing company that cultivates… Read More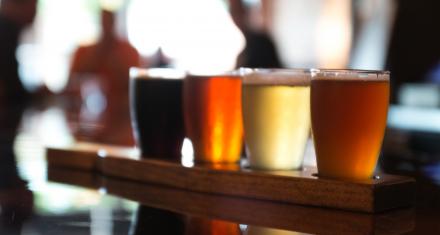 You have a lot of friends. We have a lot of breweries. Coincidence? We don't think so. Read More