MY ITINERARY (

0

)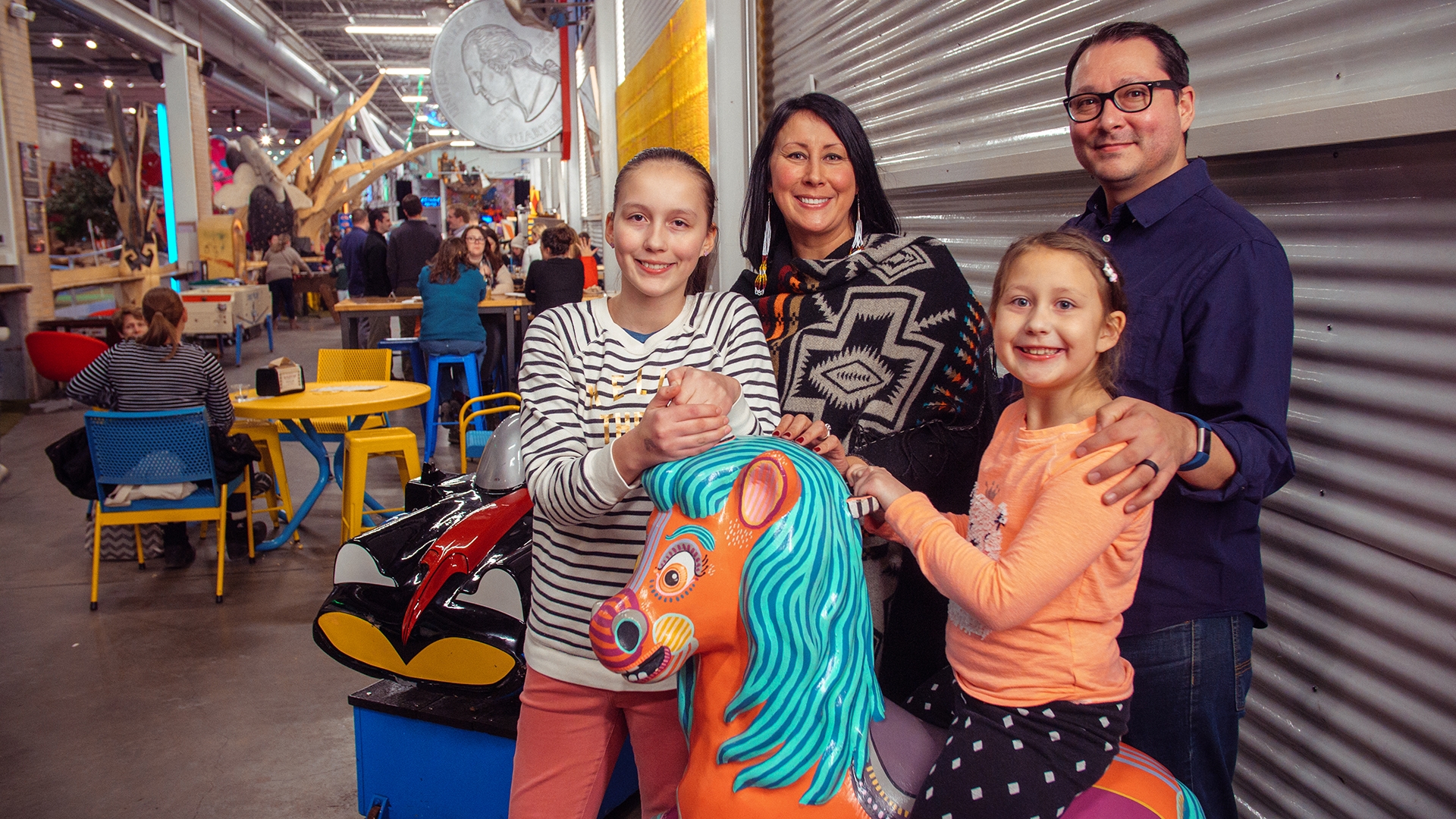 Saint Paul Insiders: Duaine, Amber, Lucy & Chloe Annis-Bercier
The Annis-Bercier Family
Duaine, Amber, and their daughters Lucy & Chloe made Saint Paul's Midway neighborhood their home six years ago when Amber was studying for her PhD at the University of Minnesota. They chose Saint Paul for its family-friendly neighborhood vibes within the big city.
What is the vibe or feeling in Saint Paul?
D: Saint Paul is a community. We have friends come from Rhode Island or Colorado, and when they walk through the neighborhood they see the signs in people's windows or yards and they say, "This neighborhood is great." Everyone seems like they're all in it together.
A: It's a really laid back vibe—every place is filled with friendly, united, cool people.
What makes Saint Paul unique?
A: The most interesting about Saint Paul is that it rests on Dakota land, and the history of Dakota and Ojibwe people is so embedded in Saint Paul—the different organizations truly try to imprint that on other people. You know, that understanding that they are in Dakota space.
One of our most favorite things is driving over the High Bridge when the sun is starting to set. It's such a different skyline and view than Minneapolis, which is just as beautiful, but it has such a natural feel to it with the river and the trees and beautiful buildings—such old architecture. It's just amazing. Saint Paul is a really welcoming, comforting area. I think what makes it so unique is the multiple neighborhoods that give it that feel. Wherever you are, you always feel like you're in a little neighborhood.
L: Saint Paul is a city, but it's not like every street and sidewalk is jam-packed with people. There's downtown Saint Paul, that's the city. And then you can also go to Saint Paul's small neighborhoods.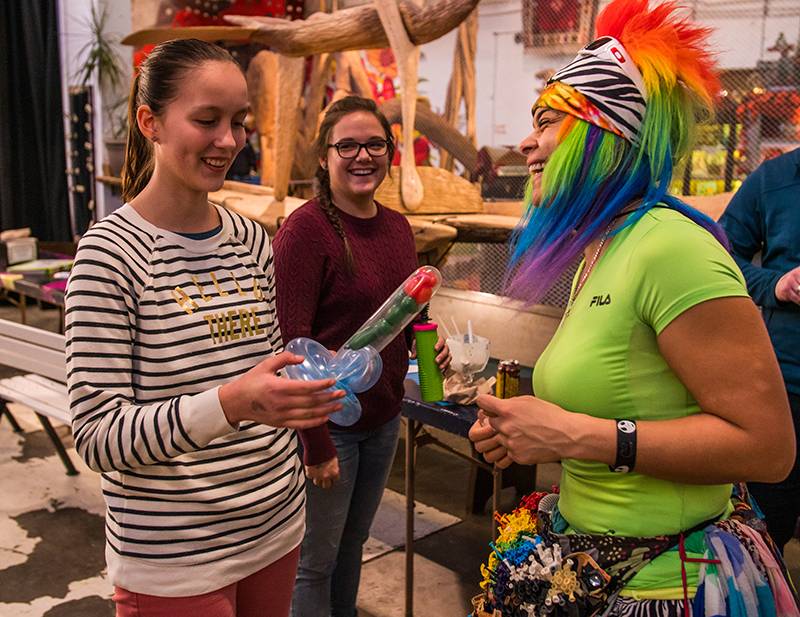 What makes Saint Paul a great place for families?
D: There are lots of great restaurants, great family venues, great shops, outdoor parks.
A: Spending time as a family in Saint Paul is never dull. We always find something to do. It's beautiful and it has such a rich history that wherever we're at, whatever we're doing, we're teaching our kids about the different community we're in.
L: We've been to a lot of places, but we're trying to find new things to do every time. I feel like however long we live here, we're never going to run out of things to do—Saint Paul is always going to have a lot of cool things.
What do you like most about living in the Midway neighborhood?
D: I like the homes—they're all like 100 years old. Many of the neighborhoods have been there for many years. People know each other. They have pride in the neighborhood.
A: I love the diversity of the area. One thing that drew us to it the most was the different groups of people living in one space. It really did have that great neighborhood feel.
What are some of your favorite things to do in Saint Paul?
C: Go to Como Zoo and The Children's Museum.
D: Red Balloon Bookstore is awesome and Groundswell is amazing. Como Lake with the bike path, paddle board rentals—all kinds of stuff to do there. You can go sledding there in the Wintertime. That place is fun for us.
A: The Minnesota History Center. Their permanent exhibits are awesome because they're so kid-friendly. Their incorporation of American Indian history also makes it a special place. It's very much a part of their exhibits and how they highlight the history of Saint Paul.

L: The Minnesota History Center has a place in it called the Then Now Wow, and there's really cool little games that also show the history at the same time.
Groundswell is two blocks away from our house. We like to get hot chocolate there. The Science Museum is really fun because there's a lot of cool things, like this room of illusions - everything in its an illusion and it tricks your brain. Candyland - it's really small, but when you walk in there's a bunch of different, really awesome smells. Outside there is this Snoopy House and that's cool.
What would you recommend someone get at Candyland?

D: Popcorn.
A: Chocolate covered Oreos.

What are some of your favorite events?
A: The Wilder Foundation puts on a fair which is exciting because it's right in our neighborhood - it's this great little street fair right in Midway. The Hmong New Year is also amazing.
We always look out for different Pow Wows in the city. One is through the American Indian Magnet School and the other is put on by Ain Dah Yung. You have to search for them, but that's another aspect we really look forward to.
D: There's a nice pow wow at Macalester.
What would you tell visiting families not to miss?
L: If they come during August and September, the Minnesota State Fair—that's the most fun part of the year.
D: The Science Museum is such a great place with so many changing exhibits. Definitely check out a Minnesota Wild or St. Paul Saints game. CHS Field is great, and they also host GrillFest. Saints games are really fun because they're more intimate—there's more space to walk around and hang out. You aren't bumping into so many people.
A: Mine would be the Hmongtown Marketplace. Como Zoo. I don't want to say the State Fair because everybody says the State Fair.

D: Yeah, but you have to go to the State Fair!

Why does a visitor have to go to the State Fair?
A: It's the only place where it's OK to eat deep fried oreos and pickles at 9 a.m. Maybe a beer malt, and you don't feel bad about it!
D: Get a wine slushy and mini donuts.
Why should a visitor go to Hmongtown Marketplace?
A: It's hard to imagine such a special place like that exists in Saint Paul. You walk in and you've been transformed somehow—transferred to a different area. It's filled with amazing foods, history and art.
Where do you go for date night without kids?
D: We like to go downtown and to one of the many breweries. I would want to go to Barrel Theory—Dark Horse Eatery is right next door, that's a great restaurant. For cocktails, we like to go to Salut or The Happy Gnome.
A: There are so many amazing restaurants. Louis is one of our favorite restaurants. So many different breweries, we've been obsessed with Barrel Theory. Breweries pop up everywhere and each one's unique with a different story of their start up, different kinds of beer, a different theme.
What are your favorite restaurants?
A: Pizza Luce, of course. We go there at least once a month. Red Cow, The Naughty Greek.
D: Tori Ramen is a great ramen place on Selby. There's also the Italian Pie Shoppe on Grand—love that place.
Where do you go for live music?
D: Palace Theatre has the best acoustics for live music in any big venue in all of the Twin Cities.
A: That's an excellent spot to see shows—we saw Belle & Sebastian. We visited with one of the architects afterward about how they utilized a lot of the historic construction and left a lot of it to give it a very natural, historic kind of site. I love the history of music and Saint Paul. It's got such a long history of all different genres. Another one of our favorite spots is Turf Club.
Do you have any favorite local shops?
D: There are great shops to check out over on Selby. Corazon is a little boutique with a Minnesota only section—it's a great place for gifts.

A: Fleur de Lis is a great flower shop that also has gifts. Little shops like that are my favorite places to get gifts because you can get handmade, homemade crafts, focusing on Minnesota. Another great place for that is Groundswell—I always get gifts there.
What is your insider secret?
A: I would say Groundswell. I know I keep talking about it, it's this little unknown spot. The food's good. The owner is so nice.

D: They have beer and wine at night, too. In the summer, they have a piano outside on the sidewalk. It's a really small place. They actually filmed a movie scene there—Woody Harrelson's movie, Wilson.
L: Mischief is really cool. It has a bunch of random things—lot of toys, graphic novels and games. You can get prank stuff. We always find a bunch of cool stuff whenever we go there.
A: I think Can Can Wonderland is going to be our new insider secret! It's so fun and unique and a great place to bring the girls.
L: They have all different kinds of malts, like the fruit loop malt and the girl scout cookie malt. It's the first time I've tried something like that.
D: Can Can is amazing—they have wonderful drinks, like boozy malts with bourbon! Delicious!
Discover more Insiders:
Suggested Content
Related Blog Posts