MY ITINERARY (

0

)
Saint Paul Insider: Bick and Cynthia Smith
Bick and Cynthia Smith
Bick and Cynthia, have made the history of Saint Paul part of their lives. Dressed as Tom Brown, Saint Paul's crooked former police chief, and Edna Murray, the kissing bandit and one of only two well-documented female gangsters, the couple leads history tours with Wabasha Street Caves.
When Bick and Cynthia aren't playing the roles of Tom and Edna, they are video producers with Cybick Productions in Saint Paul.
What brought you to Saint Paul?
Cynthia: I was born in Saint Paul. For the first seven years of my life, I lived in the Dayton's Bluff area near Mounds Park. When I was seven, we moved way out to the East Side near Beaver Lake. When we got married, we finally ventured out to the suburbs.
Bick: I'd lived mostly on the east coast. I moved from New York to Los Angeles and I was there and thought, "well, I haven't really experienced flyover country" as they were calling it in Los Angeles. I said, "I need to try that Twin Cities area", so I moved to Minneapolis area to start as a radio producer and met Cynthia in Stillwater at a theater. And then, of course, the whole 20 years. Glorious.
What about made you stick around?
Bick: The history of this town, the way it keeps itself is so different—the Twin Cities couldn't be more different. Saint Paul just retains that history and it's got such a great personality.
Cynthia: I get asked a lot on tours, "Are Saint Paul and Minneapolis alike? What's the difference?" My favorite response—I didn't create this, I stole it from somebody—is that Saint Paul is the last great city of the east and Minneapolis is the first great city of the west. Minneapolis is tall and shiny—it's Seattle, it's Denver. If you like that, that's your city. Saint Paul is brick, European and historic. If you like Chicago, Boston and Philadelphia, you're going to love Saint Paul. Both cities are great, but our hearts are in Saint Paul because that's the one that fits.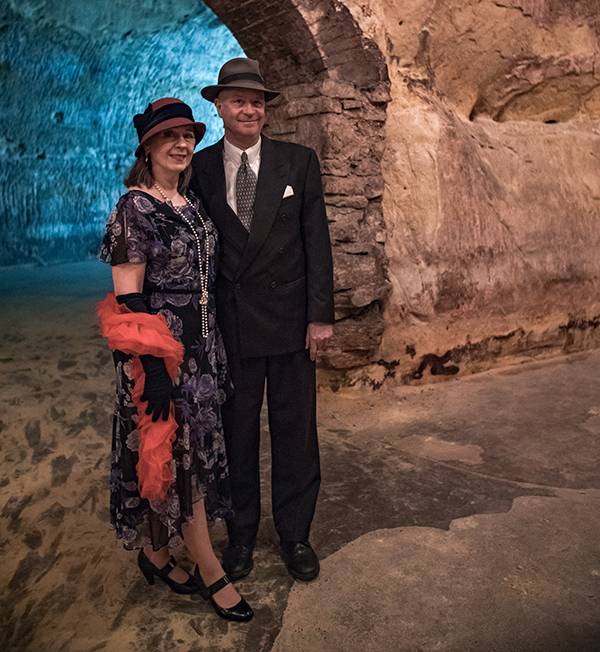 What makes Saint Paul unique?
Bick: It's great being able to go from something really small like Waldmann Brewery, or one of these other little dugouts, to the Xcel Energy Center, where you can watch the Minnesota Wild or see a great concert. Saint Paul kind of just straddles all that, and under the radar I think.
Cynthia: Saint Paul is very historic. The perception that it's sleepy and boring, and the streets roll up at 10 p.m. For me, it's more. It's good, salt of the earth working class people who don't need to be flashy. We know we're good, you know, we don't need to be shiny. It's a great place to be—to hang out and just be yourself.
Bick: I feel like the Mississippi River has more of a presence in Saint Paul and that comes with these little unexpected surprises—cool little places you can find if you know the right people. I think that's the mystique of Saint Paul.
Talk about your work at the Wabasha Street Caves.
Cynthia: I started here in 1998—I'm going on my twentieth year. I first started doing the haunted ghost tours. I eventually started doing the Gangster Tour and the Cave Tour, and now we do so many different kinds. There is an Irish Heritage Tour, a Scandinavian Heritage Tour, the Twin Town Tacky Tour where every place is tacky, was tacky, has a tacky story or if I just plain feel like it—if I see a garage sale, I will stop. We also do a Rivers and Roots Tour about how Saint Paul and Minneapolis grew up around the river. We do a murder mystery here. Pretty much anything to do with the history of Saint Paul, we're involved in it.
What makes Saint Paul's history so interesting?
Bick: Saint Paul has done a pretty good job preserving a lot of the older buildings. Sadly, there are some that have gone away before we started to get a little more enlightened in the 1970s. Luckily, we didn't do clear cutting like they did in other cities. Saint Paul moves forward—it is progressive, but it also respects its past. That's the one thing we love about the job here. The tour company here has a motto—"We make history fun." We'll be doing these tours and we're talking about the history of Minnesota, Saint Paul, the gangsters, the whole thing and we'll have people say, "You're making that up" because it's funny and it's entertaining. And we're like, "No, no, you just can't make this stuff up. It really happened." Saint Paul has just got a great vibe. It's like that old saying, "If these bricks could talk." Saint Paul's got a lot of bricks that have seen a lot, you know.

Cynthia: One of the pieces I wrote for Saint Paul Almanac was how Saint Paul owes its existence to whiskey. It was founded by Pierre Parrant, a drunken Irishmen. We became the capital because of Jolly Joe Roulette, a Frenchman who did a little under the table stuff that made Saint Paul the capitol instead of St. Peter. There's a quote from Mark Twain, which I never remember exactly, but it's to the effect that Saint Paul and Minneapolis were both founded on the power of liquid—Minneapolis on the power of St. Anthony Falls to become a milling center and Saint Paul on the power of whiskey, which is why it became and remains today, the political center of Minnesota. The more you dig, the more there is. It's not just the gangster history, but one of the things I love about doing the gangster tours is hearing people at the end go, "wow, I had no idea." And a lot of times, it's people who were born and raised in Saint Paul.
Bick: It's amazing how many people from Saint Paul come to the caves or the gangster tour and say, "I had no idea. We had kind of a dark past here." The gangster era is kind of the milestone or icon of what this town is about. It's gone from being the poison spot of America in 1934, according to the justice department in Washington, to this really great town that's, you know, above board.
Summarize Saint Paul's gangster history.
Cynthia: Chicago had lots of gangsters who controlled the town, but they didn't really control the police like they did here in Saint Paul. Chief John J. O'Connor, who started the system with the gangsters, was not a bad police guy. He just was over-worked, under-funded, and didn't know how to stop the crime because he didn't have enough men. So he tried this deal, "Look, just don't rob banks in Saint Paul. Just behave and we'll look the other way." It sort of devolved under people like Chief Tom Brown to "give us a little money" and that kind of thing—it was all very quiet.
Bick: It started out on a much more level sort of tone but then, the Great Depression comes around and you've got 25-27% unemployment—there's a certain amount of panic, and there was greed and a lot of people trying to make a quick buck. That's when the whole O'Connor Layover System turned around into something that was extremely corrupt
Cynthia: It was also prohibition. O'Connor came up with his system around 1906 and prohibition was passed in 1919—that's when things really started to go down. Then you had the stock market crash of 1929, so it all just came to this huge gigantic head in the early 1930s.
Can you talk a little more about the O'Connor Layover System?
Cynthia: Crime plummeted in Saint Paul and, in the year 1932, something like 21 percent of all bankruptcies in the United States happened in the state of Minnesota but not one of them in Saint Paul. Coincidentally, crime skyrocketed in Minneapolis because the O'Connor System did not cover Minneapolis—just Saint Paul. Don't commit crimes in St. Paul, give us a little kickback, check in, let us know you're here. It was very simple and it worked for a long time. The people of Saint Paul didn't know about the deal. They went, "Hey, we don't have any crime in Saint Paul—we must have the best cops money can buy." Which you did, it just wasn't our money—it was gangster money.

Besides the Wabasha Caves, what does Saint Paul have to offer a visitor looking for great historic sites?
Cynthia: What doesn't it have to offer!? You have Summit Avenue, which is considered one of the top 10 most beautiful streets in the United States. You have a world-class Children's Museum, Park Square Theatre, the Science Museum of Minnesota. We have lots of wonderful little breweries that are popping up—one of our favorite places to go eat lately is Waldmann Brewery, the oldest surviving commercial building in Saint Paul that just opened as a German brewpub. There's a wonderful historian who lives in Saint Paul, Jim Sazevich, who's been giving lunchtime talks there about the history of the city. If you just look for this fun stuff, you can find it.
Bick: I like bridges—and I know that's maybe not a site necessarily, but the Robert Street Bridge is the oldest standing bridge in town.
Cynthia: Chief Justice Warren Burger helped construct it when he was a teenager.
Bick: That's right. He went goes to the foreman and said, "Why don't you have safety nets under here? Because people could die. They can fall in the river." Foreman said, "Mind your own business, kid." And that's when Burger decided, "I can do better things in this, perhaps I'll become a Supreme Court justice and sue people who have that attitude." I think the bridges really capture the spirit of this town.
Cynthia: When people come to town, I always love taking them to the Cathedral of Saint Paul, which is the only example of the Beaux Art style architecture in a church in the United States. People are amazed when they come here and see it, they say, "That looks like Paris," and I say, "Yeah, you want to see another one? Go to Paris." Summit Avenue and the whole Summit Hill area is just amazing—the James J. Hill House. I love taking people to Swede Hollow and then up to Mounds Park. I like the Victorian sort of feel, the brick and the cobblestone streets—that kind of stuff.
Tell us more about Mounds Park. Why should people go there?
Cynthia: First of all, the view of Saint Paul is absolutely amazing. You can look down at the river, you can see Downtown, you can see the airport across the river, which is amazing to have that airport right there—Saint Paul doesn't have tall buildings because then they can't use that airport. People are very fascinated by the mounds themselves, to hear they are actually the remnants of burial grounds. There are no bodies in them anymore—those were removed hundreds of years ago. To have this site preserved is really amazing. When you find out the history, it really makes you step back.
How about Swede Hollow?
Cynthia: I love Swede Hollow. Most people know about it, but they don't know where it is. There's a group from Sweden that comes here a few times a year and I take them to Swede Hollow. They are just amazed at the history of Swede Hollow and go down into it to imagine the thousands of people that were living there, and to see this beautiful park and know you're just a half a mile from Downtown and you don't see it—you don't see anything—you just see this beautiful forest and the brook and the whole thing.

Bick: It goes back into the 1800s. All the immigrants, starting with Germans, came there and then, of course, Scandinavians—hence the name. It's so hidden, you have to drive under a tunnel to get in there. It's near the old Hamm Brewery, which is now Saint Paul's Flat Earth Brewing, right off Payne Avenue. You wouldn't recognize it because it's such a beautiful park from what it used to be—it has such a different look with Phalen Creek running through there.
Cynthia: We take groups there a lot and talk about the old Hamm's mansion and the Hamm's kidnapping with the Barker gang. You get some people who say, "My dad worked at that brewery. He told me all about it" and "Yeah, I lived in Swede Hollow" and have these great stories. Sadly, as the years go by, I get fewer and fewer of them who can remember that far back.
Bick: It's our job to try to keep that history alive. Once you start reading up and watching and learning more about the history, it kinda gobbles you up and you sort of stay with it.
What is your insider secret?
Cynthia: Saint Paul is not just for summer. You can come up here in the winter when the river is frozen and there are lots of beautiful things to see. At the Covington Inn, they have one room that is at the water line—you're looking out your porthole and there's the frozen river right at the level of the window, which is so cool. I'm also amazed at the number of people that come here to the Wabasha Street Caves and go, "I've lived in Saint Paul my whole life and I didn't know this was here." The caves have the reputation of being one of the top three most haunted sites in Saint Paul—there's a tour called the "Lost Souls Tour" on the last Sunday of every month. We turn the lights down low, light candles and do an hour of nothing but ghost stories of the caves. It ends with a slide show of ghosts captured by the camera inside the caves. People say, "I had no idea that Saint Paul has so many ghosts."
Bick: If you're looking for a place with characters, Saint Paul has it.
Discover more Insiders:
Suggested Content
Related Blog Posts