MY ITINERARY (

0

)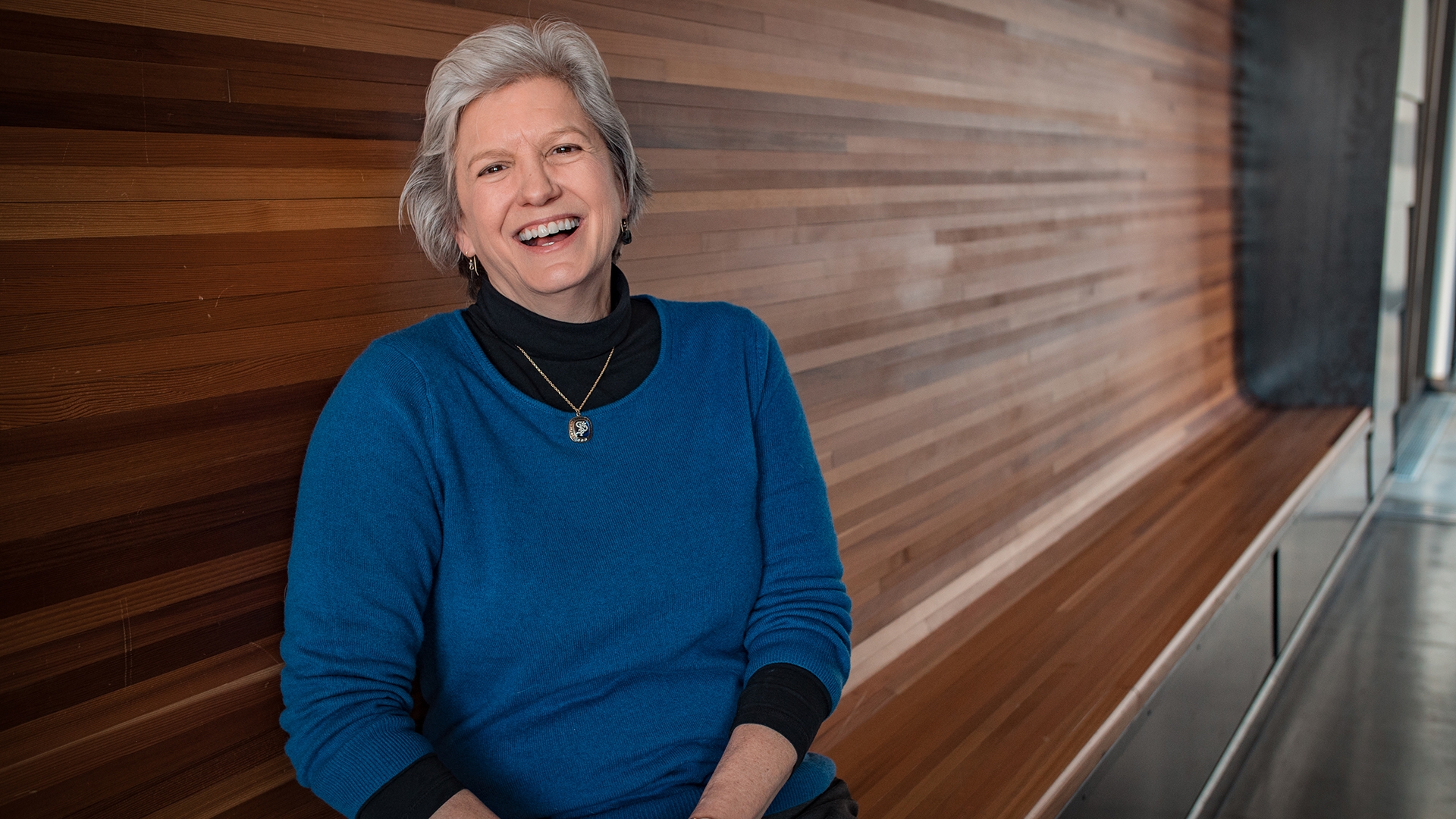 Saint Paul Insider: Annie Huidekoper
Annie Huidekoper
As vice president of community partnerships and customer service for the St. Paul Saints, Annie Huidekoper's crowning achievement was helping to get Lowertown's gorgeous CHS Field built. These days, she's a volunteer and free agent.
What brought you to Saint Paul?
I grew up in Connecticut and went to college at University of New Hampshire for a degree in health administration and planning. After college, I worked for Harvard University health services and I was kind of digging it until one lunch hour, I held the door for like 30 or 40 people and no one said thank—no one smiled. And I'm like, "I can't believe this." I went back to my boss and said, "I'm going to go. I need to go somewhere where if I hold the door for 30 or 40 people, I at least get a smile out of somebody, but ideally a thank you."
What made you stick around?
Right away I knew I belonged here—this was home. Minnesota and Midwesterners in general have this cooperative community ethic different than the rugged individualist and competitive nature of the Northeast. I'm competitive with myself, but I don't need my whole culture that way. Moving here really has been the best thing I ever did.
What makes Saint Paul unique?
Number one—the really great, authentic people. Saint Paul is filled with bright, interesting, good-hearted people. Minneapolis is dialed up a few notches—we do a better job taking a breath and listening to each other, I love that about Saint Paul.
I also love the history. There are beautiful, fascinating historic buildings, ranging from the James J. Hill House to the Pioneer Endicott building—which makes me feel like I'm at Rockefeller Center. There's all of this really cool art deco architecture.
And, the parks. When the weather gets nice, people come out of the woodwork and you see them with friends, families, dates, dogs, sometimes even cats. They just love walking around the lake and seeing friends and neighbors—it's a great thing.

Tell us a little about your time with the St. Paul Saints:
I started with the Saints in October of 1992. On the Sunday radio, they were saying "how dare Mike Veeck open a independent minor league team seven miles away from the Metrodome, and this is going to be a big flop and they're going to fold by the Fourth of July." So I thought, "That's weird—why would somebody who's a sports writer in our community not wish a team well?"
So the next day I called and said, "I'd like to buy season tickets and I'm curious if you guys need any help". And the guy who answered the phone, the one employee at the time, Dave Wright, said, "Well, hang on a second. Mike Veeck would love to meet you. Why don't you come on over?"
I told Mike I'd like to prove the radio wrong, and that really did it—by the end of the day I was a part time sales person and in charge of the fan club for a team that didn't have fans yet! Over time, I worked my way to vice president. I'm most proud of being part of the group that got CHS Field built. As I look out on the traffic on Highway 52, the Lafayette Bridge and see the glowing field in the sunshine, it just really is a fabulous thing.
Talk about your relationship with Bill Murray, part owner of the ball club.
Bill loves me because I take such good care of him. The first time I met Bill Murray before opening night in 1993, I shared an office with Mike Veeck. We're in a room the size of a closet and Bill comes in, gives Mike a hug, looks at my sneakers and says, "cute sneaks." They were baseball sneakers, white leather with red stitching—they were very corny, but I just love that he noticed them. We sort of clicked right away.
So let's say Bill Murray calls you up and says, "I'm going to be in town tomorrow." Where do you go?
Heimie's Haberdashery! I just hang out and watch him model clothes and hats—he loves hats.
What is it about a Saints game that's different from something you'd experience anywhere else?
Our goal since the first season has always been to give the fans something to talk about the next day. And, with that, it was also about taking care of people. I would teach ushers if someone in your section doesn't show up for a few games and they finally do show up, ask them if they were on vacation. If they say no, see if they're doing all right health wise. We really cultivated that sense of belonging. We all need places where we feel we belong. Fun is key, but there's also an authentic caring behind it.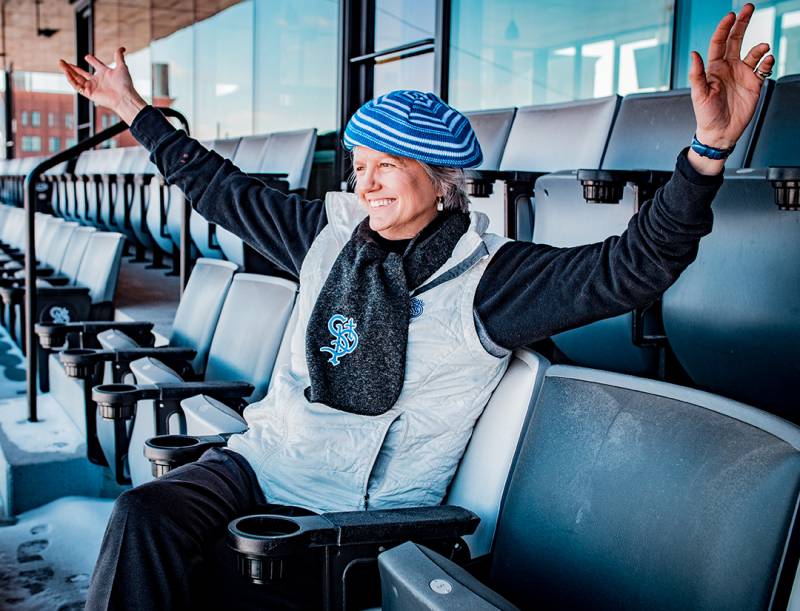 If it's someone's first Saints Game, what should they not miss?
Walk around the whole ballpark, don't just go to your seats and sit down. We have this amazing concourse—360 degrees and the best view of Saint Paul behind the left field wall. Check out the different food items, check out the art. There's even a dog park up above! Mostly, just pay attention to the great history, wonderful music and great people.
What does it mean for Saint Paul to have sports teams?
Going back to the Romans, sports are a huge part of a community. Having places for people to cheer, let off a little steam, laugh and even poke fun at an umpire—you know, it's all in good fun. Sports help with the fabric of a community. I'm not saying it's the most important thing, I'm just saying it's a key element in making the culture healthy.
With the Saints, you have an internationally known independent Minor League Baseball team with a really cool and welcoming brand new ballpark. There are three C's of Saints Baseball—conversation, connection and community. You sit down and chat with somebody about baseball, the weather, crazy promotions, funky music or whatever. You converse with someone you've never met before and you start feeling a little connection. And the next thing you know, it expands to the people around you to become a bigger and bigger community circle.
A sporting event is one of the best places to go first in a new town because you get a sense of what the community is like. And most of the other teams in town offer that same thing, too—whether it's the Wild or Minnesota United.

Besides a Saints game, what would you recommend to visitors?
You cannot come to Saint Paul and not go look at the Mississippi. There are wonderful parks you can go to, or just walk through downtown and stand on a bridge to take it in. Our State Capitol is breathtaking—the work they did, it's so spectacular now.
I also really like going to museums. I'm excited about the new Minnesota Museum of American Art. The Science Museum—when my family is in town, we'll go check that out and hopefully catch something at the Omnitheater. The Ramsey County Historical Society, in the basement of the Landmark Center, has some really cool stuff in their museum too.
Coffee shops are great because they all have their own little dynamic and good people watching. The folks at Gingko Coffee are some of my favorite. I had a meeting recently at Quixotic in Highland—lovely people and really nice espresso.
You're a self-proclaimed foodie. What are your top foodie spots?
I love Meritage. I feel like I've gone to France with my mother and I'm 14 years old. They have this cassoulet that is to die for—so many great flavors. A little glass of wine and a nice French bread, and I'm all set.
I like the Downtowner Woodfire Grill for breakfast—Moe's Cajun Breakfast is just so good. Sakura for their super white sushi—as a New Englander, I like to say "it's like butter." My favorite Southeast Asian restaurant is On's Kitchen on University Avenue. Finish up at The Commodore for dessert and a cocktail.

Do you have any favorite local shops?
I'm a Bibelot fan—every December I go there to buy a lot of Christmas gifts. They have the best stocking stuffers and delightful things. I also love Patina.
If someone was looking for a neighborhood experience, where would you tell them to go?
I would invite them to my neighborhood of Como Park because we have the amazing Como Zoo and Conservatory. Everybody loves that conservatory, especially in the winter. You get greenery and color and humidity—your pores are happy, your soul is happy and it's a beautiful park.
What is your insider secret?
The Commodore is really cool—it's in the historic Cathedral Hill neighborhood which is fun to walk around. I don't think a lot of people know about it, so that would be my little hidden gem.
Meet more Insiders:
Suggested Content
Related Blog Posts